Dodgers' Kenta Maeda carves up Padres behind dominant performance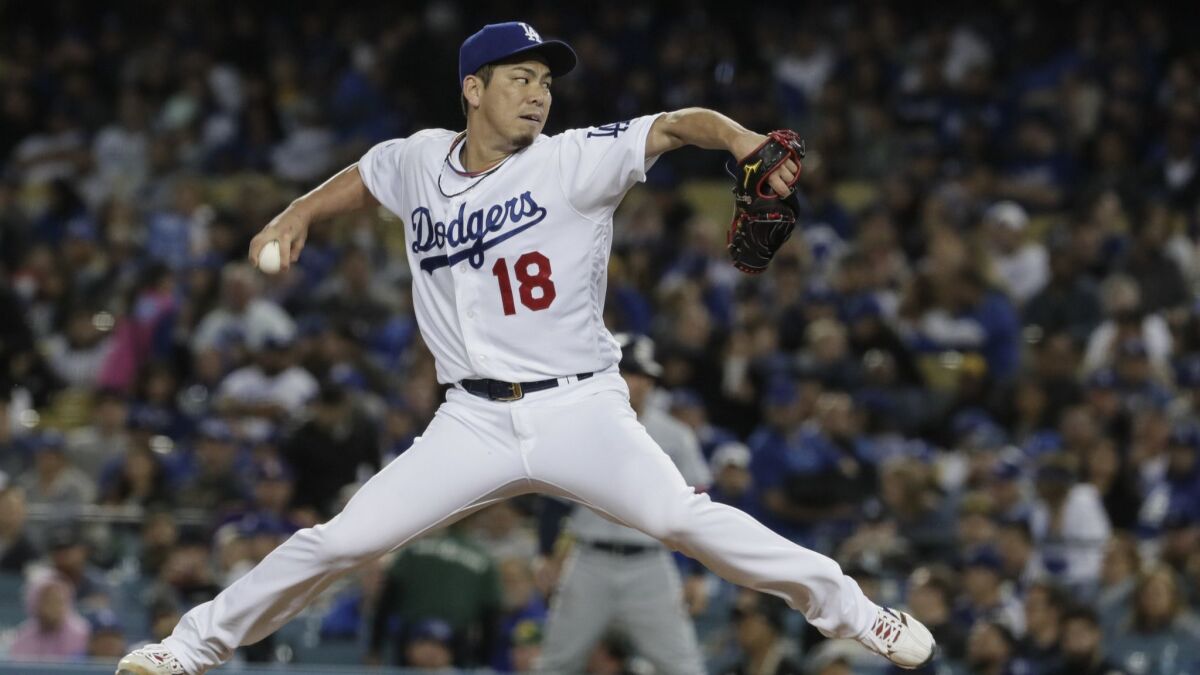 The stuff has rarely wavered. Since Kenta Maeda joined the Dodgers in 2016, he has relied primarily on a fastball that he throws between 90 and 93 mph, a slider ranging from 82 to 85 mph and a split-fingered changeup he throws between 83 to 86 mph.
It's the conviction with which Maeda delivers his three-pitch repertoire that tends to wander at times.
"When he's in that mindset of executing and committing to a certain pitch, especially the fastball, he keeps guys on their toes, off his breaking stuff, and he's better for it," Dodgers manager Dave Roberts said of Maeda.
"There are times when you're missing your spots with non-competitive pitches, and it makes it a little tough to navigate through a lineup."
There weren't many non-competitive pitches on Wednesday night for Maeda, who didn't so much navigate through the San Diego Padres lineup as he did carve it up into nine easy pieces.
In one of his most dominant starts as a Dodger, Maeda gave up three hits, struck out 12 — one shy of his career-high — and walked none in 62/3 innings of a 2-0 victory before 41,671 in Dodger Stadium.
"It's hard to imagine him being any better, especially when you saw the same team 10 days ago, to go out there and play that cat-and-mouse game," Roberts said. "To execute the fastball like he did, the slider down below, the split-change … it was really fun to watch. He was great all night long."
Maeda, who also drove in the game's only runs with a second-inning single, struck out six batters in a row from the second through fourth innings. He threw 85 pitches, 64 for strikes.
According to Inside Edge, Maeda (5-2, 3.51 ERA) got 22 swings and misses, the second-most of his career, 14 of them coming on his slider, which usually started in the strike zone and broke down and away, off the plate. All 12 of his strikeouts were swinging, eight with the slider.
"I think I was able to mix things up pretty well tonight," Maeda said through an interpreter. "I had that conviction all-around during my outing, and with that I was able to attack the strike zone, get ahead in the count and keep my pitch count to a minimum."
As efficient and effective as Maeda was, Roberts pulled his starter in favor of left-hander Scott Alexander with two outs and a runner on first in the seventh, a decision that was booed by the home crowd.
Sign up for our Dodgers newsletter »
Alexander retired Austin Allen on a grounder to end the seventh, Pedro Baez struck out two in a scoreless eighth, and Kenley Jansen survived a turbulent 26-pitch ninth to help the Dodgers improve to 4-1 against the Padres this season.
Franmil Reyes opened the ninth with a shot up the middle that second baseman Enrique Hernandez made a diving backhand stop of before scrambling to his knees and throwing to first for the out.
Manny Machado drew an eight-pitch walk, and Eric Hosmer beat the Dodgers' infield shift with a bunt single to third. But Jansen struck out Hunter Renfroe swinging with a 93-mph cut fastball and pinch-hitter Alex Dickerson looking at a 93-mph cutter for his 14th save.
"If I was running for office and was trying to get the crowd approval [the boos would bother me]," Roberts said. "But I'm trying to help us win a championship. That's something that's well thought out, and it worked. They don't always work out, but I have reasons for doing what I do."
The Dodgers scored twice in the second on a pair of infield singles and a soft single that left Maeda's bat at 66.5 mph and traveled all of 200 feet before dropping between three defenders.
Corey Seager tapped a grounder off the end of his bat to third for a single and took second on Chris Taylor's bunt. Alex Verdugo reached on an infield single and stole second.
Maeda broke out a sand wedge and lofted a ball into a patch of grass in shallow right field, the ball falling between first baseman Hosmer, second baseman Greg Garcia and right fielder Reyes for a two-run single.
"That was pretty good," Roberts said of the well-placed hit. "He couldn't have thrown that one out there any better."
Hernandez singled to center. Justin Turner was hit on the left arm by a pitch to load the bases, becoming the first player in franchise history to be hit by a pitch in four straight games since Hughie Jennings in 1900. Cody Bellinger grounded sharply to first to end the inning.
The key to his hit, Maeda said, was not trying to do too much.
"If there's no runner on base, I'm just gonna go yard," Maeda said of his hitting approach. "If there are runners in scoring position, my main focus is on getting them back home."
---
Get our Dodgers Dugout newsletter for insights, news and much more.
You may occasionally receive promotional content from the Los Angeles Times.