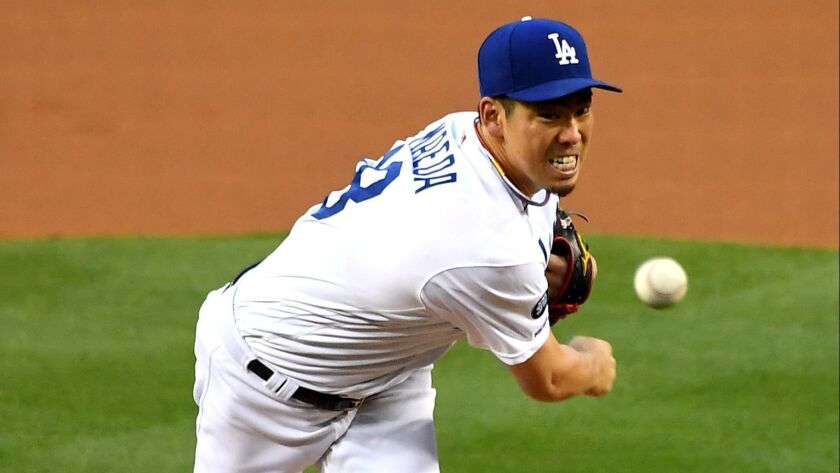 Reporting from CINCINNATI —
Kenta Maeda was placed on the 10-day injured list Friday with what the Dodgers called a left adductor contusion -- or, in layman's terms, a left groin bruise -- two days after the right-hander compiled 12 strikeouts and no walks over 6 ⅔ scoreless innings while driving in both runs with a bloop single in a 2-0 win over the San Diego Padres.
Maeda declined to divulge details.
"Something happened," he said through an interpreter Friday in the visitors' clubhouse at Great American Ballpark. "I'll be back soon. There's nothing to worry about."
Dodgers manager Dave Roberts echoed the pitcher's lack of concern, calling the injury, which occurred when Maeda fouled a pitch off his leg Wednesday, "not serious." He said Maeda is scheduled to throw "an aggressive bullpen" Tuesday in Tampa Bay.
"If we can kind of protect him, then we're going to do that," Roberts said. "And that's what we're doing."
Maeda's move to the injured list conveniently arose at a time when the Dodgers won't need a fifth starter for 11 days because of their scheduled idle days Thursday, Monday and next Thursday. Los Angeles won't need a fifth starter until May 28.
The unusual stretch will give all Dodgers starters more rest than normal. Rich Hill started Friday on seven days' rest, Walker Buehler will pitch Saturday on six days, and Hyun-Jin Ryu will throw Sunday in Cincinnati a week after his last start. Clayton Kershaw pitches Tuesday in Tampa on six days' rest.
"Number one, you want the pitcher to be healthy," Roberts said. "And so when you can do that and know he's probably only going to miss a start, you feel better about it."
This isn't the first time Maeda, 31, was placed on the injured list with a minor injury after logging one of the best starts of his career. In May 2017, he was shelved for 15 days with a hamstring strain after allowing two runs over 8⅓ innings.
Sign up for our Dodgers newsletter »
Maeda was asked a second time, a couple of minutes later, how his injury occurred. He again refused to offer any particulars.
"The team's release, you can look at that, it'll say on there," Maeda said through the interpreter.
Local connection
Outfielder Kyle Garlick was one of two players the Dodgers called up from triple-A Oklahoma City on Friday, along with infielder Matt Beaty, after batting .280 with 10 home runs and a 1.002 on-base-plus-slugging percentage in the minors. It's the first stint in the majors for the 28th-round pick out of Cal Poly Pomona, who grew up in La Habra as an Angels fan.
"I was closer to Angel Stadium," Garlick said. "That's where I went to games. I went to a few Dodgers games, but I was actually an Angels fan. Dodger fan now, obviously."
Garlick and Beaty give the Dodgers five position players on the bench for the first time this season. Roberts said he expects to use Garlick in late-game situations, as part of double switches and as a pinch-hitter, while Beaty could get a start in the coming days. Beaty went two for three in his first stint in the big leagues earlier in the season.
Twitter: @jorgecastillo
---