Clayton Kershaw and Rich Hill balking at new 20-second pitch clock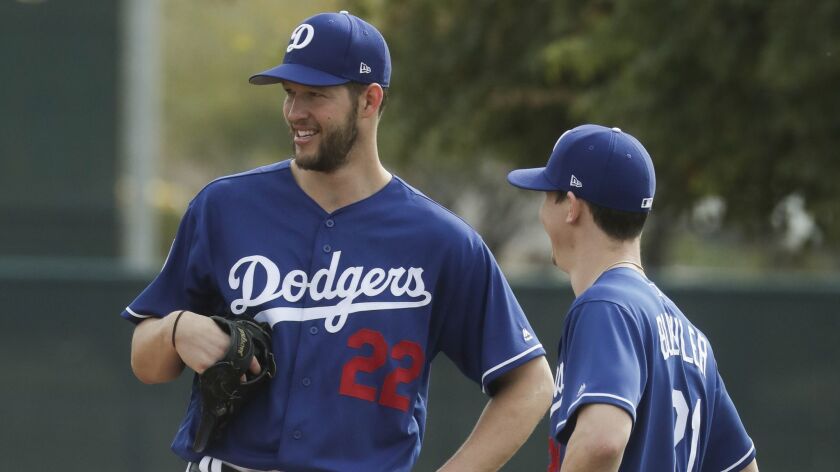 Reporting from Phoenix —
A day after Major League Baseball commissioner Rob Manfred announced the league will implement a 20-second pitch clock during spring training games and could possibly institute the clock for the upcoming regular season, Clayton Kershaw said he will ignore the new measure.
"I'm not going to pay any attention to it," the Dodgers left-hander said Monday. "And if I go over it then I go over. I'm not going to change anything I do. I'm not going to pay attention to it one bit, and if it becomes a problem I guess I'll have to deal with it then. But I think there's ways to fake it. If it looks like it's winding down or something you can step off. I'm sure there are ways around it. I'm not too worried about it."
The idea of a pitch clock has faced resistance from players, but MLB sees it as a way to quicken the pace of play. Manfred has the power to unilaterally implement the rule but has been reluctant to apply it without an agreement with the players' union.
Kershaw said players are in favor of moving the game along, but he's not convinced a pitch clock will help. "The commissioner's office wants pace of play, but the game has changed so much that there's so many swings and misses, there's so many strikeouts, there's so many home runs, there's so many fill-in-the-blank. It's like almost two steps forward, one step back type situation," Kershaw said. "So I'd be interested to see if the game clock actually makes a difference."
A 20-second pitch clock was introduced in double-A and triple-A in 2015. Rich Hill appeared in 30 triple-A games that season, making him one of the few veteran major leaguers with experience performing under a time limit. He is not in favor of instituting it at the major-league level.
"I don't really like it," Hill said. "It's ridiculous."
Dodgers manager Dave Roberts is in favor of the measure. He does not believe the implementation will affect most pitchers and theorized some batters would have more difficulty adjusting to the clock. Hill, 38, noted that he works too quickly to be affected by a clock, but was adamant that the measure could have a negative impact on the game.
"What's the end goal of being able to have a time clock?" Hill asked. "Is it to fit baseball games in a three-hour window so we can sell it to networks? I think there has to be a serious conversation about this because I don't think it's going to make any difference. We're going to speed up the game by five minutes? Is that 10 minutes going to make a difference? I don't think so.
"Or is it somebody else's agenda because they want to leave their mark on the game to say, 'Look what I did?' as opposed to leave the game alone? Leave it alone. In my opinion, it's great the way it is."
::
Kershaw faced hitters for the first time Monday, throwing a 22-pitch batting practice session. He used everything in his arsenal against catchers Russell Martin and Josh Thole, who each batted twice in a simulated inning before Kershaw finished his workday with a short bullpen session.
"Got to start somewhere," Kershaw said. "So you just do it to get out of the way. It's definitely not the most fun day of camp. But get it out of the way and go from there."
Kershaw said he is not sure if his next throwing session will be in a game or another live batting practice session. The Dodgers open their Cactus League schedule Saturday against the Chicago White Sox.
"There's a difference between a bullpen and facing hitters, obviously," Kershaw said. "I wouldn't call it adrenaline, but [there's] a little bit added competitiveness when you're facing hitters so a little bit of a step up from a bullpen."
Sign up for our daily sports newsletter »
Twitter: @jorgecastillo
---
Get our Dodgers Dugout newsletter for insights, news and much more.
You may occasionally receive promotional content from the Los Angeles Times.