Clayton Kershaw heads into Dodgers' season 'trying to regain some stuff I lost'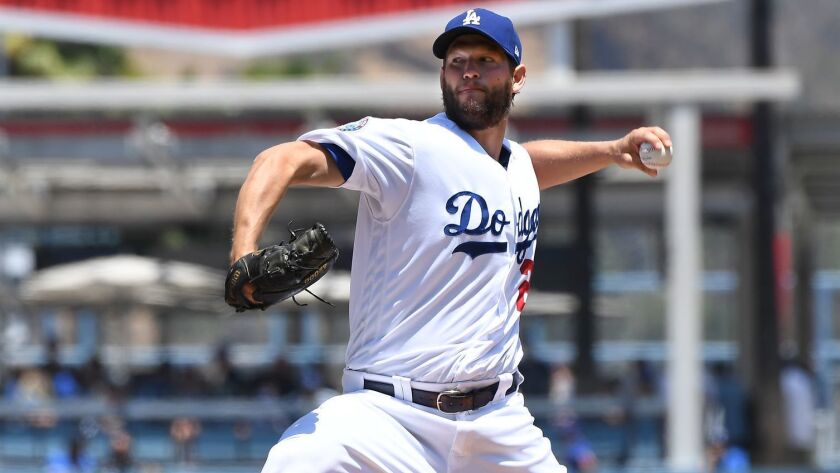 Reporting from phoenix —
On four occasions over the past four months, Dodgers strength and conditioning coach Brandon McDaniel boarded a flight bound for Dallas. His destination for each visit was the same, the gym built inside the home of Clayton Kershaw. His goal was one that is vital for the 2019 Dodgers: to help Kershaw rediscover the velocity of his fastball and the depth of his slider.
In 2018, neither pitch met the lofty standards Kershaw set for himself. So he dedicated his winter to a singular pursuit, he explained as the pitchers and catchers of the Dodgers reported to Camelback Ranch: "to regain some stuff that I lost."
The first visit from McDaniel dealt with the stability of a body that has weathered back injuries in three consecutive seasons. The second involved strengthening a frame that suffered a shoulder ailment in 2018. The third concentrated on improving the power of a pitcher who saw his velocity decline for the third year in a row. The fourth incorporated all those elements into the delivery of a veteran on the eve of his 31st birthday, a future Hall of Famer who despite his physical issues still posted a 2.73 ERA in 2018.
"I'll be honest," McDaniel said. "I would have went down there 20 times if I thought it was warranted."
The winter allows baseball players to reshape their physiques and recenter their psyches. Kershaw is not immune to the cliche. He pronounced himself to be more open-minded about his workout routines after a decade spent being stubborn. McDaniels indicated he was "really excited" for Kershaw's season ahead. Manager Dave Roberts vouched for Kershaw's slimmer frame, insisting "he's in a good space right now, across the board."
No longer do the Dodgers pin their fate on Kershaw's left arm. For sizable portions of last year, rookie Walker Buehler was the more effective pitcher. Yet Kershaw is still the leader of the team's rotation and the franchise's most expensive asset. The Dodgers might be able to win a seventh consecutive National League West crown without Kershaw. But they sure could use him.
On the surface, Kershaw authored a fine season in 2018. He struck out nearly a batter per inning, and struck out more than five times as many batters as he walked. He reduced his vulnerability to the home run. Of the starters who threw 160 innings or more, only six finished with a lower ERA.
Yet there were still troubling signs. Rival scouts and Dodgers officials noted the lack of differentiation between his fastball and his slider. His average fastball clocked at 90.9 mph, according to FanGraphs, relatively indistinguishable from his 88.2 mph slider. The fastball cut and the slider no longer dived. Hitters feasted on this in the postseason.
"He'll have to reinvent himself," one National League scout said last fall.
Kershaw heard the criticism. He did not deny the decay of his arsenal. He also did not enjoy the discourse. During a conference call with reporters in early November, soon after signing a three-year, $93-million contract to stay with the Dodgers, he offered a window into his irritation.
"It gives me a chance to prove a lot of people wrong," Kershaw said. "I think this year especially — maybe rightfully so — there's been a lot of people saying that I'm in decline or I'm not going to be as good as I once was. I'm looking forward to proving a lot of people wrong with that."
Kershaw prides himself on deflecting praise and ignoring criticism, but he declined to revisit his remarks Tuesday. "I think I was just fired up," he said. "I guess it just sounded good."
His actions demonstrated more than his words. When his November conference call finished up, Kershaw took his family out to dinner that night with McDaniel's family. The meal functioned as an exit interview, setting a tentative blueprint for the winter. McDaniel encouraged Kershaw to be flexible, and Kershaw insisted he would.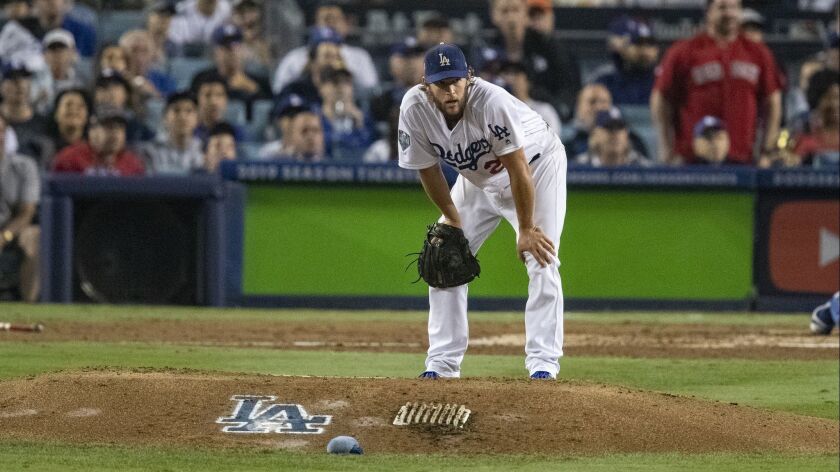 Both Kershaw and McDaniel declined to provide specifics of the offseason regimen. But McDaniel insisted he cast a wide net to gather information. A crucial goal would be increasing Kershaw's flexibility and pliability, so he could generate the force necessary to improve the speed of his fastball and finish his delivery with the cleanliness required to make his slider bite again.
McDaniel studied the movement patterns of Kershaw's ankles, knees, hips and spine. He consulted with other strength coaches, pitching coaches and players. He examined the mechanics of golfers and tennis players. "I looked at every rotational sport possible, just to try to find common links between the two," he said.
During the past three seasons, as Kershaw's back has become more troublesome and his pitches have become more vulnerable, he has lost some of the obstinacy that guided him earlier in his career. That process continued this winter.
"He's healthy," Roberts said. "He feels strong. Once we see him throw the baseball, the ball will tell us. Clayton will tell us."
Late Tuesday morning, Kershaw stood alone on the bullpen mounds behind the Dodgers' complex. A crowd of team officials gathered behind him. Kershaw was reunited with catcher Russell Martin, who caught him from 2008-2010.
"Middle in, for a strike," Kershaw said. Martin pounded his mitt and set the target. A slider spun into the dirt.
"I'm trying to make it a little bigger," Kershaw said.
"That was nasty, though," Martin said.
Kershaw had informed Martin he hoped to generate more whiffs with his slider against left-handed batters, so he requested one stand in the batter's box. To the plate came Josh Thole, a veteran of eight big league seasons. Kershaw spun a slider, tight at Thole's knees.
"Attaboy, Kersh," Martin said. He looked at Thole. "Good luck with that."
"Yeah, forget that," Thole said.
Martin hopped out of his crouch to embrace Kershaw soon after. They conferred over strategy for a few minutes. When Martin last caught Kershaw, the pitcher didn't even use a slider. Martin marveled at his teammate's career, and his unwillingness to settle.
"That's the thing about baseball, guys make adjustments," Martin said. "And the best players stay the best because they're willing to make those adjustments. And Kershaw's definitely one of those guys where he's going to do whatever it takes to stay at the top."
Sign up for our Dodgers newsletter »
Twitter: @McCulloughTimes
---
Get our Dodgers Dugout newsletter for insights, news and much more.
You may occasionally receive promotional content from the Los Angeles Times.