Dodgers manager Dave Roberts explains lineup alterations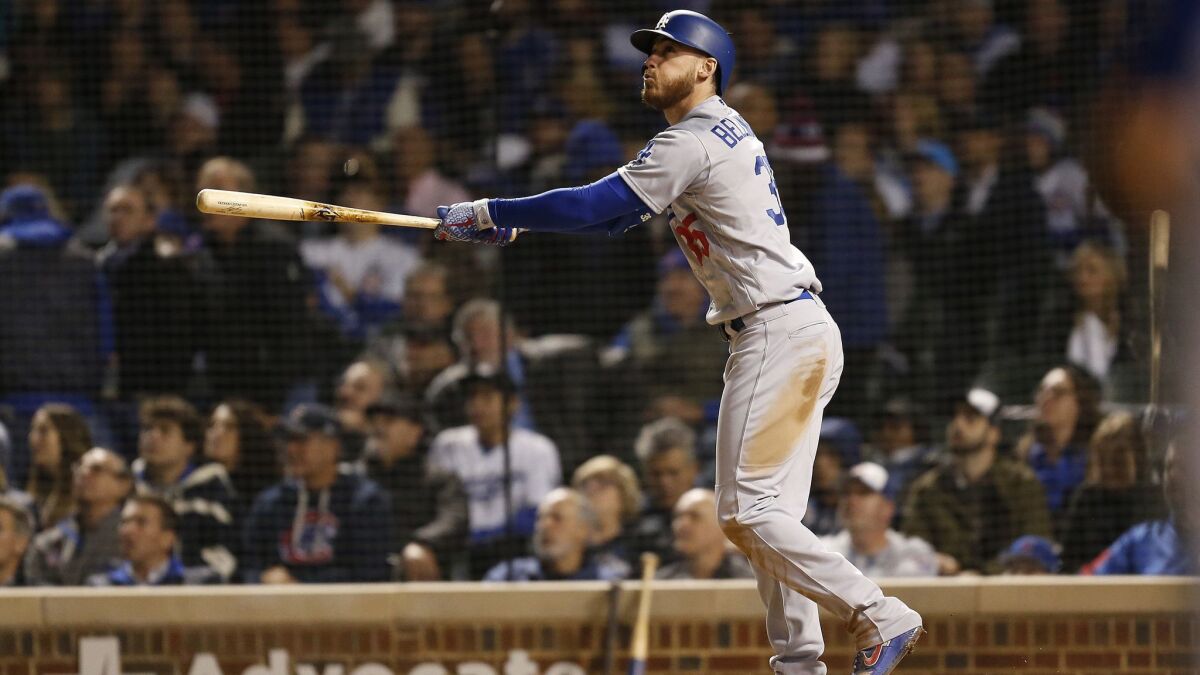 Reporting from chicago —
Before his club's 7-6 loss to the Chicago Cubs on Wednesday, Dodgers manager Dave Roberts answered questions about two facets of the lineup the team was fielding for the second straight night against another left-hander. Why was Cody Bellinger, the hottest hitter in the National League this side of Christian Yelich, batting sixth again? And why was Chris Taylor, who has struggled against most pitchers regardless of handedness this season, getting another start in left field?
Both answers centered on one theme: The team isn't going to make decisions based on a 25-game sample size. They're playing the long game. Such are the luxuries for an elite club in a dreadful division.
Regarding the first question, Roberts explained the club — constructing lineups are a collaborative effort between manager and front office — wanted to split Bellinger and shortstop Corey Seager, another left-handed hitter in the fourth spot, with A.J. Pollock, a right-handed hitter, between them and Taylor, another right-handed hitter, behind Bellinger. The idea was to make it more difficult for the Cubs to play the matchups with their bullpen later in the game.
He pointed to the Cubs leaving Jose Quintana, their left-handed starter, in the game in the seventh inning Tuesday to face Bellinger with his pitch count over 100. Bellinger doubled. On Wednesday, Bellinger smacked a two-run home run off left-hander Cole Hamels on his 112th pitch. The homer chased Hamels. He added switching Bellinger and Seager wasn't an option because they want Seager to continue finding a groove closer to the top of the order after missing most of last season.
"There's a strategic part of it," Roberts said.
As for the second question, Joc Pederson, the Dodgers' left fielder when they oppose right-handed starters, has been one of the most productive hitters this season — he's clubbed 10 home runs and compiled a 1.091 on-base-plus-slugging percentage. But the left fielder is one for 11 against left-handers. The only hit was an infield single on a grounder the pitcher should've fielded.
So the Dodgers stuck with their platoon and started Taylor even though he has struggled regardless of the opposing pitcher's handedness. He entered Wednesday batting .211 with a .707 OPS in 21 plate appearances against left-handers while batting .135 with a .400 OPS opposite right-handers in 42 plate appearances. He went 0 for 4 with three strikeouts Tuesday. He struck out in his first at-bat Wednesday before driving in the Dodgers' first run with a two-out infield single in the fourth inning. Alex Verdugo pinch-hit for him in the sixth.
"I still think that it's a guy who's done it for two years for us at this level," Roberts said. "His preparedness, his work ethic, the makeup, what he does. For me, he's going to get more leash, because I believe in him personally."
Sign up for our Dodgers newsletter »
Asked if he could foresee a scenario in which Pederson starts over Taylor when the Dodgers encounter left-handed starters, Roberts offered a third option: Verdugo. The rookie outfielder, who has a history of success opposite left-handers despite hitting left-handed, is three for seven with a double, triple and home run against left-handers this season.
Verdugo remained on the bench to start Wednesday, but wound up making an impact after replacing Taylor, slugging a first-pitch three-run home run off right-hander Steve Cishek in the eighth inning. The homer pulled the Dodgers within a run. It wasn't enough.
Twitter: @jorgecastillo
Get our Dodgers Dugout newsletter for insights, news and much more.
You may occasionally receive promotional content from the Los Angeles Times.