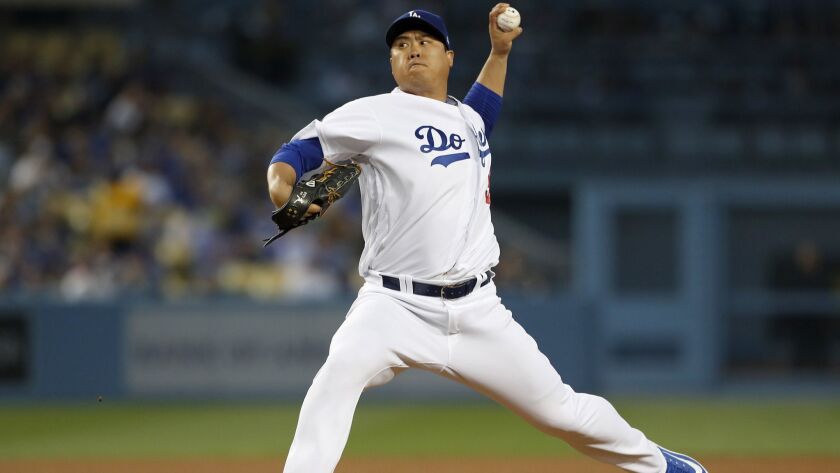 A jumble of noise inundated Dodger Stadium in the eighth inning Thursday night. From the stands, fans offered their full-throated approval of Hyun-Jin Ryu's latest masterful performance. And as they roared from their feet, the speakers beyond the center-field wall boomed with Kenley Jansen's entrance song.
The closer emerged from the Dodgers' bullpen earlier than usual. Jansen hadn't pitched since Monday and his relief peers hadn't elicited much trust in the interim. So Dodgers manager Dave Roberts avoided the rickety bridge to Jansen and summoned him to ensure Ryu's brilliant outing wasn't wasted, to protect the Dodgers' one-run lead, and to complete a four-out save.
Jansen secured the third out and watched his offense double the margin against the New York Mets' exhausted bullpen before sealing the Dodgers' 2-0 win, a series victory, and his 16th save with a hitless ninth inning.
He was in position to finish because of Ryu's dazzling finish to a dazzling month. The left-hander logged another 72/3 scoreless innings, which lowered his league-best earned-run average to a svelte 1.48. He held the Mets (27-29) without a hit in five at-bats with runners in scoring position, leaving opponents two for 42 in that situation against him this season. He generated 16 swing-and-misses with his 106 pitches. Eight came on changeups, a pitch he effectively wielded to complement his fastball.
"I think I had the best changeup this season in this particular outing," Ryu said through his interpreter, Bryan Lee. "When I wanted it to go in for the strike, I was able to command that way, and when I needed to get some swing-and-misses and make them chase, I was able to expand it the way I wanted. So it was by far the best feel for that pitch."
The mix generated Ryu's 11th consecutive start holding a team to two or fewer runs to begin the season — the most in baseball for a traditional starter since Ubaldo Jimenez accomplished the feat in 2010. The three runs he allowed in six starts in May came in two innings. Other than that, he tossed 44 scoreless innings, including 32 straight between May 1 and last Saturday against the Pittsburgh Pirates. His 0.59 earned-run average for the month is the lowest for a Dodger starter in a month since Clayton Kershaw's 0.27 earned-run average in July 2015.
"This month of May was incredible," Ryu said. "I've always told everyone how I wanted to do my job as a starting pitcher, meaning I want to throw six, seven innings and put the team in a position where we can win. I've always said that but never really executed the way that I wanted, but this month of May I was definitely able to do that. So I do feel it is unbelievable."
Sign up for our Dodgers newsletter »
The Mets were relying on Jason Vargas to, if not match Ryu, at least pitch deep into the game. The start of the outing was not promising. The veteran left-hander threw 26 pitches — and just 11 strikes — to secure his three outs. Chris Taylor led off for the Dodgers (38-18) with a line drive to left field that J.D. Davis attempted to catch with a dive. The try was a mistake; the ball bounced in front of Davis and past him to the wall.
Taylor raced around for a triple. He scored on Max Muncy's double and the Dodgers had a run before recording an out. Vargas went on to issue two walks and load the bases as his command failed him. The dam appeared ready to burst on Vargas.
But, somehow, he held the Dodgers, who were without Justin Turner, without another run. The 36-year-old logged seven innings, eclipsing his previous season-long outing of 51/3, and kept the Mets in the game. But his replacement Hector Santiago, another left-hander, immediately encountered trouble in the eighth. He surrendered a double to David Freese and a two-out RBI single to Enrique Hernandez before exiting.
Something strange happened in the second inning. Ryu engaged in a standoff with a hitter, the count running full, and lost. He walked Todd Frazier on the seventh pitch of the at-bat. It was Ryu's fifth walk of the season and eighth at Dodger Stadium in 15 starts since the start of last season. Both are the lowest in baseball during their respective spans.
Carlos Gomez followed with a single, putting runners on first and second base with one out, but Ryu wiggled free unscathed. The escape prompted a cruise. Ryu retired the next 10 batters. He faced more danger when standout rookie Pete Alonso rocketed a 114.6-mph line drive down the left-field line for a leadoff double in the seventh inning and again Ryu calmly untangled the mess, getting the next three batters out.
He walked off the mound with 100 pitches. The number usually signals the end for Dodgers starters, but manager Dave Roberts let Ryu hit for himself in the seventh inning and start the eighth. He faced three hitters. One, pinch-hitter Wilson Ramos, reached base on an infield single. A groundout, Ryu's exit to a standing ovation, and Jansen's entrance followed.
"We needed Hyun-Jin," Roberts said, "and he answered the bell once again."
Twitter: @jorgecastillo
---