Howie Kendrick takes leadoff spot for Dodgers against Mets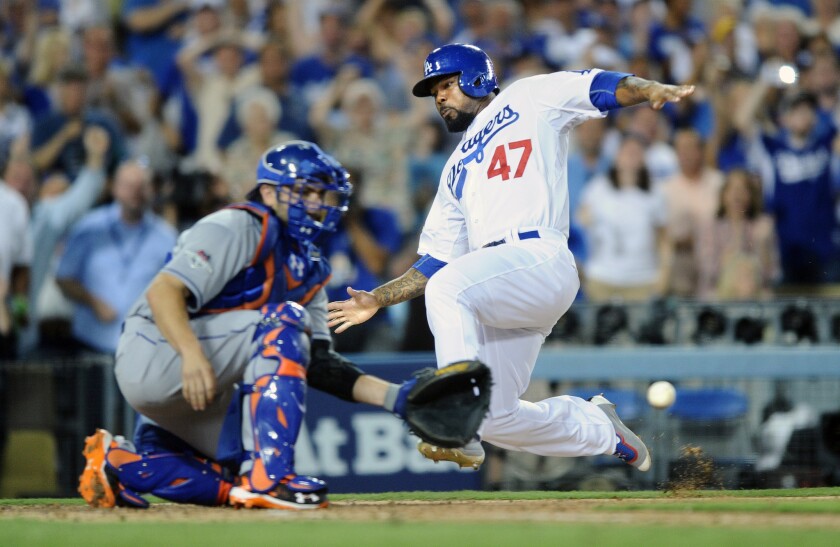 Last April, playing for the Angels, Dodgers second baseman Howie Kendrick found himself in an unusual spot.
For the first time all season, he was batting leadoff.
How, he was asked, would that affect him?
"I'm going to hit how I hit," Kendrick said. "I'll just be hitting sooner."
After that, Kendrick hit leadoff sparingly for the Angels but went all season without doing so for the Dodgers. That is, until Game 2 of the National League division series Saturday against the New York Mets.
Dodgers Manager Don Mattingly has used the spot atop the order like a game of musical chairs. Eleven different players have batted leadoff this season. Kendrick became the 12th.
"The only thing I do differently with Howie is make sure he's comfortable there when I talk to him," Mattingly said. "He's comfortable."
Kendrick hasn't been as productive in the leadoff spot in his career. Before Saturday, he had batted .236 from the No. 1 spot in the order, in 28 games.
On Saturday, Kendrick's RBI fielder's choice in the seventh inning tied the game at 2-2.
Mattingly said he doesn't think consistency in the lineup is the most important thing when deciding on an order.
"Really, our lineups in general every day are a little bit different," Mattingly said, "kind of depending who is in the lineup that day you kind of put that group together."
A closer in the seventh?
Among baseball's analytical community, there is a growing belief a team's best relief pitcher should be used at a game's most crucial moment.
Take, for instance, the Dodgers' Game 1 loss, when starter Clayton Kershaw was removed with the bases loaded in the seventh inning. Mattingly opted for right-hander Pedro Baez.
Would closer Kenley Jansen have been a better option? Jansen doesn't think so.
"No, that's not smart," Jansen said. "I think closers still come out, at most, in the eighth inning and get six outs."
Some major league closers have expressed similar skepticism. One problem, they say: It is difficult to know what the game's most critical moment will ultimately be.
One closer said that, even if the numbers look good on paper, in practice, relievers would struggle adapting to a new routine. And, he added, the constant vigilance could take a toll on arms over the long regular season.
The Dodgers analytically inclined front office has not had extensive discussions with him about using Jansen earlier in the game, Mattingly said.
"We haven't talked about using Kenley in the seventh," Mattingly said. "We do talk about using guys in high-leverage situations though."
Jansen said in the postseason, he's "prepared for anything."
But, seemingly, only if that anything came in the eighth inning or later: "If they want me for six, five, four outs, I'm ready for it," Jansen said.
More lineup changes
Mattingly opted for Enrique Hernandez in center field in Game 2 over Joc Pederson, who started there Friday.
Pederson started against a right-hander in Game 1, but Mattingly said he thought Hernandez matched up better with the Mets' right-hander Noah Syndergaard.
Yasmani Grandal also started at catcher over A.J. Ellis. Mattingly has hinted the two could alternate games in the postseason.
Short rest for deGrom?
Mets Manager Terry Collins said Game 1 starter Jacob deGrom probably would not pitch in Game 4 on three days' rest.
"As I sit here at this moment, I think he went too far tonight," Collins said. "He had to work hard."
That leaves left-hander Steven Matz as the likely starter Tuesday.
Follow Zach Helfand on Twitter @zhelfand
---
Get our Dodgers Dugout newsletter for insights, news and much more.
You may occasionally receive promotional content from the Los Angeles Times.