Beat writer Andy McCullough and columnist Bill Plaschke talk about Dodgers closer Kenley Jansen and why he's having such a rough 2018 season so far as well as what might have been had the Dodgers signed Max Scherzer.
In the middle of the seventh inning of a 5-2 loss to Washington, Clayton Kershaw hunched on the bench inside his dugout. Dodgers manager Dave Roberts patted Kershaw on the leg and sat down next to him. Nationals ace Max Scherzer already had completed his evening. Kershaw's night would end soon after.
Kershaw outlasted Scherzer in a duel on Friday night at Dodger Stadium. But he did not outperform Scherzer. Kershaw (1-3) yielded four runs across seven innings on nine hits, punished by Washington's aggression, and gave up more hits Friday than he had in any game since last May. Scherzer logged six innings but surrendered only one run.
"We had our opportunities, just like they did," Kershaw said. "But Max limited the damage better than I did."
The defeat snapped a four-game winning streak for the Dodgers (8-10). After scoring 30 runs in three days in San Diego, the offense wilted against more credible competition. Down two in the eighth, Pedro Baez issued three walks, one with the bases loaded, to deepen the deficit.
The starting pitching matchup was a rarity. In the history of baseball, on only 13 occasions had two three-time Cy Young Award winners faced each other. The last one was a 2006 duel between Greg Maddux and Roger Clemens, both near the twilight of their careers. Friday's game offered a meeting between two pitchers near the height of their powers.
Kershaw had 12 strikeouts in his last outing. Scherzer struck out 11. Roberts did not defuse the hype. "They're pretty much in a league by themselves," he said. "We understand this is April. But the intensity already in the clubhouse with Clayton pitching, and knowing who we're playing, it's that playoff mindset."
As the Nationals gathered for batting practice, Dodgers president Stan Kasten walked over. Kasten had spent four years in a similar role in Washington, serving as team president when the Nationals drafted Bryce Harper in 2010. Kasten spotted reporters nearby and joked they would go crazy with speculation as he chatted with Harper. Kasten offered similar greetings to Nationals stalwart Ryan Zimmerman and former Dodger Howie Kendrick.
Harper will be a free agent this winter. He figures to headline a class that could include Kershaw — if Kershaw chooses to opt out.
At 3:20 p.m., Kershaw stalked to his locker inside the clubhouse. He turned toward a monitor to study the Nationals lineup. Washington sported an offense racked by injuries, with Daniel Murphy, Anthony Rendon and Adam Eaton either on the disabled list or on the bench. The top half of the group was still formidable.
RELATED: Dodgers' Justin Turner takes swings off a tee
The Nationals came out swinging. The first three batters attacked Kershaw's first pitch. Trea Turner smashed a 91.2-mph fastball into left for a double. Kendrick lined out to center. Harper chopped a slider to the right side for an RBI single, capitalizing on a drawn-in infield.
The pace slowed as Zimmerman stepped into the box. Kershaw bounced a pair of sliders, one for a wild pitch. He evened the count before testing Zimmerman with a 2-2 fastball. Zimmerman hit a laser beyond the reach of Chris Taylor in center for a run-scoring double.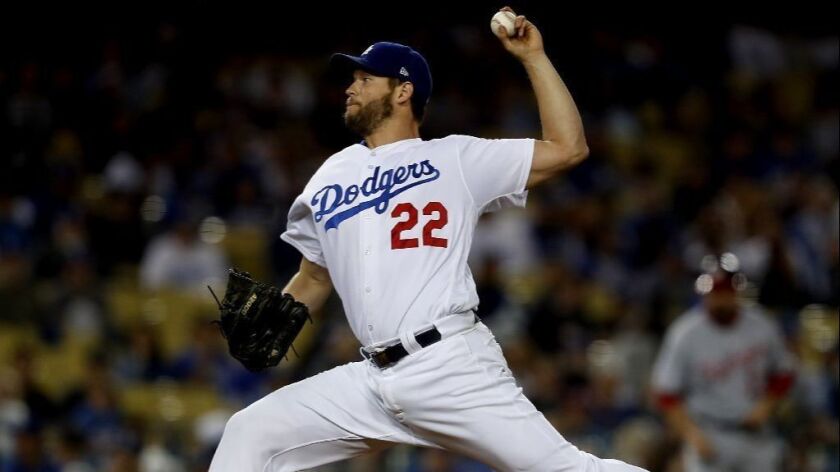 "I've got to make a better pitch to Zimmerman," Kershaw said. "Maybe get out of there with one run."
Scherzer dealt with a similar rocky start. Taylor pounded Scherzer's first pitch off the right-field wall for a triple. Scherzer clipped Corey Seager with his next pitch to place runners at the corners. Unlike the Nationals, the Dodgers could not convert the runners into runs.
Up came Yasmani Grandal, one of the National League's top hitters who had visited with a trainer between innings after getting drilled by a pair of foul balls behind the plate. Grandal popped up a 1-0 fastball. Cody Bellinger swung through a 94.8-mph fastball. Joc Pederson could only blink at a full-count curveball which dove into the zone at the last moment.
"If you're not getting guys in when he's on the mound, you're not going to win. Kershaw pitched great for us," said Bellinger, who struck out three times. "They just got to him a few times. We've just got to hit with runners [on]. Myself included."
Grandal got another chance in the third. After a walk by Taylor, Scherzer hit Seager with another slider. Grandal could not capitalize. He bounced a 1-1 changeup into a 4-6-3 double play to end the inning.
After Zimmerman's first-inning double, Kershaw retired 11 in a row. He fanned Harper in the third with an 0-1 curveball and an 0-2 slider. After Taylor's leadoff triple in the first, Scherzer did not permit a hit until Taylor doubled in the fifth.
Scherzer contributed to Kershaw's troubles in the fifth. The Nationals continued to attack Kershaw on the first pitch. Michael A. Taylor slashed a slider for a leadoff double. Scherzer blooped a single to put runners at the corners for Turner.
Turner bats from the right side. The Dodgers shaded second baseman Chase Utley closer to the bag. Turner exploited the arrangement. He dropped a bunt down the first-base line. Kershaw and Bellinger converged on the ball. They had no play at the plate, as Taylor scored. And there was no play at first, as Utley could not arrive in time.
"He made a good bunt," Roberts said. "With a guy like that, there's really not a whole you can do."
The Nationals stung Kershaw in the sixth with three singles. The last, by Michael A. Taylor, gave Scherzer a four-run lead. The Dodgers staged a two-out rally in the bottom of the inning. Yasiel Puig delivered their first run with a single.
Scherzer departed after six innings and 106 pitches. The Dodgers benefited from seeing Washington's bullpen. Grandal cracked a run-scoring single off reliever Sammy Solis. The rally went no further, though: Bellinger flailed at a pair of changeups outside the zone and Matt Kemp came off the bench to ground out.
"It's just another loss," Bellinger said. "You've got to tip your cap sometimes."
Follow Andy McCullough on Twitter @McCulloughTimes
---