Hyun-Jin Ryu returns for Dodgers, but his velocity is lacking in loss to Padres, 6-0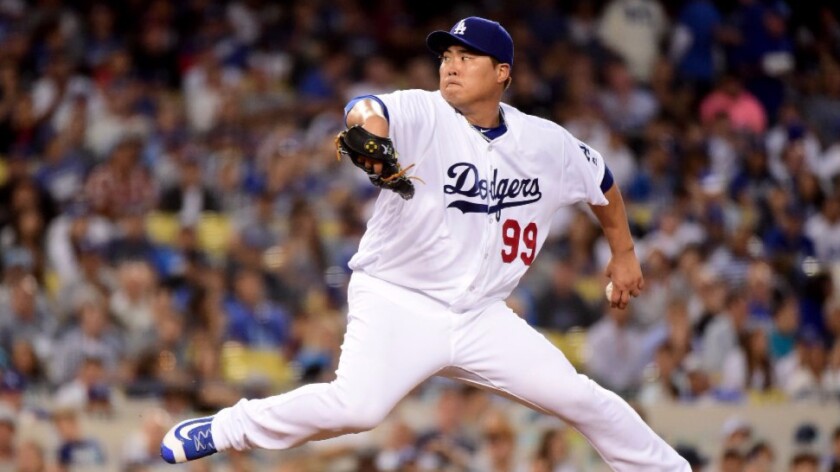 The digits beamed across Dodger Stadium's right-field scoreboard, an electronic clearinghouse for fastball velocity readings, the numbers offering a startling depiction of Hyun-Jin Ryu's physical limitations. In the fifth inning of a 6-0 loss to San Diego, the velocity told the story.
87 . . . 88 . . . 87 . . . 85 . . . 89 . . .
The last fastball eased out of Ryu's hand but sizzled off the bat of San Diego outfielder Alex Dickerson for a two-run triple. It was the sixth run the Padres squeezed out of Ryu, and his night would not continue.
In his first start in 21 months, Ryu could not author a triumph. He could not even arouse optimism. His outing only deepened the skepticism about his revival after last year's career-altering shoulder surgery.
"Through four innings, the velocity was where it needed to be, 89-91," Manager Dave Roberts said. "I thought he threw a lot of quality pitches. But yeah, that fifth inning . . . I thought he just got a little tired."
One start cannot represent a pattern, but Ryu displayed flashes of this form as he rehabilitated in the minors. His fastball velocity hovered below the average he set in 2013 and 2014, when he won 28 games and posted a 3.17 earned-run average. At times, he could not produce the necessary speed. At times, he could not maintain it.
The Padres feasted on his refashioned form Thursday. Ryu surrendered eight hits, five of them worth extra bases, in 42/3 innings. His teammates offered minimal resistance, getting two hits against Padres starter Drew Pomeranz and two relievers, as the Dodgers (48-40) fell for the third game in a row.
See the most-read stories in Sports this hour »
Corey Seager went 0 for 4 as his 19-game hitting streak ended.
The Dodgers must hope Ryu can rebuild his arm strength as the season progresses. Yet the organization understood the uncertainty surrounding his return. Roberts tried to find positive signs.
"The No. 1 thing is he's back," Roberts said.
When camp opened at Camelback Ranch in February, the Dodgers suggested Ryu might be ready for the first week of the season. The coming days erased that notion. Ryu eased into his throwing program. He did not appear in a minor league rehab start until May 15. After three outings, he required a two-week layoff to let soreness dissipate.
Ryu spent eight starts facing minor league hitters. He labored against class-A lineups. One night in triple-A Oklahoma City, he gave up eight runs. But with Clayton Kershaw on the disabled list and Ryu's minor league assignment drawing to a close, the team chose to activate him for Thursday.
"Throughout the whole outing, my shoulder felt fine," Ryu said through his interpreter. "I wasn't hurting. So I think I can consider myself back."
Ryu did not experience an auspicious opening at-bat. Ryu wanted to stuff a 92-mph fastball low and inside to Melvin Upton Jr. He succeeded in his location, but Upton still lifted the baseball over the right-field fence to welcome Ryu back to the majors.
An inning later, Ryu walked catcher Derek Norris, who has a .264 on-base percentage. He allowed a single to shortstop Alexei Ramirez, batting .237. For a third act, Ryu flipped a curveball to opposing pitcher Pomeranz, who rolled an RBI single through the middle of the infield.
In the fourth, as San Diego scored another run, catcher A.J. Ellis noticed "a little bit of fatigue" in Ryu. In the fifth, as Ryu's energy waned, the Padres took advantage.
"My velocity went down, as compared to the first few innings," Ryu said. "I'll just have to adjust that as I play more games."
With two outs, former Dodger Matt Kemp stepped to the plate. Lacking fear of the fastball, Kemp smashed a changeup for a double. Yangervis Solarte smoked an 87-mph fastball down the third base line for an RBI double.
After Roberts ordered an intentional walk of Norris, Ryu faced Dickerson, a left-handed hitter playing in his 27th big-league game. Ryu hummed an 89-mph fastball at the waist, and Dickerson ripped the ball into right.
Yasiel Puig read its flight like a middle-school student trying to decipher James Joyce. He stepped forward, and the ball went over his head. After he corralled the baseball, his throw missed two cutoff men.
The route by Puig was immaterial, a sideshow to the evening's main act. The real cause for concern would soon leave the diamond. The future for Ryu remained worrisome.
"It was a long road for him to come back," Roberts said. "That's something that we're really mindful of."
Follow Andy McCullough on Twitter @McCulloughTimes
---
Get our high school sports newsletter
Prep Rally is devoted to the SoCal high school sports experience, bringing you scores, stories and a behind-the-scenes look at what makes prep sports so popular.
You may occasionally receive promotional content from the Los Angeles Times.