The Dodgers turned to Kiké Hernandez to pitch in the 16th inning. It didn't go well
Reporting from PHILADELPHIA —
At 12:57 a.m., more than three hours after Kenta Maeda served up a score-tying home run, Rich Hill raced out of the Dodgers dugout and sprinted across the diamond toward center field at Citizens Bank Park. He climbed the stairs to the team's bullpen, which had been steadily emptied of pitchers as Tuesday turned to Wednesday. It was the 16th inning.
Hill would have been the eighth Dodgers pitcher to follow Maeda to the mound. Hill had been scheduled to start Thursday in Atlanta. Manager Dave Roberts had already used closer Kenley Jansen for four outs as the Dodgers traded scoreless innings with the Philadelphia Phillies. Rookie reliever Caleb Ferguson was unavailable after throwing 50 pitches Sunday.
Yet, after Logan Forsythe struck out to strand two runners, Roberts pivoted. He sent utility man Enrique Hernandez to pitch. The gambit did not succeed. Hernandez struggled to throw strikes, walking two batters before giving up a walkoff home run to Trevor Plouffe in a 7-4 defeat.
At least, the Dodgers could rejoice in that the game had ended. The nightmare lasted 5 hours 55 minutes. The final pitch was thrown at 1:14 a.m. EDT. The first pitch for Wednesday's series finale is scheduled for 12:35 p.m.
"I was thinking about how we had a game in 11 hours," Hernandez said. "And how I was 0 for 7 at the plate, and this was my time to redeem myself. And I didn't."
It was a dismal ending to an unexpected marathon. Yasmani Grandal hit two home runs, one from each side of the plate, as the Dodgers dispatched Phillies ace Aaron Nola. For the second game in a row, a three-run lead evaporated when Roberts tried to ride one of his starting pitchers. Maeda wobbled in the seventh inning, when catcher Jorge Alfaro hit a two-run shot to cap a three-run rally.
The blast by Alfaro wrecked Maeda's evening. He still struck out seven batters and pitched past the sixth inning for only the fifth time this season. Almost the entirety of the bullpen followed him. Hill was available in a save situation only, Roberts explained. Hernandez was instructed to not throw at 100% — Plouffe homered on an 84-mph pitch.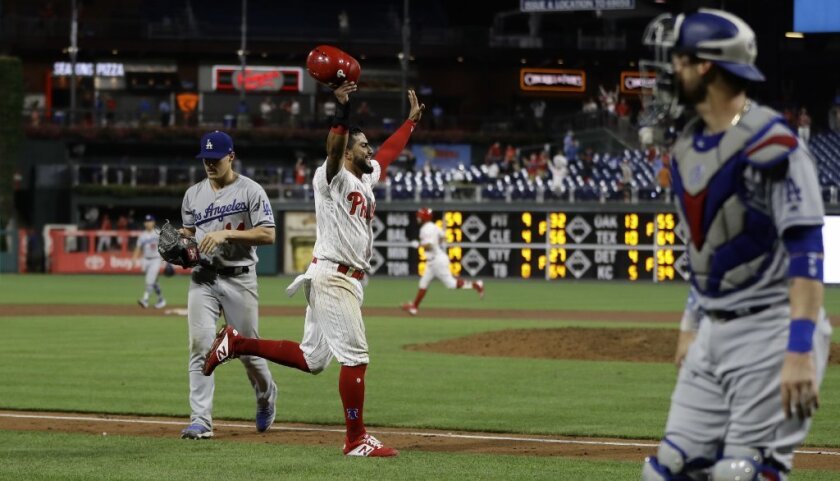 "Unfortunately, we ran out of pitching in the 16th," Roberts said.
The Dodgers had their chances. After Grandal's second home run, the offense sputtered against Philadelphia's bullpen. In all they stranded 11 batters and collected one hit with runners in scoring position.
Rain spat on the Delaware Valley through the morning and afternoon. The elements canceled batting practice before the Dodgers faced Nola, who made his first All-Star team last week. Nola entered the game ranked second in the National League in earned-run average (2.30). He had stymied the Dodgers across seven innings of one-run baseball May 31 at Dodger Stadium.
"He's one of the very good young pitchers in baseball," Roberts said before the game.
The fielders surrounding Nola made two mistakes in the first inning that netted the Dodgers a run. A two-out flare from Grandal fell between second baseman Cesar Hernandez and outfielder Odubel Herrera for a single. The hit brought Joc Pederson to third base. He scored on a wild pitch from Nola, who bounced a curveball that ricocheted off Alfaro's chest.
Maeda monitored the lead with care. The Phillies did not hit a ball out of the infield until the third inning, when Nola flied out to right. Maeda retired the first 11 batters he faced. He was aiming to build upon a streak of four consecutive games with nine strikeouts. He settled for tidy innings.
The Dodgers doubled their lead in the fourth. Grandal extended his torrid July with a home run. He had gone deep the night before, inflating his on-base-plus-slugging percentage this month to 1.299. The number increased when Grandal clubbed a thigh-high changeup past the fence in right-center field.
The hitters squeezed a third run out of Nola in the fifth. Alex Verdugo walked for the third time in three plate appearances since being recalled Monday. His first walk led to the go-ahead run in Monday's ninth inning. This one set the table for Pederson.
Pederson saw 10 pitches from Nola. After the count ran full, he fouled off three fastballs. Nola tried a curveball. The pitch hung over the plate. Pederson whacked it off the left-field fence for a run-scoring double.
Maeda lost his bid for a shutout in the bottom of the inning. Maeda hung a 1-and-2 slider to Nick Williams, who tattooed the mistake for a home run.
Nola did not return for the sixth inning. In his place came reliever Adam Morgan, a left-handed pitcher. Grandal switched to the other side of the plate, but treated Morgan no differently than he did Nola. Morgan fired a 94-mph fastball. Grandal lifted an opposite-field shot, his 16th home run, to up the lead to three runs.
The advantage disappeared in the seventh. It started in innocuous fashion, a groundball single by first baseman Carlos Santana. Maeda had disarmed the Phillies with his changeup all game but now third baseman Maikel Franco hit a run-scoring double on a changeup to cut the lead to two runs.
"It's not a computer game," Roberts said. "You have to watch the game, too. If he's throwing the ball well, you don't just say 'He's out of the game.' "
Franco stood on second base as Alfaro batted. Alfaro had struck out in his first two at-bats. Maeda had not proven prone to struggling the third time through the batting order this season. Before Tuesday, he had held opposing hitters to a .547 OPS when facing them a third time.
Roberts believed in the data and he believed in Maeda. Alfaro cared about neither. When Maeda left a 91-mph fastball at his belt, Alfaro hit a tying home run.
"If I had gotten an out there," Maeda said through interpreter Will Ireton, "I think the probability of us winning would have been higher."
Twitter: @McCulloughTimes
---
Get our Dodgers Dugout newsletter for insights, news and much more.
You may occasionally receive promotional content from the Los Angeles Times.