Julio Urias, though no longer 'The Teenager,' remains important to Dodgers' future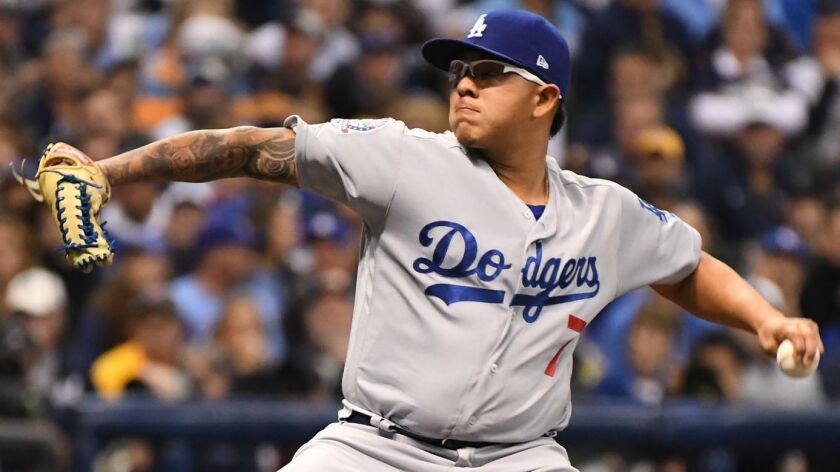 Reporting from Phoenix —
Clayton Kershaw wanted an unobstructed view, so he marched over to join a group clustered near home plate, a few feet away from the catcher Thursday at Camelback Ranch. At the other end, as rain sprinkled the grounds, Julio Urias stood on a mound for his first bullpen session of the spring.
Other pitchers worked alongside Urias, but all eyes fixated on the 22-year-old left-hander as he peppered the mitt. Kershaw stood facing him directly, the Dodgers' ace lefty for the past decade attentively watching what the Dodgers hope is the future.
"I didn't notice him there," Urias said, speaking in Spanish, after the Dodgers' rain-abbreviated workouts. "Somebody just told me. That makes me feel good."
The Dodgers aren't counting on Urias to soon reach the potential that made him a can't-miss teenage prospect and made his bullpen session Thursday worth close observation. They aren't even counting on him to begin the season in the majors. Urias is expected to break spring training as part of triple A Oklahoma City's starting rotation.
Less than two years after he underwent major shoulder surgery, Urias will be handled with care.
Manager Dave Roberts said Urias wasn't a candidate to begin the season in the Dodgers' bullpen, and that he would be on an innings limit in 2019. The cap hasn't been determined, but it will probably force the Dodgers to restrain Urias early to have him available late in the season — as he was in 2018, when he reached the majors in September and was a surprise addition to the bullpen in the National League Championship Series and World Series.
"He's a guy that was abbreviated last year and when it mattered in the postseason we counted on him," Roberts said. "But if you look at the workload the last couple years, it's pretty low. So we've still got to be mindful of that. … How we ramp him up is a topic at the forefront of our minds."
Urias suffered a torn anterior capsule in his left shoulder in June 2017 — a year after he made his major league debut at age 19 — and didn't pitch in a game again for 13 months. His rehab workload was controlled as he rose through the minors, from rookie league to Class A to Oklahoma City, and into the majors in September. He did not log more than 2 1/3 innings or throw more than 44 pitches in an outing. He made three relief appearances for the Dodgers, all late in games with the Dodgers holding a double-digit lead.
He was sharp. His fastball touched 97 mph and he struck out seven without a walk in four scoreless innings. But his low-leverage use seemingly made him a longshot to pitch in the playoffs. However, Urias ended up making seven playoff appearances, giving up two runs in 6 1/3 innings.
"I just wanted to get on the mound and pitch again in the major leagues," he said. "That was on my mind when I got a chance in September and I was very surprised when they put me on the playoff roster. It really helped my career. It gave me a lot of confidence. I didn't expect something to happen like that. I felt really good and I feel like I did well."
Sign up for our daily sports newsletter »
Urias spent his offseason at home in Culiacan, Mexico. He was sound, a 180-degree turn from the previous winter of rehab, and reported to spring training with a goal of making the opening day roster in any capacity. But the Dodgers want him to start, and they boast enough depth to have a top-tier starting rotation without him.
Barring injury, the club will begin the season with Kershaw, Walker Buehler, Hyun-Jin Ryu, Rich Hill and Kenta Maeda as starters, with Ross Stripling, an all-star last season, in the bullpen ready to step in when needed.
The luxury allows the Dodgers to tread cautiously with Urias. They can think beyond 2019 while still fielding a club expected to compete for the World Series. And in that future, the Dodgers, from their front office to their ace, envision Urias.
"There's a team, organization, but there's also an individual development part," Roberts said. "And when you're talking about an injury, we're very sensitive to that. So I think with his development we got to do the best thing for Julio Urias."
Twitter: @jorgecastillo
---
Get our Dodgers Dugout newsletter for insights, news and much more.
You may occasionally receive promotional content from the Los Angeles Times.