Analysis: Potential and price make it unlikely Dodgers will trade Yasiel Puig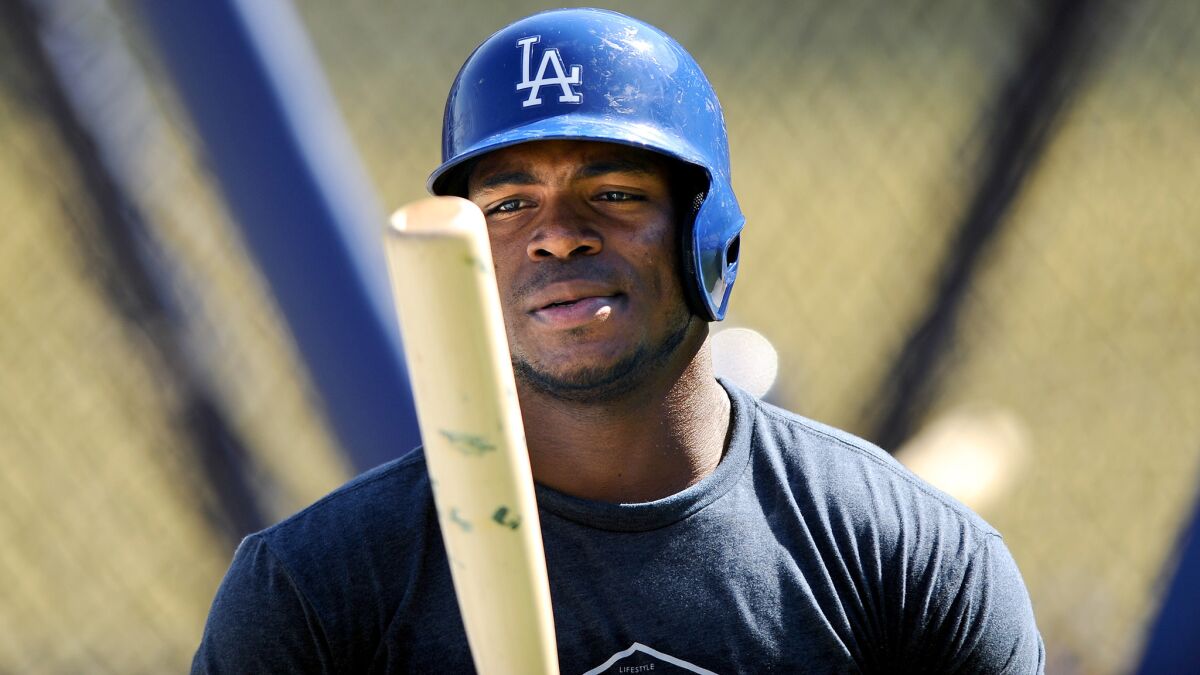 As the Dodgers were playing their final regular-season games last month, they received word that a sidelined Yasiel Puig could return to them in time for the playoffs.
On the surface, a positive development. But that wasn't how the news was received in the clubhouse.
Multiple players said at the time their preference was for Puig to remain at the team's spring-training complex in Arizona. They feared his oversized personality and underwhelming work habits would disrupt them more than his breathtaking talent would help.
So when the father of Dodgers outfielder Scott Van Slyke implied on a St. Louis radio station this week that Clayton Kershaw recommended to management that Puig be traded, the story sounded entirely plausible. About the only surprising part of the revelation was that Andy Van Slyke, a former All-Star, didn't consider how his words might affect his son, a reserve outfielder who is a close friend of Kershaw.
SIGN UP for the free Dodgers Dugout newsletter >>
Asked for his opinion of Puig, the elder Van Slyke told WGNU-AM, "When the best player — the highest paid player on the Los Angeles Dodgers — goes to the GM and tells him, or is asked what is the No. 1 need or what are the needs of the Los Angeles Dodgers club, this particular highest-paid player said, 'The first thing you need to do is get rid of Puig,' That's all you need to know."
The interviewer, Frank Cusumano, guessed Van Slyke was referring to Adrian Gonzalez.
"No, he's not the highest-paid player," Van Slyke said.
Cusumano deduced Van Slyke was talking about Kershaw.
"I didn't say his name," Van Slyke said.
Van Slyke never specified when this supposed conversation between Kershaw and management occurred or how he heard about it. Andrew Friedman, the Dodgers president of baseball operations, declined Friday to respond to Van Slyke's comments. Kershaw could not be reached for comment.
Regardless of whether Van Slyke's story was true, expect this latest controversy involving Puig to result in another round of trade rumors, especially with baseball's winter meetings starting in a couple of weeks.
Here's what is almost certain: Even if Kershaw advised Friedman or General Manager Farhan Zaidi to trade Puig, that alone won't prompt the Dodgers to move the former All-Star right fielder.
In the days leading up the National League division series against the New York Mets, the front office was aware of how the team's players felt about Puig's possible return. Puig nonetheless made the postseason roster.
If the Dodgers trade Puig this winter, they probably will do so in exchange for a young starting pitcher. But the chances of that happening appear remote, primarily because Puig's stock is at a low — and trading low isn't something Friedman is likely to do.
Puig played in only 79 games this year, having twice landed on the disabled list with strained hamstrings. He batted a modest .255 with 11 home runs and 38 runs batted in.
Whatever his numbers, his potential remains great.
Speaking at the general managers meetings this month, Zaidi said, "Puig's first 2 1/2 seasons, he was like one of the 20 best players in baseball. We are a different team when he is as healthy and as productive as he was in '13 and '14."
The last time the Dodgers sold low on a high-ceiling player, they traded Dee Gordon to the Miami Marlins before last season. Gordon went on to win a batting title and Gold Glove in a season he also led the National League in stolen bases.
Puig also is a right-handed hitter in an overwhelmingly left-handed-hitting outfield that includes Andre Ethier, Joc Pederson and Carl Crawford.
Perhaps most important, Puig is relatively inexpensive and under the Dodgers' control for at least four more seasons. Unless he is released, the earliest he could become a free agent would be after the 2020 season.
Puig will earn $5.5 million in 2016, which is considerably less than what an outfielder with similar numbers would cost the Dodgers on the open market. By comparison, Crawford will make $20.75 million and Ethier $18 million.
In the three seasons that follow, Puig's salaries probably will be determined in the arbitration process. Even then, Puig would still be considered a bargain — whether any teammate likes it or not.
Twitter: @dylanohernandez
ALSO
Dodgers add right-handers Jharel Cotton, Ross Stripling to 40-man roster
New Dodgers broadcaster Joe Davis won't try to be a Vin Scully clone
Can a rookie manager take Dodgers to baseball's promised land?
---
Get our Dodgers Dugout newsletter for insights, news and much more.
You may occasionally receive promotional content from the Los Angeles Times.