Column: Yasiel Puig's antics are detrimental to the Dodgers — and flat-out annoying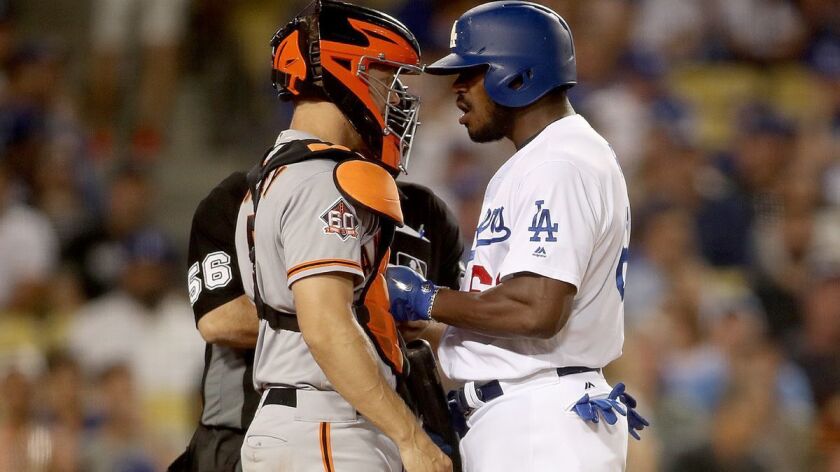 It has reached the point where the most amazing thing about the tiresome Yasiel Puig are the excuses people in this town will make for him.
When he misses a cutoff man, hey, can you blame him, he has such a great arm!
When he makes a baserunning error, wow, at least he's being aggressive!
And when he shoved and slapped San Francisco Giants catcher Nick Hundley on Tuesday night and was ejected from a game in the middle of a pennant race?
Good for him! He's defending his turf! What a warrior!
That's just so dumb, and so wrong.
Puig is obviously not the main reason for the Dodgers' recent struggles. But it's interesting how, because he is so entertaining, when he causes a team-damaging distraction, everyone else is blamed but him.
Puig was given a huge Dodger Stadium ovation Tuesday even as he was abandoning his dugout in the seventh inning of a one-run game. A day later he was defended throughout the city, from social media to local electronic media, even as Major League Baseball was figuring the length of what surely will be a suspension that surely will hurt an offense already struggling for runs.
When he showed up for work Wednesday for the Dodgers' series finale against the Giants, he was loudly applauded again, with his name drowning out cheers for Lakers first-pitch-throwing Josh Hart.
It makes one wonder, what exactly would it take for the deep chants of "Puiiiiiig'' to make the short leap into a chorus of "Booooo?''
How about, right now?
Puig was senseless and reckless in allowing Hundley to bait him into a fight. By all accounts, Hundley engaged in nothing more than common ballplayer taunting, yet Puig fell for it, inciting a bench-clearing skirmish and putting his teammates and coaches at risk.
Yes, Puig was frustrated only at fouling off the previous pitch, and cursed only himself. And no, Puig never said a word to Hundley, never did anything to insult Hundley or pitcher Tony Watson.
Yes, Hundley started it. According to Puig, Hundley popped off by cursing Puig. Everyone agrees Hundley was clearly the instigator.
But so what? Baseball is filled with jerks who try to get into the opponents' head. Did Puig have to allow him entry? Instead of getting in Hundley's face, he could have dug in right where he was, back in the batter's box, stared down Watson and answered with a real swing.
The most glorious part of Dodgers tradition was built on true heroes who answered taunts by trying to beat you, not beat you up. These greats spoke with their play, not with their punches, and if Puig wanted proof, on Wednesday he needed only to look at one of his mentors sitting in the box seats during batting practice.
It was the living legend Don Newcombe, and how many times did he and teammates Jackie Robinson and Roy Campanella experienced verbal abuse far worse than anything Puig has heard? Rarely did they ever strike back in a way that would hurt their team, even though they were justified in striking back plenty.
Under orders from Branch Rickey, the greatest of Dodgers fought back by fighting on, and while it's absurd to compare Puig's situation to the difficult lives of those pioneers, he and his defenders would be wise to learn from their example.
Although, at this point, one wonders whether Puig's learning curve hasn't completely gone off the rails.
His celebratory emotion is wonderful, he can inspire an entire city with one fist pump or tongue wag, and I personally wish he would flip his bat with every big hit, he can be that much fun. He has made a mark on this city with his community service, and as recently as Wednesday night, he stayed on the field long after batting practice signing autographs.
But as an actual Dodgers on-field contributor whose greatness outweighs his foibles, Puig's time probably has passed.
Realistically, he has done little in his six seasons here to live up to the hype. He has had more than 20 home runs and 70 runs batted in only once, and this year he probably will fail to reach either mark. Either he's not healthy, or not focused, or both, and now even his saving grace is failing him.
He's no longer a great outfielder. He helped cost the Dodgers a couple of games recently with lousy plays, and it's becoming a trend. According to Fangraphs, his defensive rating is the worst of his career and ranks him among the bottom 20 outfielders. He also has reverted to some of his tardiness habits, recently showing up 21 minutes after the usual reporting time for a home game.
Here's guessing the Dodgers aren't fooled. They've sent him to the minors, they've talked about dealing him, they've tried everything, and are surely beyond weary of his act.
Dave Roberts defended Puig on Wednesday afternoon, saying, "I felt it was instigated and he reacted.''
But the manager also said they would chat, acknowledging, "Do I wish he could have stayed in the game? Absolutely. That's the part I'm going to talk to Yasiel about, he's more valuable in the game than out of the game, that's something we're going to talk about.''
Next season is the final year of his contract, so this offseason would be the perfect time to finally deal with the Yasiel Puig situation, once and for all. In doing so, the Dodgers could allow him to perform his greatest service since joining the team in those magical early months of the 2013 season.
Trade him for a reliever.
Get more of Bill Plaschke's work and follow him on Twitter @BillPlaschke
---
Get our high school sports newsletter
Prep Rally is devoted to the SoCal high school sports experience, bringing you scores, stories and a behind-the-scenes look at what makes prep sports so popular.
You may occasionally receive promotional content from the Los Angeles Times.