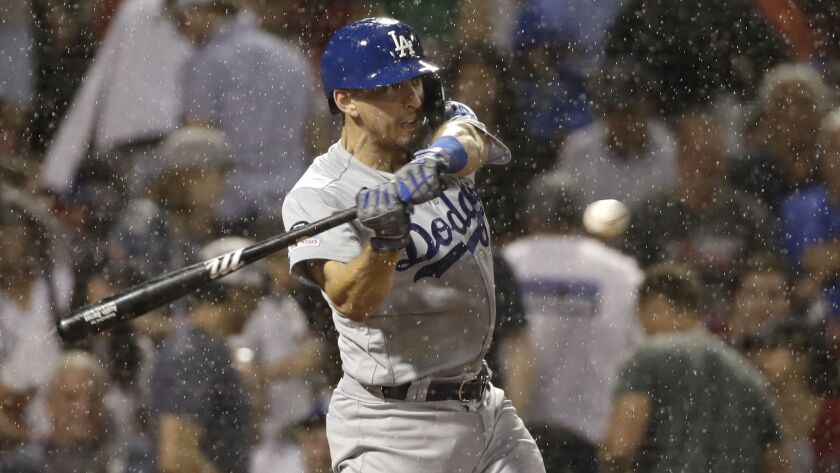 Reporting from BOSTON —
The Dodgers' fourth straight loss, a streak that has now wrapped around the All-Star break and journeyed from coast to coast, closely approximated the first three with a late-game twist.
Despite a reloaded lineup with three significant additions, they failed to muster much offense again and wasted another solid starting pitching performance against the Boston Red Sox on Friday night before the bullpen stumbled into an 8-1, rain-delayed rout at Fenway Park in a rematch of World Series foes.
"It's cyclical," Dodgers manager Dave Roberts said of the losing streak. "Hitting, pitching, all that stuff. So we just got to ride this out, but we'll be fine."
For the third time during their skid, a left-handed pitcher silenced their bats. On Friday, it was Eduardo Rodriguez, who spiked his glove in rage the last time he faced the Dodgers. That was at Dodger Stadium in Game 4 of the 2018 World Series. He was more pleased with his performance opening baseball's unofficial second half.
Rodriguez (10-4) entered the night with a 4.65 earned-run average before limiting the Dodgers (60-33) to one run over seven innings. He compiled 10 strikeouts to one walk and threw 105 pitches, outlasting Kenta Maeda's 5 2/3 innings of three-run ball.
The Dodgers trailed by two runs when Pedro Baez and JT Chargois, separated by an hour-long rain delay, combined to allow five runs in the seventh inning. The Dodgers, meanwhile, managed five hits and two walks. They have scored seven runs in their last four games. The infusion of talent they received Friday went unnoticed as they matched their worst loss of the season.
"It'll turn," Roberts said. "We just got to continue to trust that taking good at-bats we'll score runs."
The Dodgers welcomed back Corey Seager, A.J. Pollock and David Freese from the injured list Friday, giving them their original group of position players for the first time since late April. All three players started. Their presence should bolster the Dodgers' lineup, mimicking a blockbuster midseason acquisition for the team already with baseball's best record. It will also slide previous starters to other positions or to the bench.
"It's a high-class problem," Dave Roberts said.
Seager reclaimed shortstop and hit leadoff. Freese served as the designated hitter and batted third. Pollock will resume as the everyday center fielder, his role before sustaining an elbow infection in late April, and played there Friday. He hit sixth. His return shifted Alex Verdugo, who had excelled in center field during Pollock's absence, to left field.
Verdugo was the only Dodger who produced at the plate early in the game Friday. The rookie whacked his 10th home run in the second inning and deposited a bloop single in the fifth. Those were the Dodgers' only two hits off Rodriguez through five innings. The rest of the lineup went 0 for 15 with seven strikeouts and two walks.
The Red Sox (50-41) were not much better, but their first two hits inflicted more damage. In the first inning, Rafael Devers smacked an 0-2 fastball from Maeda over the Green Monster to give Boston a 1-0 lead. In the second inning, Christian Vazquez won a nine-pitch battle with another home run over the oversized wall in left field. It was the 16th home run Maeda has given up this season. He allowed 13 homers all last season.
Boston doubled the margin in the sixth inning as Maeda stumbled facing the top of the Red Sox lineup a third time. Mookie Betts lined Maeda's first pitch, a slider, into the left-center field gap for a double. Devers smoked the next pitch, a curveball, off the left field wall. He slid safely just ahead of Verdugo's throw from left field for another double as Betts scored.
Maeda (7-6) exited after retiring the next two hitters and throwing 87 pitches. He limited the Red Sox to three runs on four hits across 5 2/3 innings, struck out seven, and walked one. Getting through a lineup a third time, however, remains an obstacle for the right-hander.
"I try not to think that it's the third [time around]," Maeda said. "I try not to think about that, but they did hack at my first pitch of the at-bat. So maybe I should've been more cautious."
The Dodgers generated an opportunity to respond in the seventh inning, putting two runners on base with one out. But Austin Barnes, who is three for his last 33, struck out and Seager grounded out to terminate the threat.
Sign up for our Dodgers newsletter »
The rain intensified until the game was delayed in the bottom of the inning in the middle of an at-bat. The Red Sox had already tallied a run off Baez and were thirsting for more with Betts at the plate. When the game resumed an hour later, Chargois replaced Baez with runners on second and third, and one out. He surrendered a sacrifice fly to Betts. The Dodgers chose to intentionally walk Devers, a left-handed hitter, with first base vacant to face Xander Bogaerts, a right-handed batter. The approach backfired. Bogaerts lined a a three-run home run to bust the game open.
"His job is to go out there and get right-handers out," Roberts said of Chargois. "So I just played the percentages and tried to keep that game as close as possible. And it didn't work out."
Twitter: @jorgecastillo
---