Buehler can only do so much as Dodgers' anemic offense fails to produce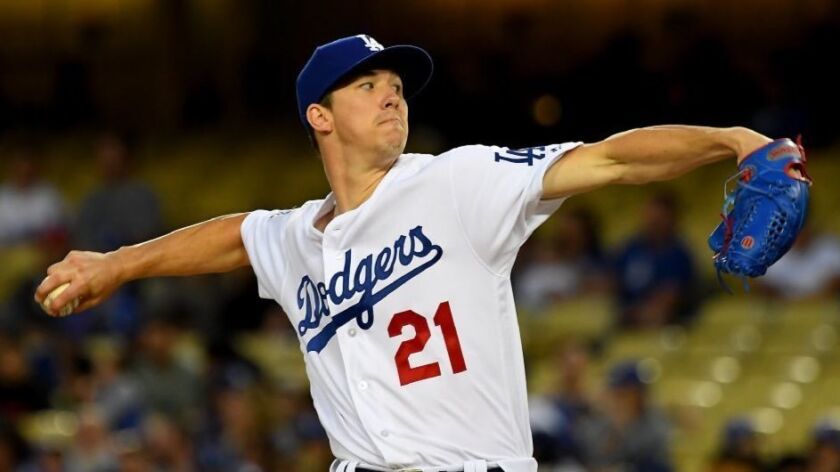 On Thursday afternoon, before his offense spent another night in a stupor and his bullpen set another game ablaze, Dodgers manager Dave Roberts allowed himself to hope. He looked at the lineup of the Cincinnati Reds, who have fewer victories than any other team in the National League.
The Reds arrived at Dodger Stadium for a four-game series, the optimal opponent for the listless Dodgers as they attempt to resurrect their season.
"The No. 1 focus," Roberts said, "is playing better baseball."
A few hours later, after a 4-1 loss, Roberts stalked to his seat for a news conference on the ground floor of the ballpark. His expression was grim. His pregame goal was not met. His players did not even come close.
"It's very frustrating," Roberts said, "and I expect those guys in the clubhouse to be frustrated as well as I am."
The Dodgers (16-21) have shown little emotion this season. They have shown little of anything, a trend that continued Thursday. The lineup neglected to provide plentiful support for rookie Walker Buehler. After five seamless innings, Buehler gave up a two-run double to Reds second baseman Scooter Gennett in the sixth. Relievers Pedro Baez and Daniel Hudson yielded two additional runs.
As a group, the Dodgers hitters offered a shabby response. They went one for seven with runners in scoring position and stranded eight runners. In the final six innings, Reds pitchers faced the minimum number of batters.
The Dodgers are 8-10 at Dodger Stadium. "To be under .500 at home, inexcusable," Roberts said.
In Cincinnati, the Dodgers found a reasonable patsy.
The Reds won 10 games in their first 12 series. Most of their roster is anonymous. They are not attempting to contend for the playoffs in 2018.
Yet even tanking teams have succeeded against the Dodgers. The Miami Marlins won a series at Dodger Stadium in April. The San Diego Padres took two of three games from the Dodgers last weekend in Mexico.
Facing Cincinnati starter Tyler Mahle, the Dodgers continued their infuriating habit of putting runners on base and leaving them there.
They forced Mahle to throw 85 pitches in the first three innings. They loaded the bases twice. They benefited from two fielding mistakes by Reds first baseman Joey Votto.
And they scored precisely one run, on a first-inning single by veteran Chase Utley. Yasiel Puig flied out with the bases loaded in the first. Cody Bellinger did the same in the second. Buehler grounded out to leave two more runners aboard in the third.
"You have to have different clubs in your bag," Roberts said. "And when you have one club, you get exposed. You look at our lineup, and there's a lot of guys with one club right now. It doesn't translate to production."
One run was enough for Buehler for the time being.
He faced a dilemma in the top of the first inning. After two quick outs, Votto lined a single into left and Gennett lined a single into right. The crowd held its breath as a flyball off the bat of third baseman Eugenio Suarez soared into right field. Puig settled beneath it for the third out.
That started a string of 14 consecutive batters retired by Buehler. He operated in tidy fashion. His fastball hummed at 96 mph as he struck out outfielder Adam Duvall to end the third and Suarez to end the fourth. Mahle flailed at a curveball for the final out of the fifth.
"Walker pitched his tail off tonight," Roberts said. "And he had no margin for error."
Buehler needed only 58 pitches to complete five innings. To procure three outs in the sixth, he required 35. In the process, he surrendered the slim lead provided to him.
A one-out single by outfielder Jesse Winker opened the door for the Reds. With two outs, Votto grinded out another single. He fouled off three pitches before delivering a hit into right.
"He's one of the best players of the game," Buehler said. "And there's a reason."
Up came Gennett. Buehler tried to disarm him with offspeed pitches. After two curveballs and a 1-1 fastball, Buehler attempted a backfoot slider. Gennett was not fooled. He whacked the pitch beyond the grasp of center fielder Joc Pederson.
"Right now, I've got to pitch better," Buehler said. "I can't give up two runs when we only have one, you know?"
An inning later, Pedro Baez yielded a leadoff double to catcher Tucker Barnhart.
Baez could not escape the jam. He gave up a two-out run-scoring triple to speedy outfielder Billy Hamilton, who hooked a 96.5-mph fastball into the right-field corner. The crowd revved up, hoping for a throw from Puig. Hamilton was too swift to throw out. Gennett supplied a solo home run against Hudson in the eighth.
As the pitchers stumbled, the hitters sputtered.
The Dodgers did not put a runner on base from the fourth to the sixth. Enrique Hernandez came off the bench and ended that stretch with a single in the seventh. He was erased two pitches later, when Yasmani Grandal chased a shin-high changeup and rolled into a double play.
"We talk about it in the clubhouse: This isn't a 'try' league," Roberts said. "Everyone is trying. You've got to get production. When you can't get separation, it stresses everyone. We've got to be better at all facets of the game, to be honest."
Twitter: @McCulloughTimes
---
Get our Dodgers Dugout newsletter for insights, news and much more.
You may occasionally receive promotional content from the Los Angeles Times.