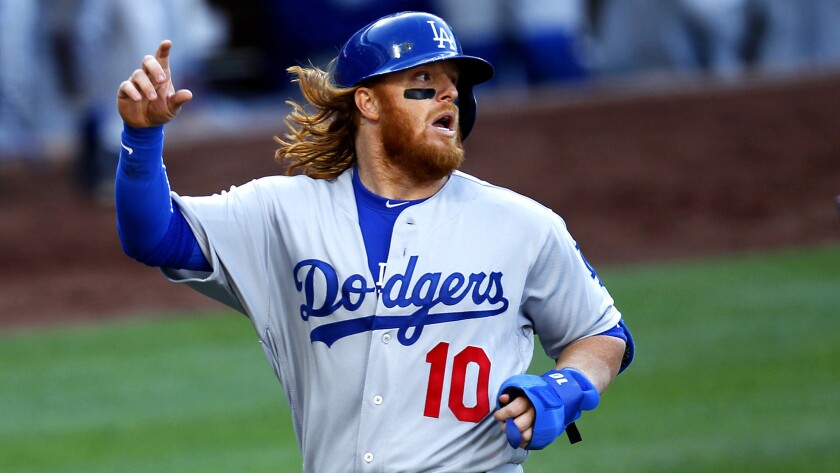 Dodgers Manager Dave Roberts will begin parceling days off to his veteran position players Thursday in San Francisco. He expects to sit left fielder Carl Crawford and may also rest third baseman Justin Turner.
Roberts has not decided between Scott Van Slyke or Trayce Thompson as Crawford's replacement. Thompson replaced Crawford in the field in the sixth inning of the first two games of the season, part of the team's plan to keep Crawford's legs fresh.
"He's on board," Roberts said.
If Turner does not play, Roberts would use Enrique Hernandez or Charlie Culberson at third base. The Dodgers do not want to exhaust Turner in April after off-season microfracture surgery.
"With J.T., it's easy to run him out there every day," Roberts said. "But I've already made a point that I'm going to be mindful of that."
Simulated games
Yasmani Grandal, Howie Kendrick and Hyun-Jin Ryu will all appear in simulated games Thursday at Camelback Ranch. Grandal (forearm strain) and Kendrick (calf tightness) are expected to return before Tuesday's home opener.
Kendrick will play one game at third base and two at second, Roberts said.
Ryu (shoulder surgery) will throw two innings. If his shoulder responds well, he will operate on a normal five-day schedule as he builds arm strength for the season.
Wood heads north
Alex Wood packed a bag for the airport several hours before Wednesday's first pitch. The team put him on an early flight to San Francisco in advance of his start Thursday at 1:35 p.m.
Follow Andy McCullough on Twitter: @McCulloughTimes
---