Dodgers pitcher Scott Kazmir to have neck and back examined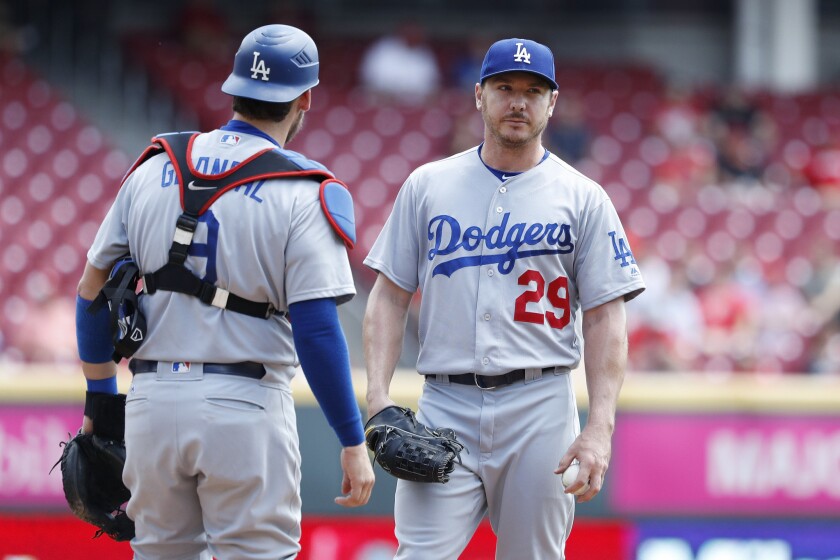 Reporting from CINCINNATI —
The Dodgers medical staff will examine the neck and back of pitcher Scott Kazmir when the team returns to Los Angeles on Tuesday. Kazmir described the condition as stiffness on the right side of his neck, which prevents him from completing his delivery properly.
"We're going to address it to see what's going on," Kazmir said after the Dodgers' 18-9 victory over the Cincinnati Reds. "It's something that I've been dealing with for, honestly, years now. I'm a little stubborn. But we'll see what's going on."
The issue manifested during an abbreviated but excruciating outing for Kazmir on Monday. He required 78 pitches to record only eight outs. Due to the stiffness, he could not turn his head to the right side and look at the plate without his right shoulder drooping and hampering his delivery.
Kazmir (10-6, 4.59 earned-run average) felt a recurrence in the condition in between his outing last week in Philadelphia. He has never undergone an MRI exam for his neck, he said. That may change this week.
The injury would create another hole in a Dodgers rotation that requires a potential plug for Thursday. Due to a blister on Brett Anderson's left index finger, the team flew in rookie Ross Stripling to Cincinnati before Monday's game. The team would need to place a player on the disabled list to activate Stripling, who was optioned to the minors last week.
"If Brett doesn't respond to treatment, then that would probably be the corresponding move," Manager Dave Roberts said.
Anderson has pitched in two games this season. Both classify as disasters. He lasted one inning in his debut. The blister bothered him midway through a three-inning nightmare on Saturday night here. Anderson has a 24.75 ERA thus far.
Anderson played catch with Clayton Kershaw on Monday morning. He was not cleared to throw any breaking balls, Roberts said.
Roberts listed Stripling and Bud Norris as potential replacements for Thursday. But Norris tweaked his back while pitching in emergency relief on Monday. And the team may need another pitcher for Kazmir's spot this weekend against the Chicago Cubs.
Kazmir insisted he will be fine. But Roberts acknowledged the team may go another route.
"We're going to do what's best for the ballcub," Roberts said.
Josh Reddick scratched with finger issue
Josh Reddick's difficult early tenure as a Dodger took a comical but painful turn on Sunday evening, when he injured his finger when his hand got caught in a hotel door. Reddick was trying to hold the door open for a room-service cart.
"I'm at rock bottom right now," Reddick said. "But I will climb out."
The Dodgers scratched him from the lineup on Monday morning when he felt uncomfortable throwing the baseball. He is expected to get Tuesday off, too, with San Francisco left-hander Madison Bumgarner on the mound. Reddick is hitting .149 as a Dodger.
Twitter: @McCulloughTimes
---
Get our Dodgers Dugout newsletter for insights, news and much more.
You may occasionally receive promotional content from the Los Angeles Times.