Dodgers' Yasiel Puig gets a day off to rest his legs
Reporting from PHOENIX —
Dodgers manager Dave Roberts elected to rest right fielder Yasiel Puig in Thursday's series finale against Arizona. Roberts cited some minor ailments in Puig's legs as the impetus for his decision.
Roberts said Puig is nursing soreness within his hamstring and around his knee. This latest iteration of hamstring soreness originated in Tuesday's fifth inning, when Puig sprinted to beat out an infield single. Roberts thought the knee issue stemmed from a play Puig made to steal a home run in the next inning.
"With his leg history, just want to stay ahead of it," Roberts said before Thursday's game. "Maintenance. You saw him run last night, attempt to steal a base. It's not something where he couldn't play tonight. It's just more of his workload and making sure he stays strong."
After his winning single Wednesday, Puig joked that he would rather have won the game with a home run than a single so he didn't have to use his hamstrings.
Roberts also viewed Thursday as an opportunity to provide Joc Pederson a start against a left-handed pitcher and, ideally, build off his slump-busting single in Wednesday's win. Pederson manned center, while Enrique Hernandez played right field. Though Pederson bats left-handed and Puig right-handed, Pederson has become a comparable option against left-handers.
Puig has suffered a remarkable run of poor luck against left-handed pitching this season, mystifying the team and producing improbable reverse splits.
Despite more walks than strikeouts in 102 plate appearances, Puig is hitting .149 with a .472 on-base-plus-slugging percentage. Both marks represent roughly half of his statistics against right-handed pitching, though he has put the ball in play far less often against right-handers.
In 2015 and 2016, Puig hit left-handers better than right-handers. His role upon his recall last August was specifically to play against left-handers, in a platoon with trade-deadline acquisition Josh Reddick.
Now is the opposite. Left-handers have started five of the last six games Puig has rested, dating to June 27.
Roberts has said Puig informed him he is not seeing the ball well from certain left-handed throwing angles. The manager noted that Puig will play Friday at Dodger Stadium against San Diego starter Clayton Richard, who is left-handed.
Short hops
Roberts said there has been no change to the statuses of injured pitchers Scott Kazmir and Brandon McCarthy, who were with the team for the series in Phoenix. The two veteran starters are making more than $29 million between them this season, and both are under contract for 2018. McCarthy has made 16 starts while battling blisters and a return of the yips. Kazmir has not pitched at all in the major leagues because of hip issues and arm fatigue. His triple-A rehab assignment was cut short last month. … As his triple-A rehab assignment continues, first baseman Adrian Gonzalez (herniated disk) homered Thursday.
Shortstop Corey Seager gets high-fives at the dugout after hitting his second homer of the night, a 2-run shot, giving the Dodgers a 6-4 lead against the San Francisco Giants.
(Gina Ferazzi / Los Angeles Times)
Center fielder Joc Pederson makes a leaping catch on a ball hit deep by New York Mets' Neil Walker to end the game.
(Julie Jacobson / AP)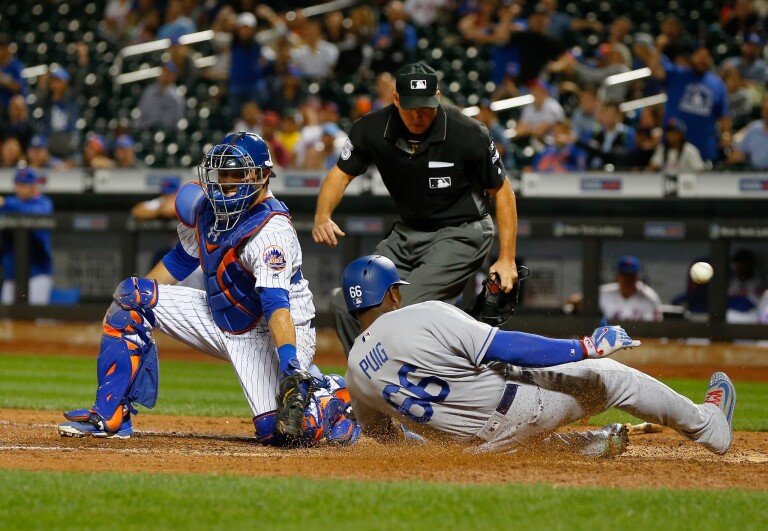 Yasiel Puig slides safely home for a run in the ninth inning as Travis d'Arnaud of the Mets can't come up with the ball at Citi Field.
(Jim McIsaac / Getty Images)
Pitcher Yu Darvish talks with catcher Austin Barnes after warming up in the bullpen before a game against the Arizona Diamondbacks.
(Ross D. Franklin / AP)
Los Angeles Dodgers right fielder Yasiel Puig is congratulated by teammates after hitting a solo home run against the New York Mets.
(Julie Jacobson / AP)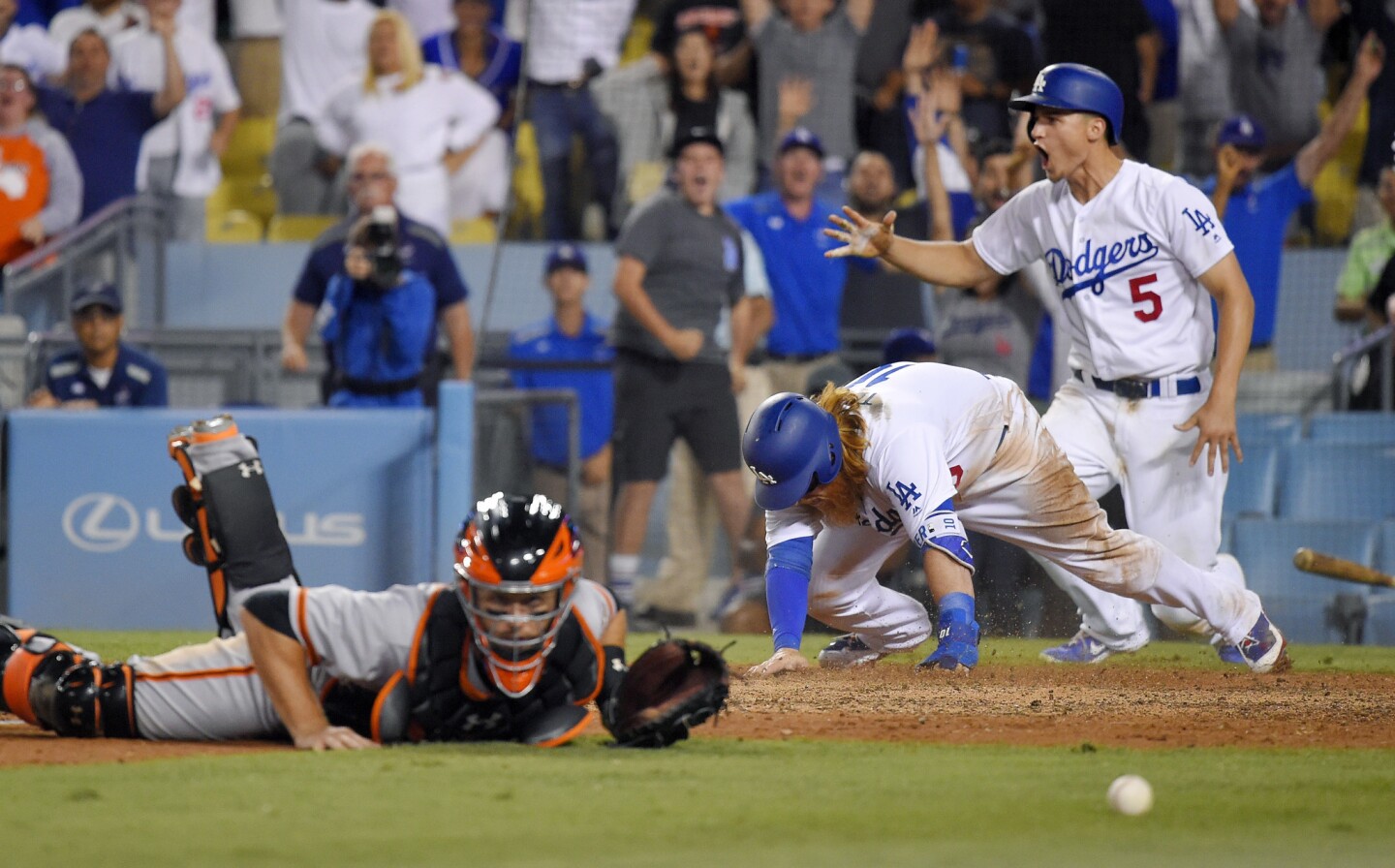 Corey Seager celebrates after Justin Turner scored the winning run on a double by Kyle Farmer as San Francisco Giants catcher Buster Posey, left, reaches for an off-center throw. The Dodgers won 3-2.
(Mark J. Terrill / AP)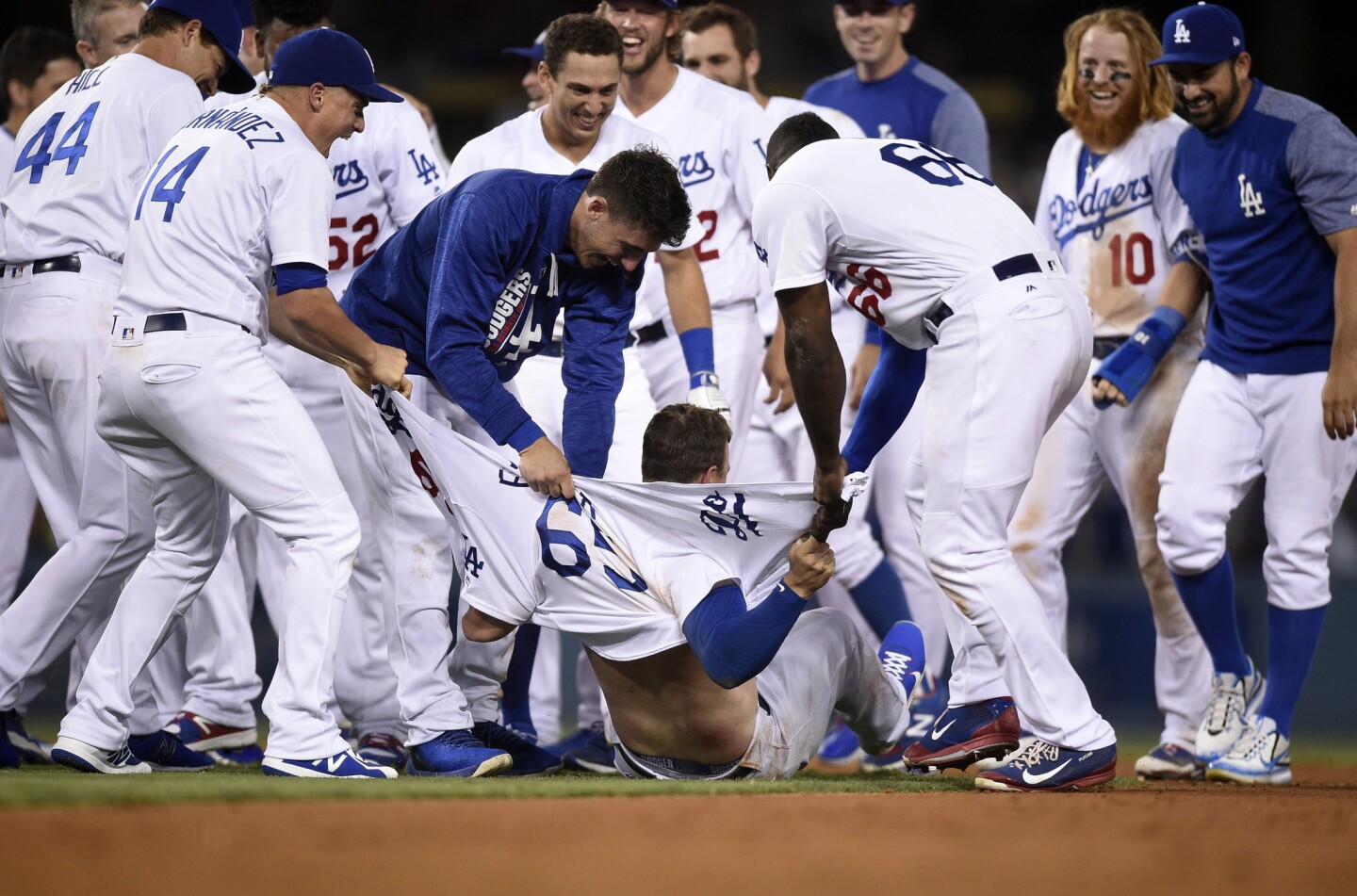 Kyle Farmer has his shirt ripped apart by teammates Enrique Hernandez, Cody Bellinger and Yasiel Puig after hitting the game winning double during his Major League debut against the San Francisco Giants in the 11th inning at Dodger Stadium Stadium.
(Kevork Djansezian / Getty Images)
Justin Turner throws to first to complete a putout against the Mets.
(Kathy Willens / AP)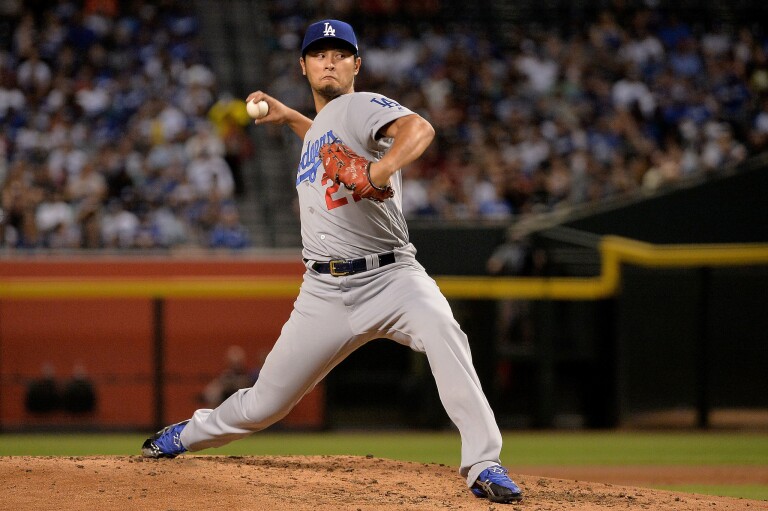 Yu Darvish delivers a pitch in the first inning against the Arizona Diamondbacks at Chase Field.
(Jennifer Stewart / Getty Images)
Left fielder Cody Bellinger watches his home run ball clear the center field wall to give the Dodgers a 7-0 lead over the Miami Marlins in the eighth inning at Dodger Stadium.
(Gina Ferazzi / Los Angeles Times)
Relief pitcher Kenley Jansen hugs catcher Yasmani Grandal after getting the save in the Dodgers 4-2 win over the Colorado Rockies.
(Gina Ferazzi / Los Angeles Times)
Los Angeles Dodgers' Justin Turner, center, celebrates with Cody Bellinger, right, and Yasiel Puig after hitting a walk-off single during the ninth inning against the Minnesota Twins.
(Kelvin Kuo / AP)
Clayton Kershaw, left, who is on the disabled list due to a back injury, congratulates Cody Bellinger after the Dodgers beat the Twins 6-2.
(Allen J. Schaben / Los Angeles Times)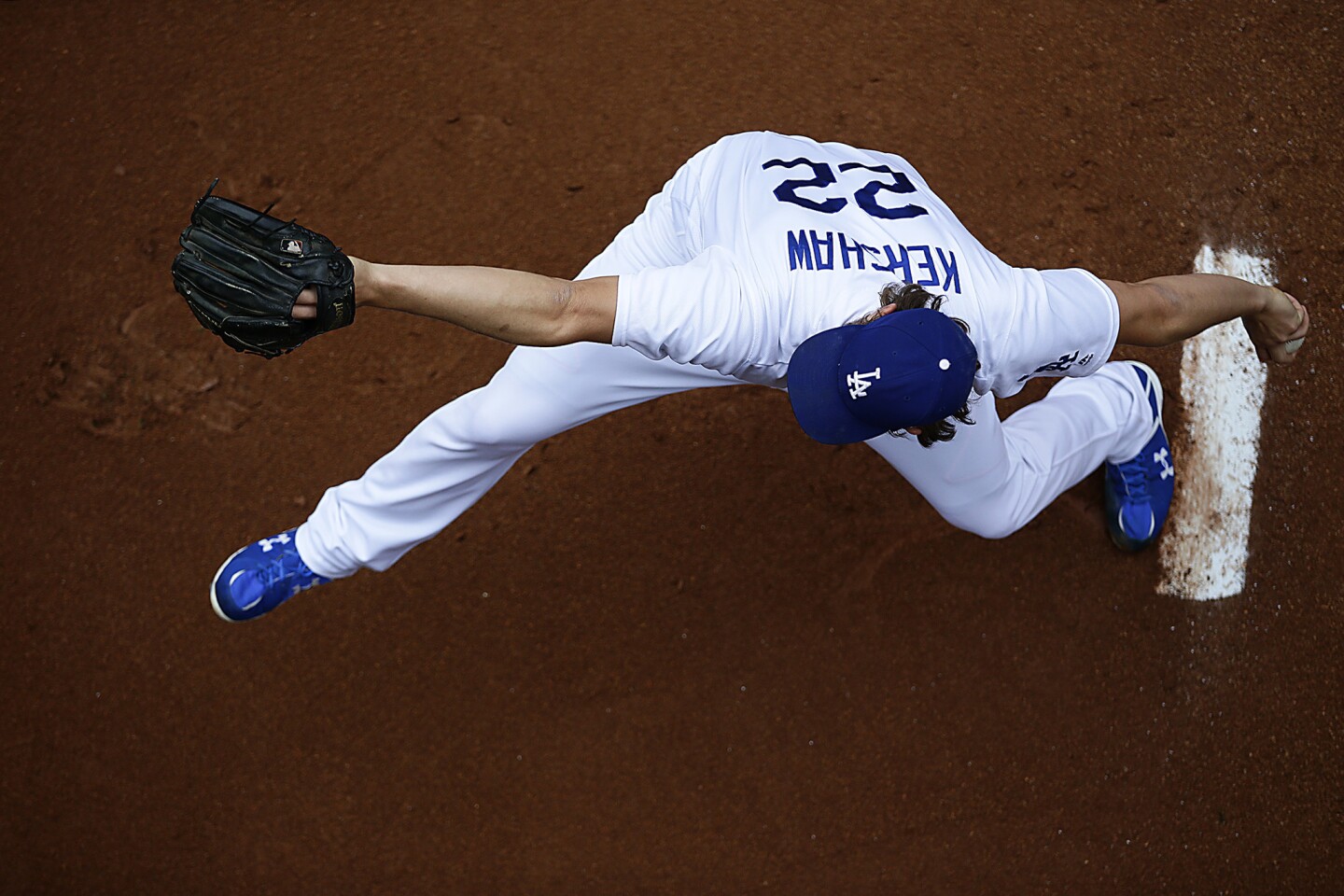 Pitcher Clayton Kershaw warms up in the bullpen before facingthe Washington Nationals at Dodger Stadium.
(Robert Gauthier / Los Angeles Times)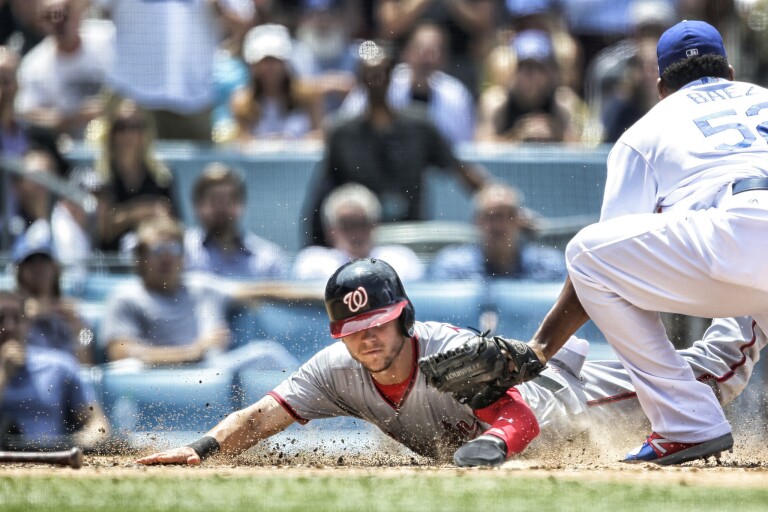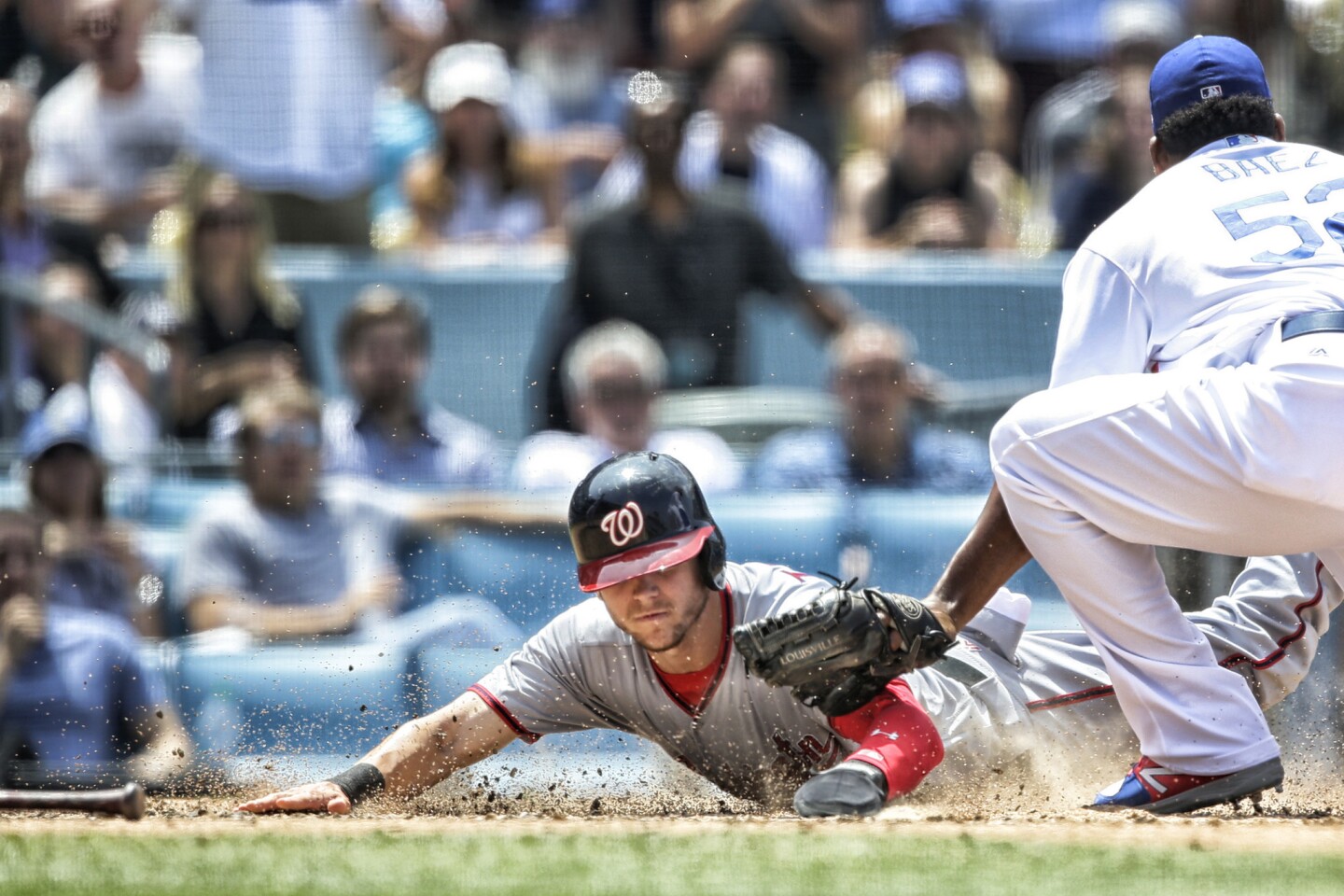 Washington Nationals shortstop Trea Turner is tagged out at home plate by Dodgers pitcher Pedro Baez in the eighth inning at Dodger Stadium.
(Robert Gauthier / Los Angeles Times)
Closer Kenley Jansen picks up his 10th save after giving up one hit over 1 1/3 innings, closing out a 2-1 win over the Nationals at Dodger Stadium.
(Robert Gauthier / Los Angeles Times)
Pitcher Kenley Jansen pulls away after signing autographs before a game against the Atlanta Braves.
(John Amis / AP)
Catcher Yasmani Grandal steps over Braves first baseman Matt Adams after tagging him out to prevent a run in the eighth inning at Dodger Stadium.
(Robert Gauthier / Los Angeles Times)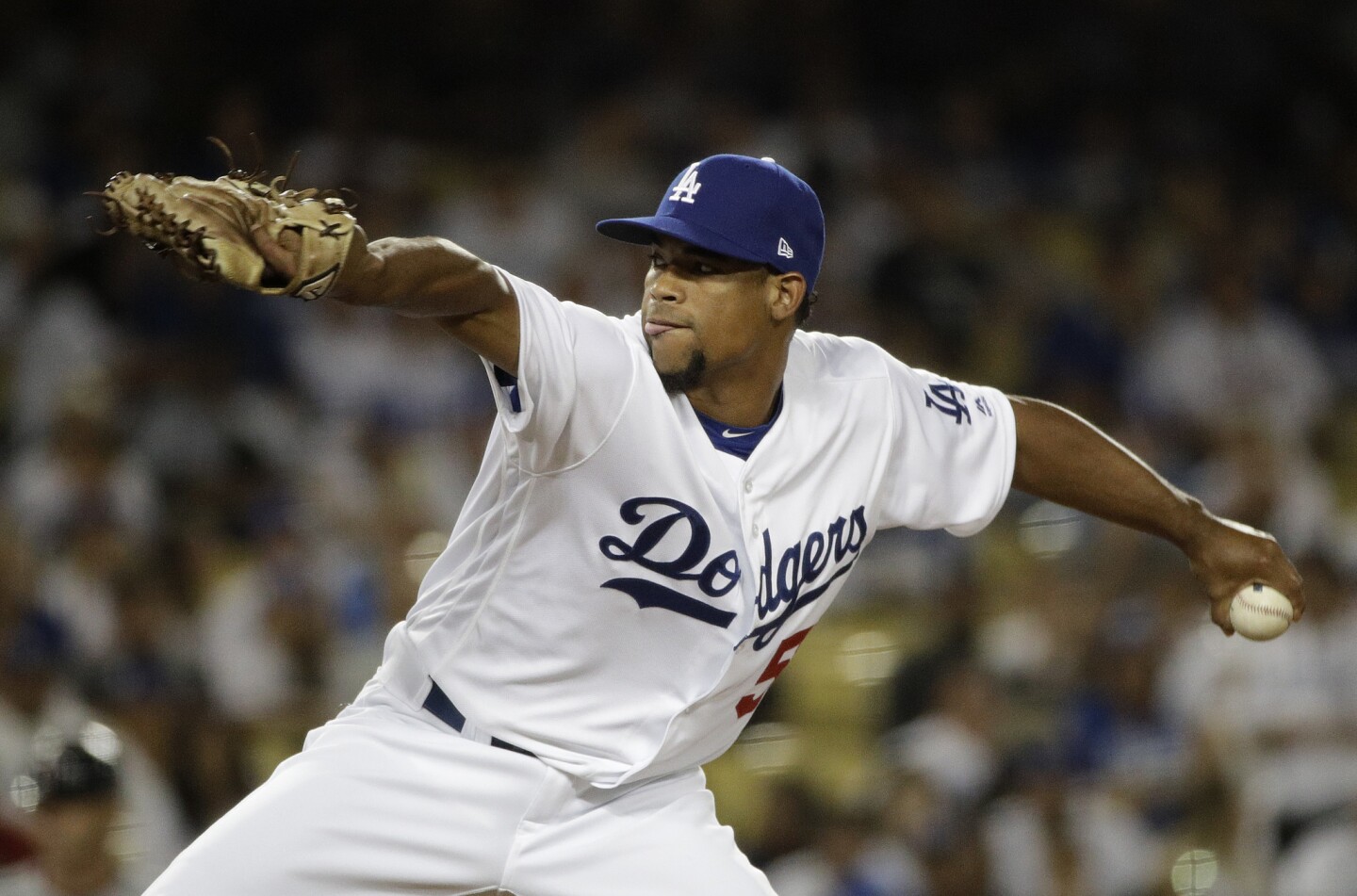 Relief pitcher Edward Paredes gets a win in his against the Minnesota Twins.
(Jae C. Hong / AP)
Dodgers' Joc Pederson's bat, right, rests in the dugout before a baseball game against the New York Mets in New York. Pederson is among the most recent major leaguers to adopt the Axe Bat handle, a modern take on the baseball bat that eschews the traditional round knob.
(Julie Jacobson / AP)
Follow Pedro Moura on Twitter @pedromoura
---
Get our high school sports newsletter
Prep Rally is devoted to the SoCal high school sports experience, bringing you scores, stories and a behind-the-scenes look at what makes prep sports so popular.
You may occasionally receive promotional content from the Los Angeles Times.