Hyun-Jin Ryu hurts his chances of making Dodgers' postseason rotation in loss to Rockies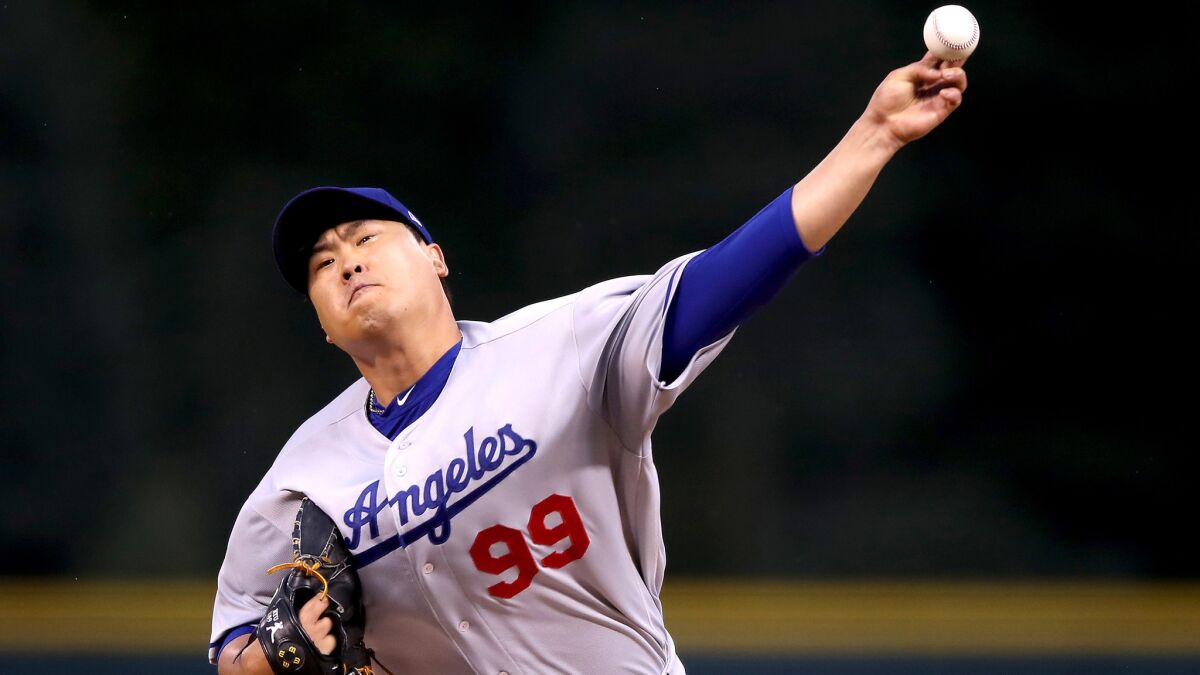 Reporting from Denver —
The prospect of handing the baseball to Hyun-Jin Ryu in a road playoff game may have disappeared in the thin mountain air in a 9-1 loss to the Colorado Rockies on Friday in front of 48,395 fans at Coors Field.
As the Dodgers continue to ponder who will be the fourth member of their postseason rotation, Ryu made a sparkling case for Alex Wood as he surrendered five runs on a trio of home runs in two innings. Wood could aid the team as a reliever, which is one reason the Dodgers were considering Ryu as his replacement.
But the Dodgers saw the downside risk with Ryu on Friday. The Dodgers will face either the Arizona Diamondbacks, Rockies or Milwaukee Brewers in the National League division series, with the Brewers hanging onto a thread of hope after Colorado's victory on Friday. The Rockies can clinch a spot in the wild-card game with either a victory in the two games against the Dodgers or a loss by Milwaukee in their final two games.
Ryu (5-9, 3.77 earned-run average) stumbled in the first inning. Rockies third baseman Nolan Arenado greeted Ryu by battering a changeup for a solo shot in the Rockies' third at-bat. After a single by shortstop Trevor Story, first baseman Mark Reynolds boomed a belt-high, 91-mph fastball over the right-field fence.
"It was a struggle for him to navigate through the lineup," manager Dave Roberts said.
Ryu experienced more of the same in the second. He issued a leadoff walk to outfielder Ian Desmond. Three batters later, Ryu gave up another changeup to hover high in the zone. Colorado outfielder Charlie Blackmon smashed a two-run shot into the second deck of right field.
"My command wasn't as sharp as I'd like it to be," Ryu said.
After Ryu departed, the Dodgers relievers made the situation worse. Walker Buehler gave up a two-run homer to Story in the fourth. Tony Cingrani gave up two more runs in the fifth.
Chris Taylor ran sprints in the outfield on Friday afternoon and reported no lingering soreness in bruised left knee. The Dodgers gave him the day off Friday, but Taylor expects to return to the lineup Saturday.
Taylor injured his knee on Wednesday at Dodger Stadium.
Kenta Maeda will appear in relief on either Saturday or Sunday, Roberts said. Maeda is auditioning to make the postseason roster as a reliever. He gave up two runs, one unearned, in a relief outing earlier this week.
Roberts mentioned Brandon McCarthy as a candidate to start Sunday's regular-season finale. The Dodgers plan to use a bevy of pitchers to complete the game.
Twitter: @McCulloughTimes
Get our Dodgers Dugout newsletter for insights, news and much more.
You may occasionally receive promotional content from the Los Angeles Times.