Dodgers figure to go with Kershaw, Hill and Darvish, in that order, in playoffs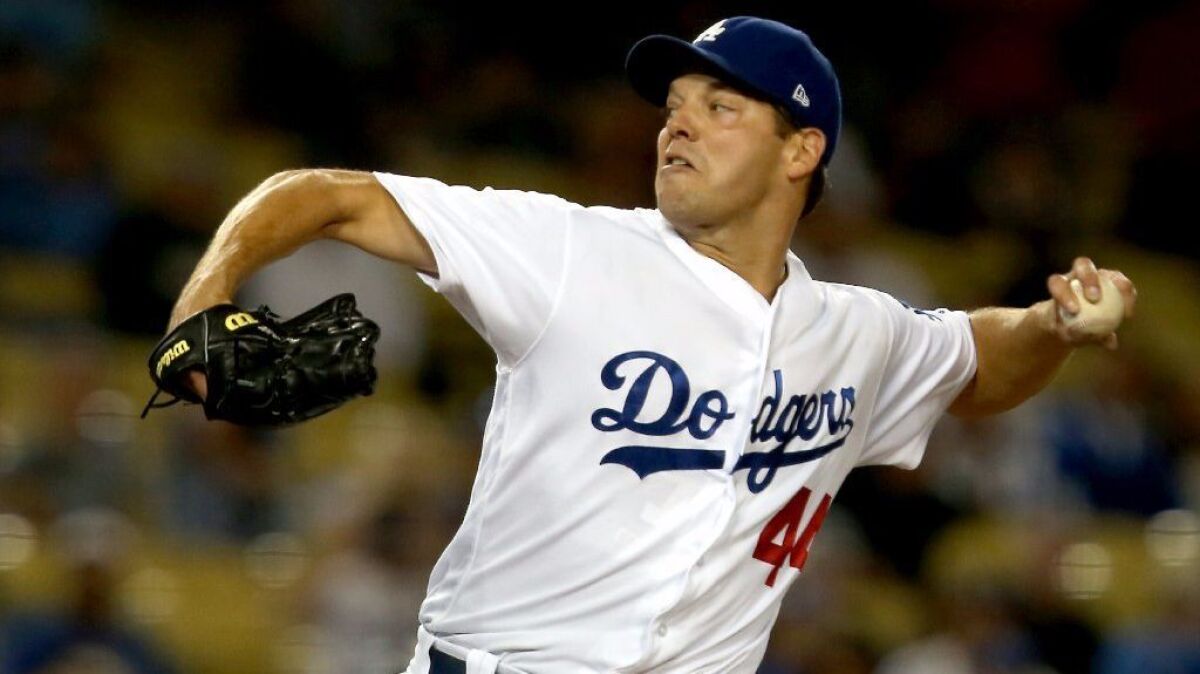 Reporting from Denver —
With Clayton Kershaw primed to start Game 1 of the National League division series, the Dodgers are lining up Rich Hill and Yu Darvish to pitch behind him — in that order. Hill is set up to pitch the second game at Dodger Stadium, with Darvish on track to start on the road in the third game.
The Dodgers have not formally announced their plans, which could change in the days leading up to the start of the first round Friday. But Hill is slated to throw a simulated game Monday, which would place him on regular rest for Game 2 on Saturday. Darvish will undertake a similar assignment Wednesday, putting him in line for Game 3 on Oct. 9.
The Dodgers will not know their opponent until Wednesday, when Arizona hosts Colorado in the wild card game. But the team can still plan ahead.
Hill has excelled at home this season, with a 2.77 earned-run average at Dodger Stadium, compared to a 4.06 ERA on the road. He permitted six runs in 3 2/3 innings to Arizona at Chase Field on Aug. 29. Last season, he gave up four runs in 5 1/3 innings in his lone appearance at Chase Field. Hill has not pitched at Coors Field since 2008.
Darvish has never pitched here. That was one reason he threw a 40-pitch bullpen session on the mound before Saturday's game. Darvish received advice from pitching coach Rick Honeycutt about the perils of this ballpark.
"Yu just loves information," manager Dave Roberts said. "He takes it all in, and then applies it accordingly."
Darvish presents a mirror image of Hill: He has shined on the road, with a 2.44 ERA. He struck out 10, but gave up two runs in a five-inning outing at Chase Field on Aug. 10.
Roberts has not revealed who will start a fourth game, if the series requires one. Alex Wood figures to be the most likely candidate, though the team may want to use him as a reliever. Hyun-Jin Ryu has looked vulnerable against Colorado this season, and gave up five runs in two innings Friday.
And, of course, there is always the possibility of Kershaw pitching on short rest. The Dodgers do not want to resort to that option. But they did not want to resort to that last October, and Kershaw started on short rest twice.
Brandon McCarthy is dealing with an illness, and is not a candidate to start Sunday's regular-season finale, Roberts said. The team has not decided who will start the game.
Twitter: @McCulloughTimes
Get our Dodgers Dugout newsletter for insights, news and much more.
You may occasionally receive promotional content from the Los Angeles Times.