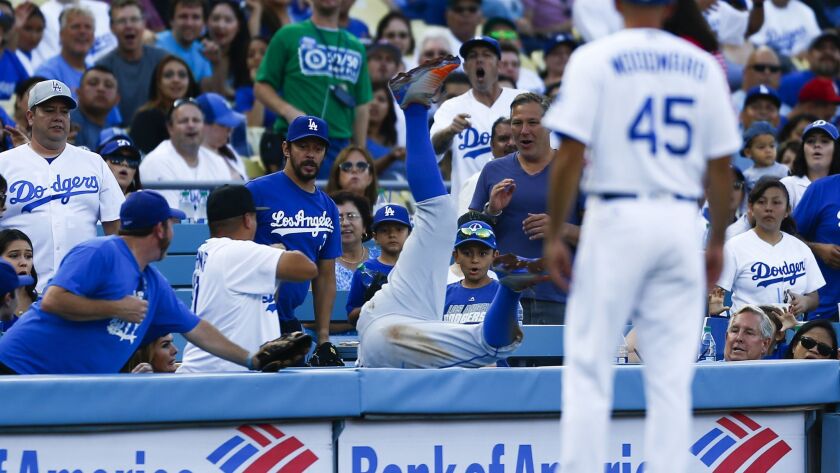 Before the Dodgers fell to the Mets 7-3 on Wednesday, Alex Verdugo talked to New York third baseman Todd Frazier on the field.
"I said, 'you're a really good actor,'" Verdugo said.
As Frazier attempted to catch Verdugo's foul ball Monday, he dived into the stands with the ball appearing to be in his glove. He emerged holding a ball in the air, so the umpire called Verdugo out.
But that ball was not the one Verdugo hit. The real ball slipped out of Frazier's glove when he landed. As Frazier grabbed what he thought was Verdugo's ball beside him, he instead found a child's rubber replica lying in the stands.
So he used it to trick the umpire, and the Mets went on to win 4-2.
The switch was first reported by SNY's Steve Gelbs, but Frazier admitted to it before Wednesday night's game — to the media and to Verdugo. The only doubt he expressed in his decision was tossing the fake ball back into the stands instead of throwing it to pitcher Jacob deGrom.
The revelation did not surprise Verdugo. He had thought he saw the ball bobble out of Frazier's glove in the replay.
"But at the time, they thought he caught it," Verdugo said. "So you got to give it to him."
Doomed by defense
Hyun-Jin Ryu made a promising start Wednesday, with no hits and four strikeouts in 39 pitches through the first three innings.
But in the fourth inning, the Mets broke away, scoring five runs in Ryu's final two innings. The Mets managed 11 hits against Ryu in those final two innings, tying his season high of hits given up.
Manager Dave Roberts said the blame rested partly on botched fielding opportunities by the Dodgers — a missed right field catch, a fruitless dive for a grounder, a ball that bobbled out of Yasmani Grandal's mitt at home, marked as an error.
Munce-ter home run
Max Muncy crushed a two-run home run to right field in the fourth inning — the second-longest in Dodger Stadium this season, at a projected 443 feet.
The home run was Muncy's 32nd of the season, the second-most in the National League, and produced the Dodgers' only runs of the game until Cody Bellinger's solo home run in the seventh inning.
Stripling throws simulated game
Ross Stripling threw 34 pitches in a simulated outing before Wednesday's game, and expects to be activated Saturday at Coors Field. He indicated he had not felt discomfort in his lower back in the past 10 days. Stripling has not pitched since Aug. 9.
Stripling has been stretched out so he can throw multiple innings. The team could also use him in a high-leverage situation, with closer Kenley Jansen not making the trip to Denver.
"I heard Kenley's not coming, so it might be all hands on deck in the late innings," Stripling said. "But I'll be ready for whatever, length or leverage, whatever."
---