Dodgers pitching coach Rick Honeycutt works through the pain of spine-fusion surgery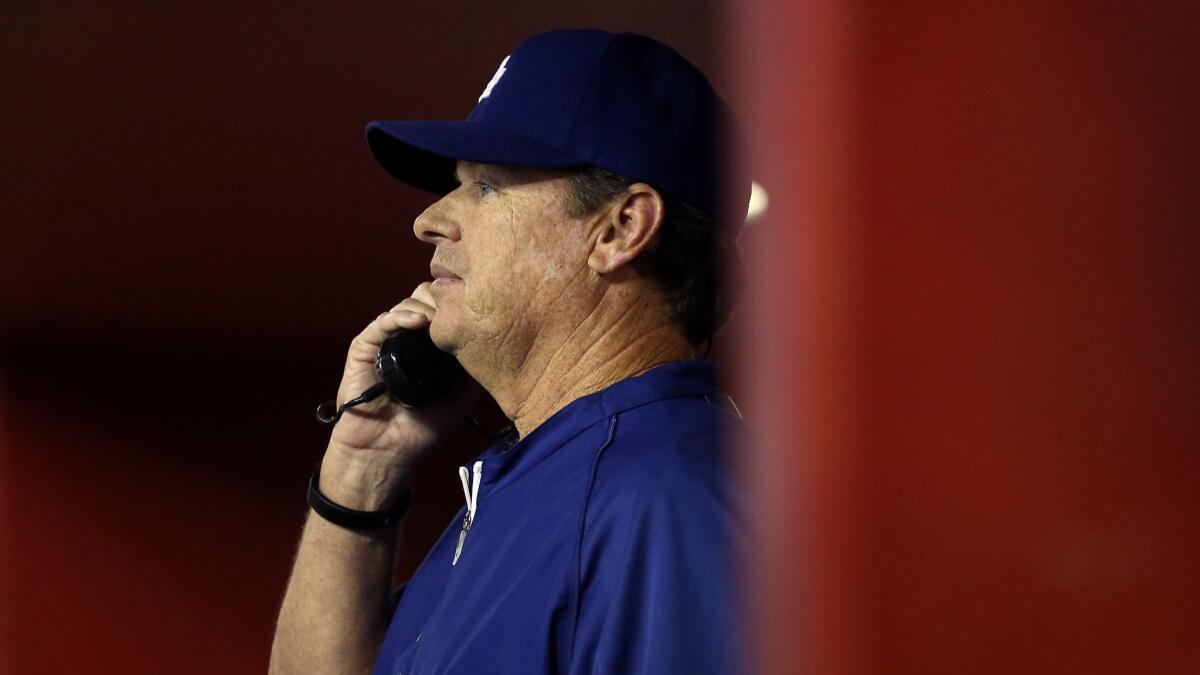 Rick Honeycutt arrives at the ballpark, Dodger Stadium or somewhere else, hours before first pitch and completes the work like he's always done in his 14 years as Dodgers pitching coach. He watches film. He oversees bullpen sessions. He meets with that day's starting pitcher to go over opposing hitters. He's doing his job without a hindrance, pushing through the pain stemming from the major back surgery he underwent Feb. 12.
"From a physical standpoint, I'm sure it's been a lot tougher than he's even let on," Dodgers bullpen coach Mark Prior said. "You just never hear a word about it. He just keeps going day-to-day getting the job done and getting his work in. It's pretty inspirational to watch, for sure."
But a five-hour spinal fusion surgery for a 64-year-old required to be on his feet and constantly traveling has its effects. Nearly four months after the procedure, walking, at times, remains laborious. He occasionally needs a hand getting up from a chair. He spends games alternating between standing and sitting on a special cushion on the bench -- as he did in Thursday's game against the New York Mets -- because sitting or standing for too long, it turns out, hurts. The Dodgers gave him a standing desk to help with that, too.
"Most of my issues now are that when I actually sit, is that it's compressing probably the nerves again a little bit," Honeycutt said recently. "The doctors don't know because the nerves are completely flattened on both sides. So the nerve response is really slow. You just don't know how long they were in that position. How long it takes to recover."
Being home is easier than traveling. Honeycutt has a set schedule when the team is in Los Angeles. He wakes in time for treatment during his workday with therapists and doctors. He completes core exercises and spends time in the hot tub. Days on the road present more difficulties. There was the day in Colorado in early April when the pain was so unbearable he needed a shot to dull it and didn't appear in the dugout all game. At Wrigley Field, the long staircase from the field to the visitors clubhouse left him hurting. Thank goodness, he said, for the anti-inflammatories doctors gave him there.
"Watching him to have to go up and down the stairs was tough to watch, just for his sake," Dodgers pitcher Ross Stripling said, "But also at the same time, it's like, 'Man, if he's willing to put himself through that, how much does he care?'"
Honeycutt cared enough to join the Dodgers at Camelback Ranch 11 days after the surgery. He wore a back brace and moved around in a golf cart, but he was there watching bullpens and offering younger pitchers hands-on advice until camp broke. More than three months later, the pain remains and so does Honeycutt.
"He's moving slower," Dodgers pitcher Clayton Kershaw said. "But the work and the time is still there. I think a lot of people would've just mailed it in, taken more time, and he wasn't about to do that. So that's another reason why I respect him, you know. Fusion's no joke."
Sign up for our Dodgers newsletter »
Short hops
Dodgers manager Dave Roberts, who turned 47 on Friday, was absent for the series opener against the Philadelphia Phillies because he attended his son Cole's high school graduation. Bench coach Bob Geren managed the club. Game-planning coach Chris Gimenez served as the bench coach. . . . Third baseman Justin Turner wasn't in the starting lineup for the second straight day after injuring his right hamstring Wednesday. Turner, who declined to comment on the injury, was hurt running home in the ninth inning of the Dodgers' comeback win over the Mets.
Twitter: @jorgecastillo
Get our Dodgers Dugout newsletter for insights, news and much more.
You may occasionally receive promotional content from the Los Angeles Times.