Column: Dave Roberts isn't missing a beat in first year as Dodgers manager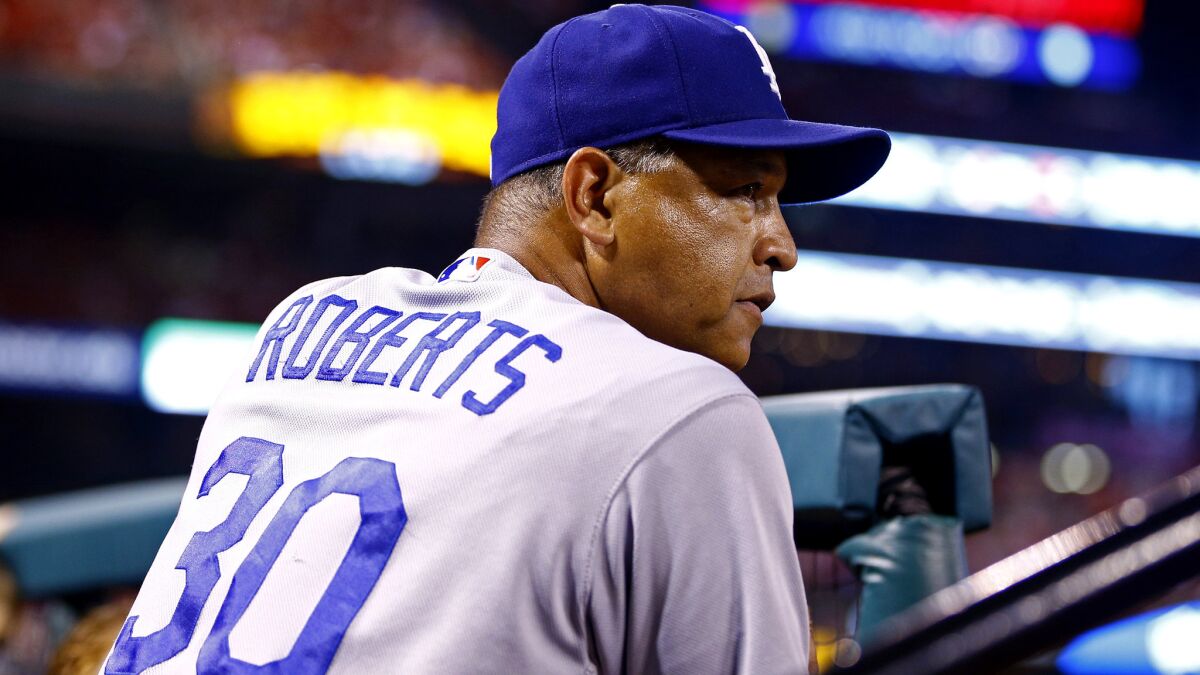 The clock usually strikes midnight before Dave Roberts wraps up his meetings, grabs a bite to eat, changes into civilian clothes and heads home from Dodger Stadium. He replays the game in his mind for another couple hours, challenging himself on his decisions. He might get six or seven hours of sleep so, yeah, he needs his morning coffee.
In Toluca Lake, where the Dodgers manager and his family rent a home, Roberts says he gets his coffee from a shop he will not name, other than to say it's not Starbucks. He is fairly anonymous there, or so he says.
It's hard to believe him. But Roberts, who faces the camera twice a day as the leader of the most popular sports team in a media market of 19 million people, swears he can walk the streets of his neighborhood and patronize that independent coffee shop without many people recognizing him.
"I love that," he said. "They're more worried about who the next superstar producer or director is."
This is a man in the position long held by Tommy Lasorda, for whom anonymity was not a virtue. Lasorda welcomed producers and directors and actors and singers and comedians into his office, night after night, a celebrity manager for Hollywood's home team.
In Lasorda's era, a manager could be the face of the team. In this era, the prototype manager is a middle manager: a corporate spokesman, a team builder, a conduit between the front office and the clubhouse, and never, ever bigger than the players.
Roberts, an ever-smiling people pleaser, never had managed a team.
"The thing I realized most is that you're not going to make everybody happy — not the players, not the media, not the fans," he said. "I realized that quickly. Every decision you make, someone is going to be upset and disagree with. That just comes with the job."
The World-Series-or-bust expectations came with this job, with this team and its outsized payroll. The Dodgers sputtered around the .500 mark well into June, with questions surrounding the rookie manager and the executives that hired him.
As June dawned, the Dodgers went to Chicago and lost three of four games to the Cubs. The next time they hit the road, they went to San Francisco and lost two of three to the Giants.
"That's when it really turned," Roberts said. "As a team, we could have gone south. Our guys chose to play for each other and hold ourselves accountable.
"For me, that was when we really grew up."
After that last game in San Francisco, half a dozen players trickled into Roberts' office. The frustration flowed.
"It wasn't a planned meeting," third baseman Justin Turner said. "It was more of an open forum.
"The most despised things in clubhouses are meetings. No one wants to have a meeting. No one really wants to be a part of that. Those sit-downs that spontaneously happen, when conversations start, and you start talking about things you like and don't like and what needs to be addressed, those are the meaningful meetings. Those are the ones you get results out of."
To Roberts, clubhouse leadership is crucial. The Dodgers cannot prosper, he said, without such veterans as Turner, Chase Utley, Clayton Kershaw and Adrian Gonzalez reinforcing accountability to their peers, about playing to the limits of one's ability every day, on every play.
To Turner, managerial leadership is just as crucial. He respects Don Mattingly, who led the Dodgers to National League West championships in each of the last three years, but he sees something special in Roberts.
"His ability to address things immediately is what sets him apart from most guys," Turner said. "When issues come up, he addresses it right away. He nips it in the bud and doesn't let it linger. When you do that, it kind of eliminates the small groups and cliques talking about this and that."
And Mattingly?
"I loved playing for Donnie. I thought he was awesome," Turner said. "He was just really nonconfrontational. He didn't enjoy, it seemed like, taking care of things right away. I think some things lingered too long and ended up turning into bigger things and issues.
"In his mind, he wanted the players to take care of it, and police ourselves, which is fine to an extent. We try to do that now. But bigger things don't happen when Dave takes the initiative. Myself, Adrian, Chase, Kershaw, whoever, we don't have to worry about ending it. We can just worry about playing, which makes it nice for us."
It is a sadly quaint notion that professional athletes all should be expected to conduct themselves professionally, the essence of what Mattingly asked. In the days when Roberts played, a manager could post a lineup card, a player could read it, and that was that.
Roberts makes it a point to do what he said none of his managers did: talk to every player, every day.
If communication breeds trust, and trust breeds success, then something went terribly wrong with Yasiel Puig. Roberts was specifically charged with getting the best out of Puig, who had clashed with Mattingly. Yet, the Dodgers got so frustrated with Puig, on and off the field, that they sent him to the minor leagues two weeks ago.
Roberts, asked whether he believed the demotion meant that he had failed, chose his words carefully but pointedly.
"I feel that we did the best we could do," Roberts said. "At some point, each individual has got to take ownership of his actions. When you look at where we are in the season, the focus has to be on winning baseball games. That's it.
"Any person whose focus is not solely on winning baseball games for the Dodgers? A change has to be made. That's kind of where we were at."
The Dodgers have not said when, or if, Puig would return to Los Angeles. Roberts rejected the notion that a divorce between Puig and the team is inevitable, that a fresh start elsewhere would be best for all concerned.
"I think that's up to Yasiel," Roberts said. "If he chooses to continue to grow as a baseball player and as a man, then he'd be welcome back here."
The Dodgers replaced Puig in right field with Josh Reddick, most often batting him in the cleanup spot.
Slugger? Roberts offered an alternative description of Reddick — in the mold of Utley, the player perhaps most responsible for transforming the clubhouse, and in the mold of Roberts himself.
"When we acquire a guy like Josh Reddick, a gritty, grinder type of player, it makes sense," Roberts said. "We want that grinder, gritty player underneath that beautiful white Dodgers uniform. As many players as we can get like that, that's how we are going to win a championship."
For all the analytics labels slapped on the Dodgers' front office, and not undeservedly, the executives there buy into grit and grind, and into clubhouse chemistry. The latter can be no easy task for the man charged with running the clubhouse, not when the Dodgers set an NL record for most players on the disabled list in one season, certainly not when one of those players is the best pitcher on the planet.
"For me, he has maintained genuine optimism through all of the adversity we have faced this year, even behind closed doors," said Andrew Friedman, the Dodgers' president of baseball operations. "That gives me even more confidence that is the face he is portraying to our players in the clubhouse.
"He's been challenged as much as I can imagine someone being challenged in Year One, just with the sheer volume of injuries. To handle it the way he has, in his first year, is incredible. I know manager-of-the-year banter doesn't really pick up yet, but I don't know how he's not front and center in that conversation."
The Dodgers have used 50 players this season, many of whom were unfamiliar to Roberts. But Friedman said the manager trusted the front-office information on all those players — up from the minors, claimed on waivers, acquired in trade — and used them accordingly.
"That's how high-functioning organizations thrive," Friedman said. "I feel like he has stepped right into that, as if he had been doing this for 10 years."
As Roberts sat at his office desk Friday, reviewing data assembled in a white three-ring binder, he glanced around the room.
He hasn't done much to make it his own. A framed memorabilia display, including the lineup card from his first game as Dodgers manager, leaned against the bottom of a wall, still waiting to be put up. That game was four months ago.
The one personal touch he added is a refrigerator to cool his wines. He is partners with Rich Aurilia, his former Giants teammate, in producing wine under the Red Stitch label. So far, this has been a pretty good year.
bill.shaikin@latimes.com
Twitter: @BillShaikin
---
Get our Dodgers Dugout newsletter for insights, news and much more.
You may occasionally receive promotional content from the Los Angeles Times.