Scott Kazmir might be done but Dodgers near closer to clincher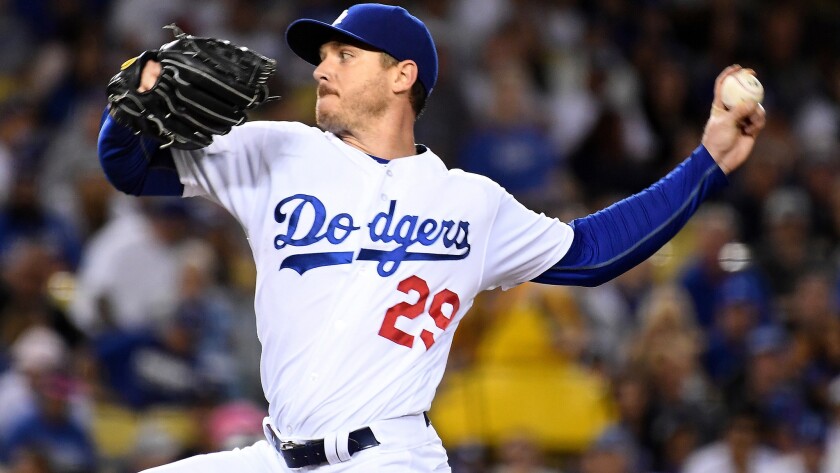 At 7:10 p.m. Friday night at Dodger Stadium, Dodgers starter Scott Kazmir hiked up his right leg, uncorked his body, and delivered a pitch to Yasmani Grandal. And then he turned around and waited, and eventually repeated the exercise. His warmup sessions, already extended earlier this season because of chronic first-inning struggles, seemed interminable on this night when further lengthened because of his team's hourlong pregame ceremony honoring Vin Scully.
The game's start was estimated for 7:20 p.m., but finally at 7:46 p.m, Kazmir did the thing for real. Reality, for him, did not last very long. In his return to the mound following a month away, the left-hander exited after one scoreless inning because of what the team termed right intercostal spasms, an apparent aggravation of his previous symptoms.
Reality pushed the Dodgers to within one night of possibly clinching their fourth consecutive National League West title, if Clayton Kershaw wins his Saturday start and San Francisco's Madison Bumgarner loses his. On Friday, the Dodgers beat Colorado, 5-2, and halved their magic number to two.
Rockies leadoff hitter Charlie Blackmon slapped Kazmir's sixth pitch into right field for a single. With one out, Nolan Arenado tapped a cutter back up the middle. Kazmir picked it up and sought the double play, but threw low to Chase Utley at second base, and Utley's throw over to first was even worse. Arenado took second, and then tried to get home when Carlos Gonzalez singled to left field. Andrew Toles delivered a rapid, on-target throw home, clocked at 97.6 mph, to prevent him from reaching safely.
When Kazmir returned to the Dodgers' dugout, he was examined by team trainers and immediately removed from the game.
"After that first inning, it just wasn't right," Dodgers Manager Dave Roberts said. "So, to risk further injury or whatever it might be, we had to get him out of there. "I just feel bad for Kaz. He's gone through a lot and he had high expectations for tonight, and the body wasn't responding."
In the bottom half of the first inning, Corey Seager worked an eight-pitch walk. Justin Turner fouled off four consecutive pitches, then took Colorado starter Jonathan Gray's 97-mph fastball off his body and walked to first. While starter-turned-long-reliever Ross Stripling warmed in the bullpen, Adrian Gonzalez walked. Yasmani Grandal then blooped a single into short right field. Two men scored.
The Dodgers did not put another baseball into play until the third inning, when Turner led off with a groundout to third. Gray recorded his first six outs on strikeouts, but used far too many pitches and tired by the fourth inning, at which point Joc Pederson and Andre Ethier launched back-to-back homers on fastballs located over the heart of the plate.
Stripling set down the Rockies in order in the second. In the third, the Rockies strung together two singles and a sacrifice bunt. DJ LeMahieu's flare to right would have scored at least one run, but Josh Reddick sprinted forward, lunged and willed himself to it.
With two outs, Stripling battled Arenado, the National League leader in home runs. When the count reached 3 and 2, Stripling tried a slider on the outside corner, where the Dodgers have focused on pitching Arenado this series. He fouled it off. Then Stripling landed a curveball at the base of the strike zone that was swung on and missed to end the threat.
Stripling forged on, finishing the fourth inning and inspiring confidence he could fill the long-relief role in the playoffs. Then, Roberts pieced together the rest of the required relief. Arenado launched a solo shot off Josh Fields in the sixth for Colorado's first run, and Fields soon yielded another run, unearned because of a Seager error. The Rockies' final run scored on a seventh-inning sacrifice fly sent up by Gonzalez.
Kazmir, 32, spent much of this season as one of the Dodgers' few reliable starting options. He was rarely spectacular, but he was steady. He'd work into the sixth inning, sometimes finish it, and surrender about three runs. He'd strike out a lot of hitters and yield a lot of homers. But, last month, pain began to overwhelm him, and he exited an Aug. 22 start after 2 2/3 innings, citing back and neck issues before and during the game.
He made a minor league rehab start two weeks later but again exited early and was diagnosed with thoracic spine inflammation. Roberts was admittedly unsure he'd pitch again in 2016. Either way, the Dodgers will owe Kazmir $32 million over the next two seasons unless he opts out of his contract, a possibility growing less likely.
Then he was supposed to start Sunday for triple-A Oklahoma City, but Oklahoma City's season ended Saturday. So he threw a simulated game instead, and developed a blister.
The Dodgers did not turn to him out of current desperation, but rather out of luxury, afforded by their position in the standings, having entered Friday six games up on San Francisco. And perhaps some future desperation; they need a fourth playoff starter and lack an obvious candidate.
Before the game, Roberts said he was uncertain how many innings Kazmir might be able to handle.
"As far as a buildup," Roberts said, "he hasn't really had it."
But, Kazmir said, Friday's start represented progress, even at 19 pitches. He said he was frustrated but undaunted in his pursuit to pitch again this season.
Roberts praised what he called Kazmir's sense of responsibility and unselfishness in telling the team he was not fit to pitch. That helped the Dodgers win the game, but it does not help their chances in the playoffs.
pedro.moura@latimes.com
Twitter: @pedromoura
---
Get our Dodgers Dugout newsletter for insights, news and much more.
You may occasionally receive promotional content from the Los Angeles Times.