Column: No surprise Dodgers, not Rockies, are the ones acting like they've been here before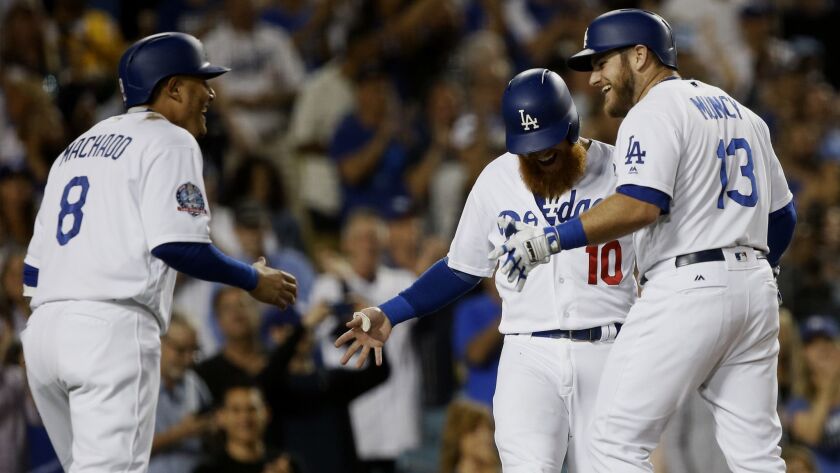 They swung through the cooling September night as if they've spent years in this moment.
It's because they have.
They swaggered through the screams of Chavez Ravine as if they grew up embracing this feeling.
It's because they did.
Those five consecutive division titles still matter. Those 45 playoff games still mean something. All those autumn triumphs and their accompanying scars are still working, sculpting, shaping the Dodgers into the team that stepped on to the Dodger Stadium field against the Colorado Rockies on Monday in the first of a three-game showdown for control of the National League West.
Dave Roberts saw it. He knew it. He couldn't wait for it.
"For our guys, having played in a lot of big games the last few years, I like being surrounded by guys that have done it," the Dodgers manager said before the game with a big smile.
Moments later, it was the Rockies who were surrounded by guys who have done it — surrounded, and swatted, and stifled, and slugged into a harmless purple haze that quickly dissipated in the Dodgers' 8-2 victory.
The Dodgers began the night trailing the division-leading Rockies by half a game. They essentially required only nine minutes to punch their way back into first, Joc Pederson's leadoff homer supplying a jab from which the Rockies couldn't recover.
The Dodgers began the night worried about controlling the Rockies' vaunted hitters. Hyun-Jin Ryu required but seven shutout innings to remind everyone how that's done.
"It's a playoff game," Roberts announced before the game, and sure enough, both teams played like it.
The Dodgers knew what to do. The Rockies did not.
During those last five seasons in which the Dodgers have participated in those 45 playoff games, the Rockies have just played one, last year's wild-card loss to Arizona.
While the Rockies are new to this heat, the Dodgers are professional closers. They've not only won five consecutive division titles, but they've clinched all of them before the final three games of the season. They see the finish line, they don't mess around. They know the drill.
On nights like this, it seems like that stuff matters. The Rockies' Jon Gray threw a wild pitch that led to a run in the first. His teammate Charlie Blackmon missed a fly ball that led to a four-run inning. When Max Muncy powered a ball into the right-field pavilion for a three-run homer in the third inning, the lead was six runs, Gray was done, and the Rockies looked cooked.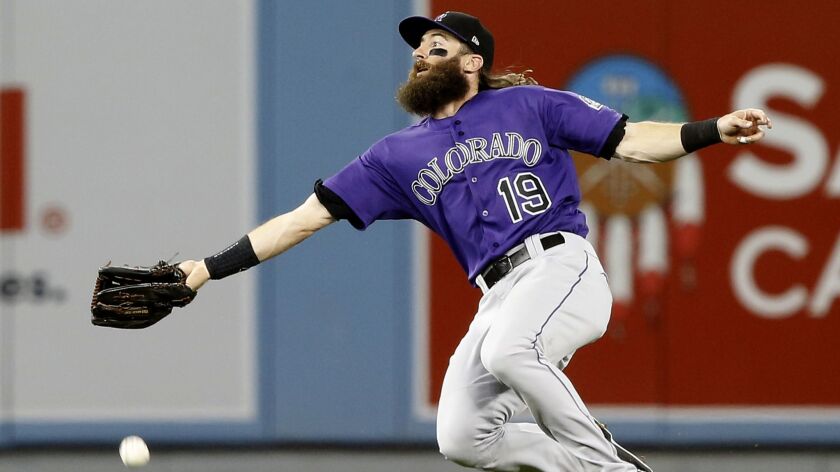 Not that the Dodgers were saints themselves. Yasiel Puig ran into yet another out at third base. Pederson misjudged a Blackmon line drive that sailed over his head for a double. But unlike the Rockies, they were good enough to overcome those blunders, seasoned enough to not be flustered.
"Experience helps, the ability to slow things down and stay focused for 3½ hours," Roberts said.
And thus an evening that began ominously with black smoke hovering above the Elysian Park hills from a Griffith Park brush fire ended joyfully, both the skies and the Dodgers' path to October increasingly clear.
With 11 games remaining, the Dodgers have a very real chance of sweeping this three-game series and sprinting first to the tape.
Ace Clayton Kershaw pitches Tuesday. Future ace Walker Buehler throws Wednesday. Then the Rockies leave the Dodgers' schedule for good and, in the Dodgers' final nine games, only three are against a team with a winning record.
The Dodgers still could blow this thing. The Rockies are pitching their ace Kyle Freeland on Tuesday, and the Dodgers' final week will be at rivals Arizona and San Francisco. Stuff still could happen. But if Monday is any indication, they're not going to fail because they flinch.
"All of our guys are really starting to narrow their focus that much more," Roberts said afterward. "They understand what's at stake."
Take Pederson. He added a second home run in the fourth inning, against reliever Harrison Musgrave, the first of his 23 homers to come against a left-hander, and does any of this look familiar? In last year's World Series, Pederson hit three home runs with a 1.344 on-base-plus-slugging percentage. Two years ago in the division series, he had the big, clinching-game homer against Washington's Max Scherzer.
"Joc has really gotten back to, when he's really good … staying in the strike zone, using right-center field to left-center field … today that's what he did," Roberts said, adding, "Joc has come up the last few years with a lot of big hits for us."
As for Ryu, he struck out five, walked none, and seemingly cemented himself as the Dodgers' third starter in a potential postseason rotation. This also might look familiar. Although Ryu was left off last postseason's roster, he has a 2.18 earned-run average in three career postseason starts.
"He's always been a big-game pitcher," Roberts said. "For him to be healthy and set the tone for this series ... in complete command tonight. We fed off him."
The difference in this combination of talent and experience between these teams that showed Monday night has been revealing itself for much of the past week.
The Dodgers won for the fifth time in six games, scoring an average of nine runs per game in those wins.
Meanwhile, the Rockies lost for the third time in four games, averaging less than one run in those losses.
For two teams still so virtually even, they seem to be traveling in different directions.
At this rate, the Dodgers appear headed toward a place they've been before. The Rockies, too.
Get more of Bill Plaschke's work and follow him on Twitter @BillPlaschke
---
Get our Dodgers Dugout newsletter for insights, news and much more.
You may occasionally receive promotional content from the Los Angeles Times.