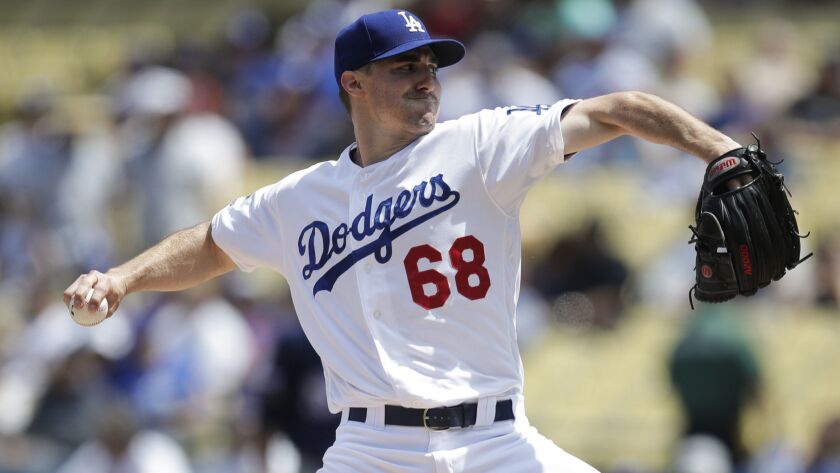 Ross Stripling walked off the mound at Dodger Stadium on Sunday afternoon bearing a sense of accomplishment. An ovation from the sun-kissed crowd lavished him as he approached the Dodgers dugout, where congratulatory handshakes awaited.
Stripling delivered what the Dodgers so desperately needed in a 7-1 skid-busting victory over the Milwaukee Brewers — a long, quality outing to lend the taxed bullpen a breather. A day after the Dodgers needed six relievers to patch a hole caused by another injury in the starting rotation, Stripling adroitly pitched to soft contact and stymied the Brewers over eight innings in a tidy 2-hour 44-minute affair.
"To be able to get through eight today, definitely proud of that," Stripling said. "And [the] biggest thing is just proud that I can get us home in time for 'Game of Thrones.' That was Priority 1."
The Dodgers' six-game losing streak entering Sunday was not a product of one problem. A medley of dilemmas, some constant and some isolated, helped concoct the jarring downslide after an explosive start. Starting pitching, however, stood atop the list.
Before taking the field Sunday, a Dodgers starting pitcher hadn't lasted more than five innings in 11 days, back when nearly a week's worth of losses in a row seemed unimaginable. Stripling provided that performance, on April 3.
On Sunday, Stripling kept Milwaukee off the board until Eric Thames recorded a sacrifice fly in the eighth inning. Boasting a fastball hovering at 90 mph, he secured the 24 outs with 88 pitches, struck out three batters and walked one. He incorporated a lower-body adjustment in his delivery between starts to pounce on hitters early in counts with pinpoint command, throwing first-pitch strikes to 22 of the 28 hitters he faced. It was the right-hander's longest outing since he didn't give up a hit over 7⅓ innings in his major league debut in 2016.
"See you again in 3½ years," Stripling said, jokingly.
The Dodgers' bats showered Stripling with early support, scoring six runs against right-hander Jhoulys Chacin to prompt his exit in the third inning. Cody Bellinger drew three walks and singled to raise his on-base percentage to .500, stole a base and made difficult snags at first base to aid Stripling. Alex Verdugo contributed a two-run single and a solo home run. Chris Taylor went two for four with a double and a two-run single.
"Just get him out over the plate," Verdugo said of the Dodgers' game plan against Chacin. "He likes to nibble a lot. He likes to kind of feed off the hitters' aggressiveness, so it was to get him over the plate."
Sign up for our Dodgers newsletter »
The day began with the Dodgers announcing another roster transaction to bolster their taxed bullpen: Josh Sborz was called up from triple-A Oklahoma City and Dennis Santana was sent down. The swap was made because Santana threw 45 pitches Saturday, rendering him unavailable for at least the next two days. The Dodgers are carrying a nine-man bullpen but didn't have the luxury to wait for Santana to recover after using six relievers in Saturday's bullpen game. So they switched healthy right-handed relievers with Oklahoma City for the second time in four days.
Sborz joined a bullpen that had logged 67⅓ innings before Sunday, the second-most relief innings in the majors behind the Oakland Athletics. The burden has been immense because Dodgers starters haven't carried their weight. Entering Sunday, Dodgers starters, including Caleb Ferguson's scheduled abbreviated start Saturday, were tied for 26th in the majors in innings per start at 4.8. They were tied for 28th in pitches per start at 79. Their 4.81 earned-run average ranked 20th.
Injuries to Clayton Kershaw, Rich Hill and Hyun-Jin Ryu, the other starters' struggles and the Dodgers' demanding early schedule — they're playing 24 games in 25 days — led to an 8.37 ERA during the six-game skid.
"You win with pitching and you sustain winning with starting pitching," Dodgers manager Dave Roberts said before the game. "And if it's not there, odds are against you."
Stripling became the first Dodgers starter to pitch into the eighth inning this season. His counterpart was long gone by then.
The Dodgers initiated the onslaught on Chacin with two outs in the first inning. Bellinger walked, A.J. Pollock singled and Max Muncy walked to load the bases for Verdugo. The rookie came through with a two-run single up the middle.
In the second inning, Joc Pederson launched a two-out moonshot just fair down the right-field line for his sixth home run to give the Dodgers a 3-0 lead. The margin doubled in the third inning and Chacin didn't survive it. Bellinger led off with a walk before Pollock and Muncy hit consecutive singles. Two batters later, Taylor's line-drive single to right field drove in Pollock and Muncy. The blow bounced Chacin, who gave up six runs and six hits, and threw 63 pitches in 2⅓ innings.
Stripling didn't toss his 63rd pitch until the sixth inning in the midst of retiring 10 consecutive batters. Jesus Aguilar ended the streak with a leadoff double in the eighth inning. Stripling walked the next batter and Thames lofted a sacrifice fly to spoil the shutout bid. The damage ended there.
"It is what I ordered," Roberts said.
Twitter: @jorgecastillo
---