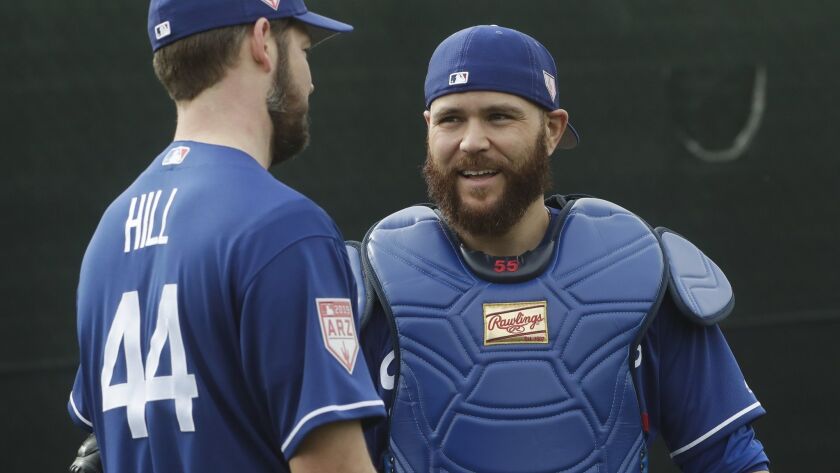 Reporting from PHOENIX —
Russell Martin's first stint with the Dodgers abruptly ended in December 2010, after five seasons in Los Angeles. He was arbitration-eligible that winter, and his agent asked former Dodgers general manager Ned Colletti for $5 million guaranteed for the 2011 campaign. Colletti declined. Martin, a homegrown product, was not tendered a contract and became a free agent at 28, two years removed from consecutive all-star appearances.
Eight years later, after a couple of more all-star game seasons with stops in New York, Pittsburgh and Toronto, the Dodgers acquired him from the Blue Jays last month to partner with Austin Barnes behind the plate. On Tuesday, he caught Clayton Kershaw's first bullpen session of the spring. It was 2010 all over again.
"My birthday is coming up," said Martin, who turns 36 on Friday. "It's like one of the best birthday gifts I've ever had."
The Dodgers bought low for a reunion. They traded two minor leaguers for Martin and will pay him just $3.4 million of his $20 million salary — the Blue Jays will pay the balance — to partner with Barnes at catcher. They are banking he will rebound from the worst offensive season of his accomplished career, one in which he batted .194 with a .663 on-base-plus-slugging percentage in 90 games. He played his final game on Sept. 3 — not because he was hurt but because the fourth-place Blue Jays wanted to give younger players a shot.
"I was horrible last year," Martin said. "Still a tough out. Still can work a count. And still hit the ball hard — relatively hard — but it was a down year. I wasn't as good as I can be. When you get older, they give you an excuse for you. Like, 'You're getting old.' My body felt great last year. I got zero excuses."
Martin admitted his focus was inconsistent last season. He rededicated himself during the offseason. He took more swings. He worked out harder and smarter. The result is a more confident player ready to absorb advice from the Dodgers' overhauled hitting staff.
Andrew Friedman, the Dodgers' president of baseball operations, acknowledged the team will probably suffer a dropoff in offensive production at catcher with Yasmani Grandal's departure – Grandal was one of baseball's most productive catchers last season — but said the club did its research before acquiring Martin and spotted clear room for improvement.
Manager Dave Roberts noted a negative launch angle consistently plagued Martin last season and he has already begun working with the Dodgers' hitting coaches to correct the flaw. The objective isn't to hit fly balls but to get the ball in the air more, shooting the gaps with line drives. Martin said his problem was an inability to get in position on time for pitches. He recalled he would recognize a pitch, know it was a good pitch to hit, and his mechanics wouldn't allow him to attack the ball properly. He would take more pitches than he wanted and hit others into the ground.
"If I can put my body in good position to hit mechanically," Martin said, "I should have a better result."
Behind the plate, Martin will have to familiarize with a new pitching staff — Kershaw is the only current Dodger he's ever caught — but he boasts experience, having bounced between three playoff contenders since leaving Los Angeles. The Dodgers, he said, have helped by supplying him with more information than he expected to receive.
He'll have six weeks to learn and rehearse for his role. The Dodgers haven't decided how they will divide the workload between Martin and Barnes, who is also a right-handed hitter coming off a poor offensive season, as they begin their push for a seventh straight National League West title. Martin said he won't "be bitching at all about playing time" in the final year of his contract. He's just happy he's back.
"I have to pinch myself to realize that I'm back here," Martin said, "because I wish I never would have left."
Sign up for our Dodgers newsletter »
Twitter: @jorgecastillo
---