Today's lesson, home run science. Your teacher? The Dodgers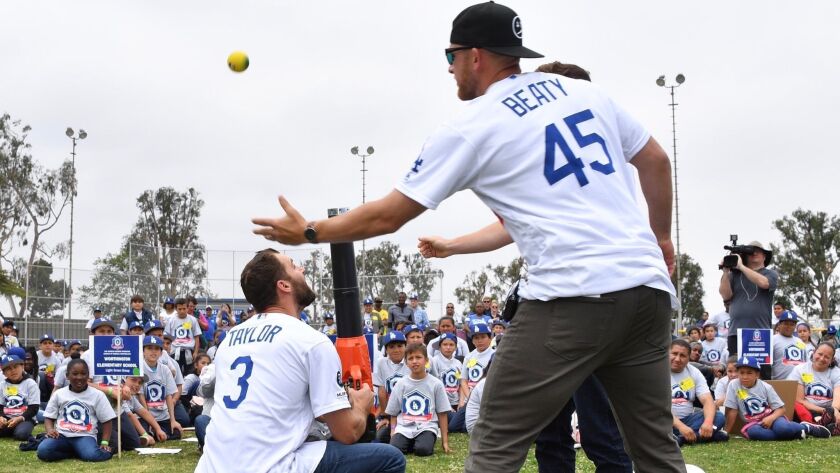 Launch angle: It's not just for baseball nerds anymore.
It's for third graders.
To some fans, launch angle is a prominent example of statistical overkill. A home run can be appreciated, or so the argument goes, without the need to know how high the ball went, how fast it came off the bat and, yes, the angle of the swing.
To a professor, however, launch angle turned out to be an ideal — not to mention trendy — way to teach geometry. The professor incorporated the lesson into a "Science of Sport" curriculum, which the Dodgers shared with some 500 elementary school students Friday at Darby Park in Inglewood.
Three Dodgers players — Chris Taylor, Matt Beaty and Will Smith — helped lead the group through a series of activities. The players rolled a die, and how many times particular numbers came up — one time out of five, for instance — helped illustrate the concept of division in general, and a batting average in particular. The kids could measure their strike zone, using its standard width and their individual height to calculate perimeter and area.
"I think it makes school more interesting and fun, especially for those that have an interest in sports," Taylor said. "It makes it more relatable."
The term "launch angle" might be dry, but learning about angles through baseball makes the lesson far less obtuse.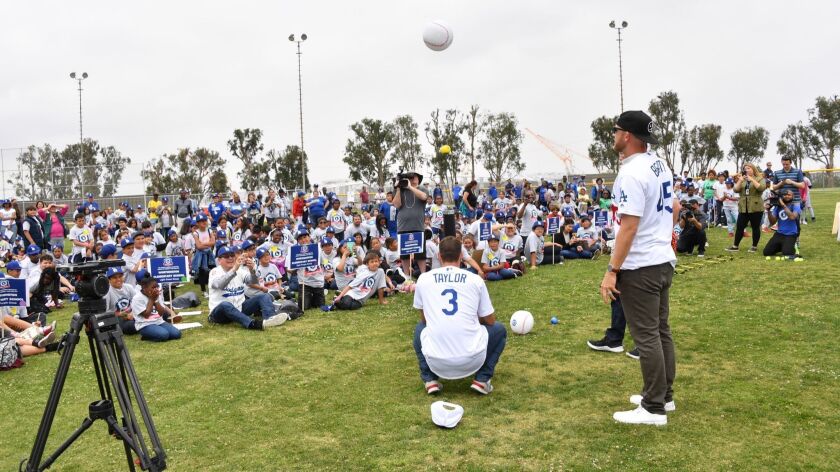 "It's an easy-to-visualize example," said Megan Schroeder, the Dodgers' manager of research and development. "Rather than look at a protractor, you can look at a baseball."
The Dodgers players took turns launching tennis balls from various angles, including 70 degrees.
"Did you see the ball went very high, but not very far?" asked Dr. Ricardo Valerdi, the University of Arizona engineering professor who designed the "Science of Sport" lessons.
Valerdi said about 10 major league teams, including the Dodgers and Angels, use the curriculum. He also designs a two-week "Science of Baseball" course, taught to about 60 third- and fourth-graders each summer at the MLB Youth Academy in Compton. The league pays all costs.
The Dodgers' foundation provided a $32,000 grant to make teacher training, classroom lessons and Friday's event possible. Nichol Whiteman, the foundation's chief executive officer, said the Dodgers hope to expand the program to the Compton and Los Angeles school districts.
Sign up for our daily sports newsletter »
Valerdi launched his program before the term "launch angle" gained widespread traction.
"Initially, the lesson was called trajectory of a baseball," Valerdi said. "But then MLB, with Statcast and Trackman, marketed the term 'launch angle.'
"We just point at that and say, 'That's what you're learning in school.' "
Batting average, unlike launch angle, is not a popular concept among statistical analysts. They consider batting average outdated, because it does not account for walks and because it values every hit the same, whether a single or home run.
"Batting average still matters to us, even if it's not a perfect indicator, because it's what you see on TV," Valerdi said. "When the kids watch a Dodger game, we want them to know exactly what it is."
Follow Bill Shaikin on Twitter @BillShaikin
---
Get our high school sports newsletter
Prep Rally is devoted to the SoCal high school sports experience, bringing you scores, stories and a behind-the-scenes look at what makes prep sports so popular.
You may occasionally receive promotional content from the Los Angeles Times.