Injuries to Corey Seager and others throw volatile ingredient into Dodgers' effort to build infield chemistry
REPORTING FROM PHOENIX —
The schedule called for the Dodgers to split their infielders into two groups Tuesday morning, so the middle infielders gathered on one diamond and the corner infielders headed for another. The composition of the groups displayed the varying pursuits for the unit this spring.
Leading the collection of middle infielders was Enrique Hernandez, a utility player who appeared most often as a center fielder in 2015. Standing in the line at third base were Howie Kendrick and Chase Utley, who are expected to handle the majority of work at second base this season. Resting his sprained left knee was shortstop Corey Seager, whose status for opening day is questionable.
The usual array of springtime injuries has complicated an already complex picture for the team's infield. Seager will be idle until late March. Kendrick took two at-bats in Tuesday's game against the Chicago White Sox but has not played the field since suffering a minor groin injury. Justin Turner has started one game at third base this spring as he returns from microfracture surgery on his knee. Hernandez has concentrated on building strength in his surgically repaired shoulder.
See the most-read stories in Sports this hour>>
Meanwhile, Kendrick and Utley are acclimatizing to the rigors of third base. And Seager, a rookie preparing for his first full season, loses an opportunity to improve his comfort level with more experienced teammates.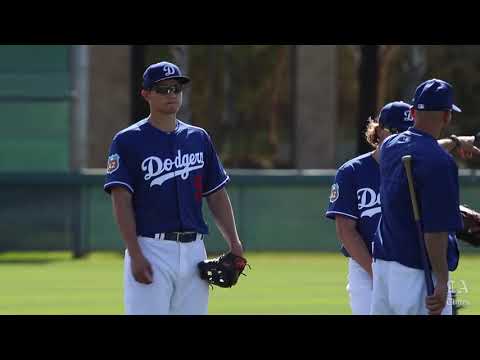 Rookie shortstop Corey Seager, the top prospect in baseball, is going to be counted on to contribute, making him vital to the Dodgers' success in 2016.
"It sets him back in the sense of the chemistry working with the other middle infielders and being out there, having his legs under him for a couple weeks," Manager Dave Roberts said. "But priority No. 1 is to get him back healthy, get his knee strong."
With Seager down, Hernandez becomes the team's primary shortstop. Though Hernandez can play several other positions, team officials have told him to focus his pregame activities on shortstop.
In a similar vein, president of baseball operations Andrew Friedman said, both Kendrick and Utley will continue to see extended time at third this spring. Given their extensive history at second, the organization believes their time would be better spent growing comfortable at the corner.
The task is not always simple, third-base coach Chris Woodward said. Only so much can be learned without game experience.
"You only get exposed over time," Woodward said. "You can go over there for one or two games, and keep your head above water. And then all of a sudden, you have one game where it exposes you to balls you aren't accustomed to."
Utley started at third Tuesday. He misread the spin on a first-inning grounder and let the ball connect with his foot for an error. Two innings later, first baseman Jose Abreu hooked a ball down the line that slipped past a diving Utley.
"What I told Chase today is 'Don't beat yourself up. Go back and think about what happened, what you could have done different,'" Woodward said. "Little things that will help him moving forward. But you can't beat yourself up if you've never played it before."
Woodward did not sound concerned about the time Seager has lost to injury. He praised the rookie for his ability to communicate and listen to instruction. Friedman also mentioned how the players can discuss various scenarios in teaching settings.
"I do think that's a benefit of guys working together," Friedman said. "That said, I think there's ways around it. There's ways to do early work. There's ways to work on communication. Even conversations by the locker."
Kendrick laughed off an inquiry about his ability to develop chemistry with Seager while the shortstop recovered from injury. "That's not a good question," Kendrick said, before explaining that attempting to engineer a relationship without in-game experience was a futile effort.
"He's going to be learning a lot," Kendrick said. "It'll be his first full season in the big leagues. There's going to be a little bit of a learning curve. But as far as chemistry goes, we build that up over time."
Follow Andy McCullough on Twitter @McCulloughTimes
Get our Dodgers Dugout newsletter for insights, news and much more.
You may occasionally receive promotional content from the Los Angeles Times.