With Yu Darvish gone, Dodgers still confident in starting rotation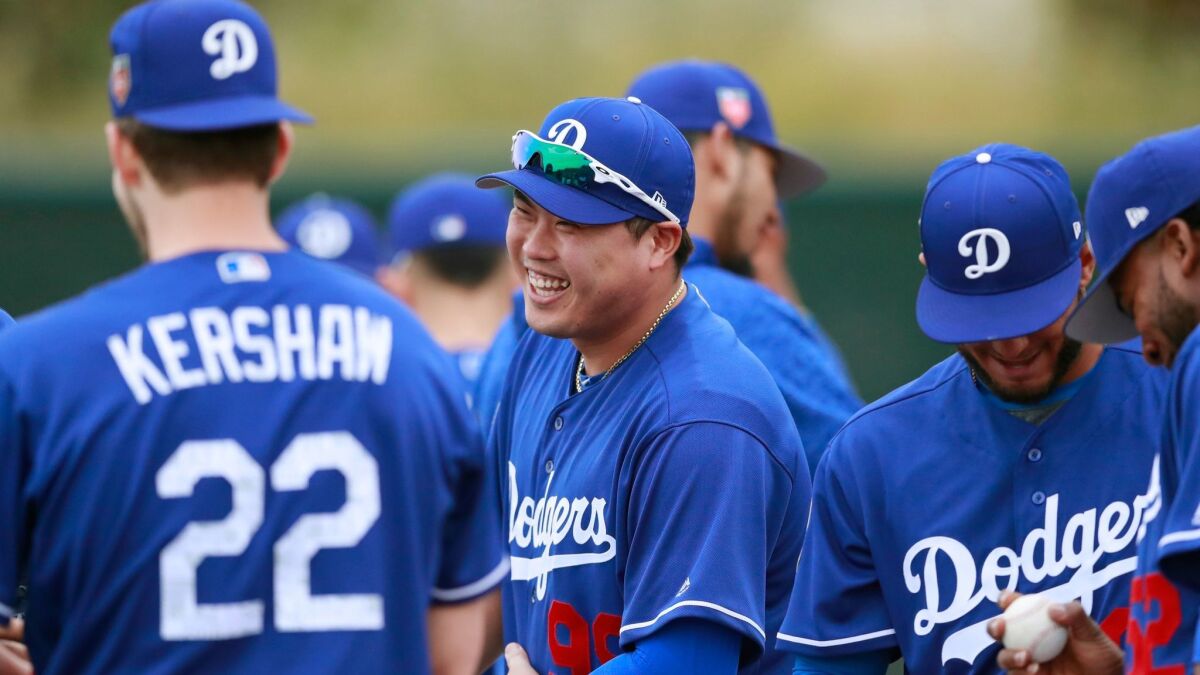 In the hours after he signed with the Cubs, recalibrating the balance of power in the National League back toward the Midwest, Yu Darvish called Dodgers manager Dave Roberts. His remarks focused on the warmth he felt for Roberts and the Dodgers, before hinting at the rekindling of his competitive drive.
"He basically wanted to let me know how much the Dodgers helped him love the game again, and how much he enjoyed it," Roberts said. "And once he got that out, he wanted to make his little dig, about 'now, we get to beat you.'"
The banter was playful, Roberts explained. He did not feel the need to be cruel; he declined to ask if Darvish would still be tipping his pitches when the Cubs and Dodgers meet at Wrigley Field in June. The malady played a role in Darvish's two-start meltdown during the World Series. Roberts joked that he would not mind if the affliction returned when Darvish faced his old club.
Then Roberts turned and walked toward one of the fields at Camelback Ranch, where the Dodgers pitchers and catchers had assembled for their first workout of the spring. Darvish was not present. A day earlier, the Cubs had celebrated his six-year, $126-million contract with a news conference across the Salt River Valley in Mesa. The Dodgers were moving on without him.
The players do not lack for confidence. On Wednesday morning, when closer Kenley Jansen remarked "in the National League, we're going to be the team to beat," it sounded less like a boast and more like a fact. In October, the Dodgers won their first pennant since 1988 and retained the overwhelming majority of their roster. The only major defections were Darvish and reliever Brandon Morrow, who reconvened as teammates with the Cubs.
Wary of violating baseball's luxury-tax threshold and pleased with their core, the front office of Andrew Friedman and Farhan Zaidi stayed mostly silent this offseason. They reacquired Matt Kemp for the bad-contract bundle of Adrian Gonzalez, Scott Kazmir and Brandon McCarthy. They signed reliever Tom Koehler and traded for reliever Scott Alexander. They have yet to add to their starting rotation of Clayton Kershaw, Rich Hill, Alex Wood, Kenta Maeda and Hyun-Jin Ryu.
"People were like 'The Dodgers didn't make no moves,'" Jansen said. "We don't need to make moves. You see the rotation that we have. It's going to help us tremendously."
Despite the strength of their position, the organization remained in discussions with Darvish until he opted for the Cubs. Chicago offered more money, although the Dodgers were believed to be willing to offer a six-year contract. Their overtures were complicated by the front office's insistence on keeping their luxury-tax payroll beneath the $197-million threshold. In order to make a deal for Darvish, the Dodgers would have needed to shed payroll elsewhere.
Friedman described the machinations as a "Triple Lindy of sorts." Kershaw had a unique view of the situation. He played catch with Darvish on a daily basis in Dallas during the winter. He tried not to influence his friend's decision. Yet his disappointment at Darvish's departure was obvious.
"What's hard for players to understand is we just want the best players as a teammate," Kershaw said. "All the other stuff, all the financial, economic stuff, we realize it's a part of it, but for me, personally, go get the best players every time. That's what is kind of frustrating about this off-season, is there are so many guys who can really help your team. Not a lot of teams are pulling the trigger."
Friedman indicated the Dodgers will continue to monitor the free-agent market, which still includes starting pitchers like Alex Cobb and Lance Lynn. Otherwise, the team's stockpile looks the same as before Darvish's arrival in the summer.
The duo of Ross Stripling and Brock Stewart will serve as the understudies for the five veteran starters. The team can stretch out Koehler, who started for most of his six seasons in Miami. Friedman also mentioned Wilmer Font and prospect Dennis Santana as members of the depth chart.
The team also expects contributions from Walker Buehler and Julio Urias. Buehler will be monitored closely in his second season back from Tommy John surgery, and is unlikely to break camp with a team. Urias may not return from shoulder surgery until after the All-Star break. The organization hopes both can aid the team later in the summer.
"I'm really not worried about it," Friedman said. "I think we've got enough talent. I don't know exactly who it is, or how it will shake out. We have enough options and interesting guys that we'll be in good shape."
Friedman indicated he was not concerned about using a rotation with four left-handed pitchers. Kershaw held right-handed hitters to a .570 on-base plus slugging percentage in 2017. Hill limited them to a .583 OPS, and Wood clocked in with a .625 OPS. Ryu was more vulnerable, with right-handed hitters posting a .730 OPS.
"I think handedness matters less than effectiveness against both sides," Friedman said. "And we've got really good pitchers who happen to pitch with their left arm."
Looking beyond the present, Friedman framed this coming season as an opportunity to incorporate younger pitchers like Stripling, Stewart, Urias and Buehler into the rotation. The team had transitioned younger hitters like Corey Seager and Cody Bellinger with great success in the last two seasons, Friedman explained.
"We need to start doing that with our starters, and get to the point where one or two spots are taken down by our good young pitching," Friedman said. "And let them have a runway to develop. I do think this year will provide some of that, for our guys to have an opportunity and a softer landing."
Short hops: Jansen is not pleased at the prospect of Major League Baseball making changes to improve pace of play, insisting that the implementation of a pitch clock or the restriction of mound visits will not affect the sport's appeal to viewers. "That's ridiculous," Jansen said. "Football is four hours, 4½ hours. The Super Bowl was five hours. Listen man, baseball fans are not going to stop watching the game because the game is too long. Let's stop that. I think that's ridiculous." … The Dodgers will send a scout to watch two-time National League Cy Young Award winner Tim Lincecum on Thursday. Lincecum, the 33-year-old former Giant who has not pitched professionally since 2016, will pitch in a showcase in Seattle.
Twitter: @McCulloughTimes
---
Get our Dodgers Dugout newsletter for insights, news and much more.
You may occasionally receive promotional content from the Los Angeles Times.