Dodgers officially get back to work, 110 days after losing the final game of the World Series
Reporting from Glendale, Ariz. —
A gentle chorus surrounded Dodgers manager Dave Roberts as he walked through two rows of fans at Camelback Ranch. Gone were the questions about Game 7 and the cries of "One more win!" which he heard all winter, from the South Bay to his home outside San Diego.
Now he received a greeting more polite than pained.
"Good morning, Dave!"
"Good morning, Doc!"
"Good morning, Mr. Roberts!"
After a week of gray skies in the desert, the sun peeked through the clouds, a periwinkle backdrop for the first official workout of the 2018 Dodgers. The group convened 110 days after losing the final game of the World Series to the Houston Astros. The organization had not stood that close to the championship summit since 1988.
On Monday, they started once more at the base of the mountain.
The assembled characters were familiar: Roberts, in his third year as the manager. Clayton Kershaw, in his 10th season as the heir to Sandy Koufax. Yasiel Puig, entering his sixth season as a lightning rod for controversy and a daily source of delight. Justin Turner, five years removed from reviving his career in Los Angeles, now even more established as the clubhouse's leader.
"Everybody dealt with it over the winter in his own way," Turner said before the workout. "It's time to get back to work."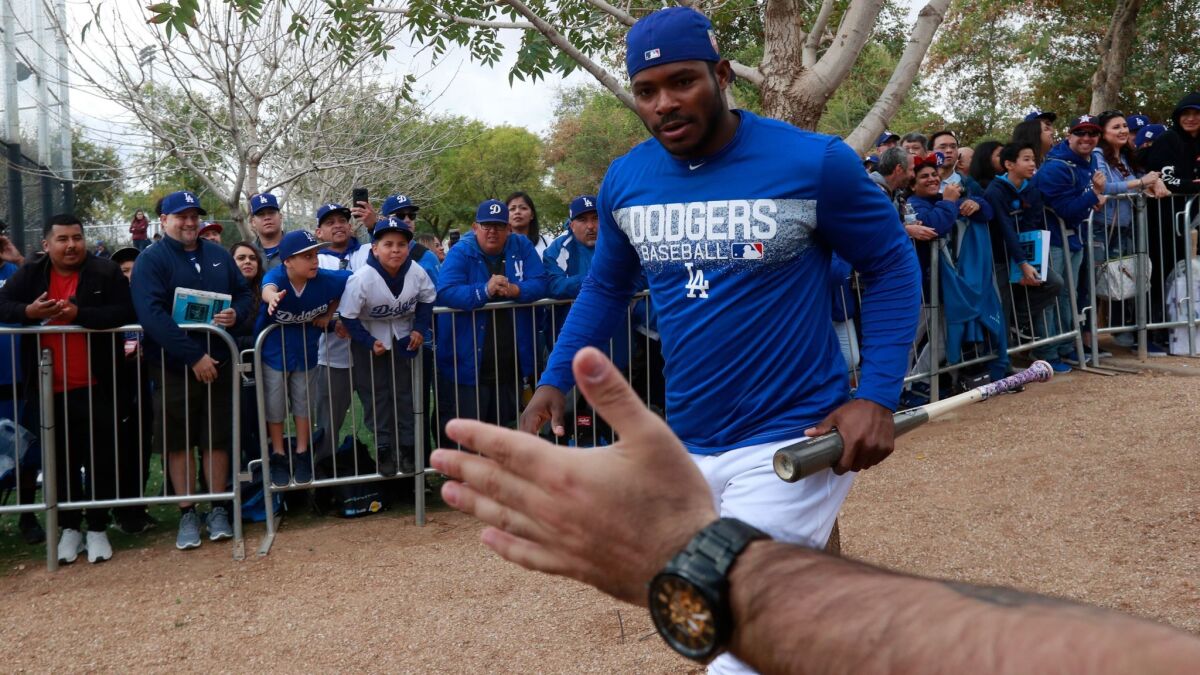 The offseason presented time to mourn, but little chance for closure. The players did not expect it. Kershaw crystallized the sentiment last week.
"I don't really take something and move on," Kershaw said. "I just kind of absorb it."
His teammates did not waste their days in grief. A week after the season ended, Chase Utley called strength and conditioning coach Brandon McDaniel to ask if he could work out at Dodger Stadium. Utley was a free agent, but he soon operated as the Pied Piper: A workout group sprouted around him which included Turner, closer Kenley Jansen, catcher Austin Barnes, outfielder Joc Pederson and utility man Enrique Hernandez.
The training continued over the winter. Before Turner's wedding in Cabo San Lucas, McDaniel ran two separate sessions: one at a golf course, and another at the venue. A few weeks later, the players piled into an Uber in Santa Barbara and headed to a local gym on the morning of Pederson's wedding. During the holidays, McDaniel hosted the players for workouts on his front lawn in Burbank.
The unity extended into February. Almost all of the position players reported by Feb. 13, the due date for pitchers and catchers. Utley was the lone straggler, haggling over the details of his two-year, $2-million contract. He arrived on Saturday. "We got our leader back," Barnes said.
Roberts gave the players a light schedule Sunday so they could prepare for the first official day. The clubhouse was mostly empty at 8 a.m. Team president Stan Kasten prowled the halls clutching a cup of Starbucks while chief marketing officer Lon Rosen shook hands with a few players. Orel Hershiser strutted along to the remix of a Kid Cudi song. Tony Cingrani wolfed down a banana. In a hallway outside the clubhouse, Kyle Farmer slammed a medicine ball against the wall.
Everybody dealt with it over the winter in his own way. It's time to get back to work.
— Justin Turner
No player symbolized the kismet of 2017 better than Farmer. He debuted against San Francisco on the final Sunday night of July. In the first at-bat of his major league career, he roped a walk-off double before disappearing in a mob of teammates. The Dodgers treated the entire summer like their playground, winning 104 games and mining contributions from every crevice of their 40-man roster.
The confidence in their depth extended to the winter. The front office made few significant changes. They signed right-handed reliever Tom Koehler and they traded for left-handed reliever Scott Alexander. They allowed starter Yu Darvish and reliever Brandon Morrow to bolt for the Chicago Cubs. Their most momentous maneuver involved flipping four players — including Adrian Gonzalez, Brandon McCarthy and Scott Kazmir — to Atlanta in exchange for one famed former Dodger.
At 8:25 a.m., Matt Kemp strode into the clubhouse and grabbed a handful of sugar-free Dubble Bubble. He had been at the complex for more than a week, thrilled, he said, at the opportunity to be a Dodger once more. He pronounced himself 40 pounds lighter than last year. He declared his mood joyous.
"I'm just trying to keep up with these young boys," Kemp said. "Do whatever I can to help the team win."
Kemp may not last the spring. The Dodgers have made clear they hope to trade him and as much of his $43 million in salary as possible. Kemp still looked at home, trading jokes and sharing advice with his teammates.
"Four-minute warning!" Turner called out at 8:41 a.m., a reminder of a clubhouse meeting. On a pair of video screens was a message: "L.A. Determined." Roberts gathered the players around him.
"It takes a certain type of player, person, to rebound and refocus," Roberts said. "And each day get better, to put ourselves in that same situation this year. The intent, the focus, the energy — very good today."
The players filed onto the field around 9:45. The wind whipped through the fields. The pitchers played catch. The position players ran the bases and fielded ground balls. Roberts huddled with general manager Farhan Zaidi and president of baseball operations Andrew Friedman to watch bullpen sessions. From a screen behind the backstop, video coordinator John Pratt lifted an iPad to record Alex Wood's session.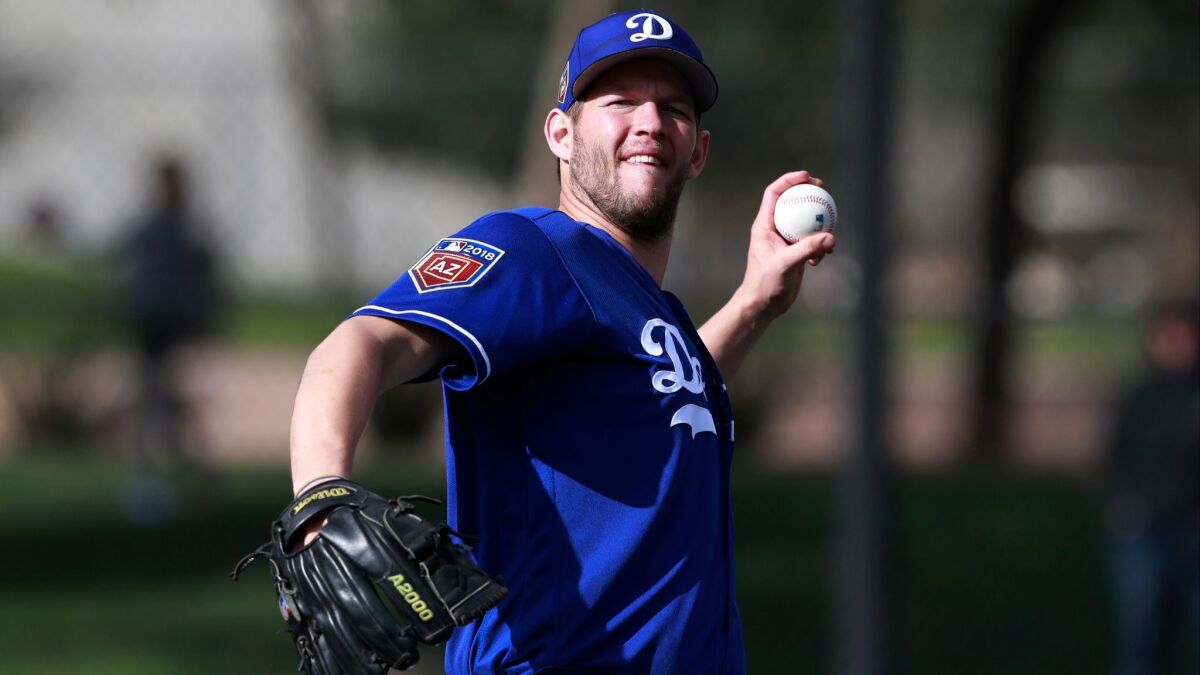 A collection of hitters gathered for live batting practice. After Ross Stripling warmed up to throw, he caught sight of former Dodger Jamey Wright, who was visiting the complex.
"What's up, stud?" Wright said. "You having fun?"
"Oh, yeah," Stripling said. "It's go time."
As Stripling's outing finished up, Utley, Turner and Kemp jogged over to take batting practice. Kemp slung an arm around Roberts. The foursome stood along the third-base line as two-time All-Star shortstop Corey Seager smashed the baseball around the park. It took this group 110 days, but at last, a new season could begin.
Short hops
Despite Cody Bellinger's ability to play all three outfield positions, the Dodgers have "no plans" to use Bellinger anywhere besides first base, Roberts said. Bellinger sprained his ankle playing the outfield in August.… Pitching prospect Walker Buehler, who suffered a back injury in January, threw his first bullpen session of the spring on Monday. … The field at Camelback Ranch will have netting extended across the end of the dugouts for Friday's Cactus League opener. The same netting will be ready at Dodger Stadium by Opening Day.
Twitter: @McCulloughTimes
---
Get our Dodgers Dugout newsletter for insights, news and much more.
You may occasionally receive promotional content from the Los Angeles Times.