Column: Hard-hit balls are outs, so far for Dodgers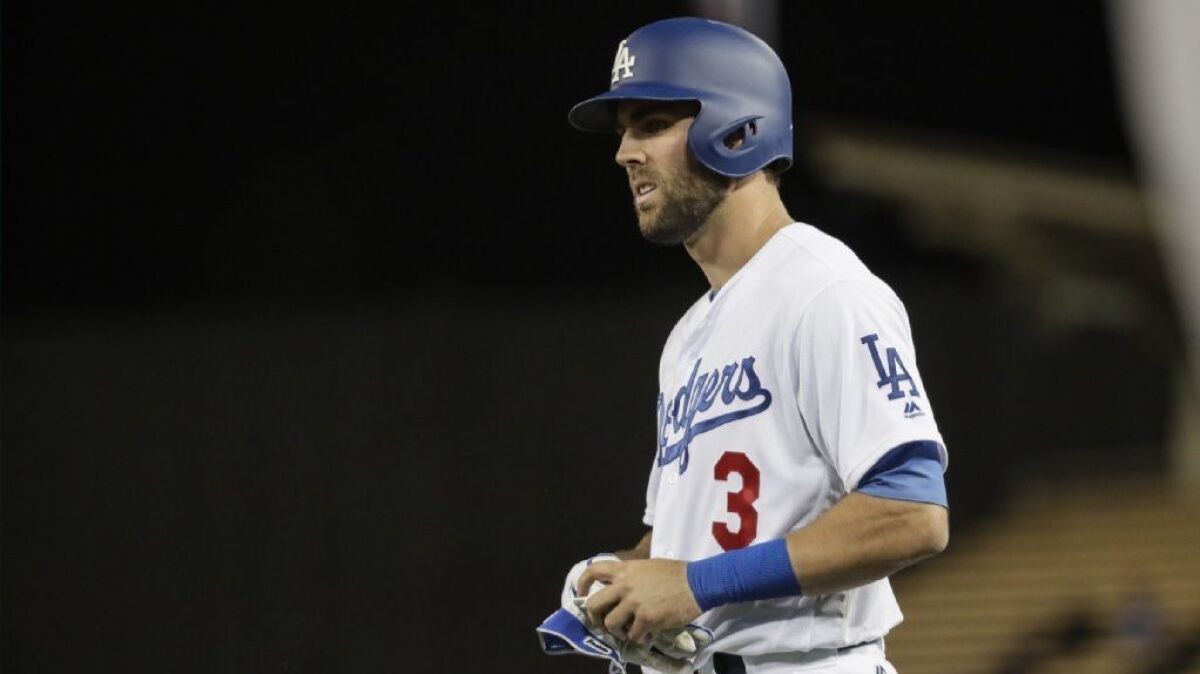 Matt Kemp entered the Dodgers' locker room Tuesday afternoon to find a crowd gathered near his locker. Sidelined third baseman Justin Turner was fielding questions in the stall next to Kemp's.
"What?" Kemp asked, playfully feigning surprise.
Turner looked over at Kemp.
"Tell 'em, Matt," he said.
"What's going on?" Kemp said.
"Tell 'em, Matt," Turner said again.
"It's not even time for him come back yet and you all are over here messing with him," Kemp said. "Leave him alone. He'll be back. I promise. He's going to come save us."
Kemp laughed. Turner did too.
The 4-0 victory over the Oakland Athletics at Dodger Stadium later in the evening was only the 10th game of the season for the Dodgers. At this stage of the year, a lack of run production isn't a permanent condition. It's not even a full-blown slump. It's a mini-funk.
Beat writer Andy McCullough and columnist Dylan Hernandez talk about the Dodgers' rough start and why they aren't concerned.
As ugly as they looked at times over the first week and a half of the season, the Dodgers will be fine. They might not be make-it-back-to-the-World-Series fine, but a couple of trades in July and August can change that. What they are is win-the-division-again fine, which is enough for now.
The Dodgers can and will score runs, even as Turner recovers from a broken left wrist. That's about as close to a sure thing as there can be in a sport defined by uncertainty.
RELATED: Justin Turner says, 'It stinks ... not being out there.'
The defending National League champions demonstrated their offensive capabilities quickly Tuesday, when leadoff man Chris Taylor and Corey Seager blasted back-to-back home runs in the first inning. Kemp launched the team's third homer in the sixth inning. For all three players, the home runs were their first of the season.
The Dodgers finished with 11 hits, with every starter collecting at least one.
The lineup has potential black holes. It's entirely possible Logan Forsythe is the .224 batter he was last season and not the 20-home run hitter he was with the Tampa Bay Rays the season before that. It's also possible the Dodgers are being overly optimistic when they insert Enrique Hernandez into the cleanup spot.
Regardless, the Dodgers should have one of the most productive offenses in the National League.
Seager entered Tuesday with a .206 average and no extra-base hits. He's better than that. Taylor and Yasiel Puig also will improve on their .205 averages.
"Gotten off to a little slow start," Taylor said. "Our entire team has."
RELATED: Dodger Stadium to host 2020 All-Star Game
The Dodgers won only three of their first nine games. Their .213 average entering the two-game set with the Athletics was the worst in the NL and their average of 3.32 runs per game was third worst.
The Dodgers' batting average on balls in play was .262, lowest in the NL. Their line-drive rate was 24.5%, third best in the majors.
The statistics offered numerical evidence of what manager Dave Roberts said: "The contact we've put forth has been pretty good and it just hasn't found outfield grass."
Taylor was offered the alibi, but refused to take it. The Dodgers already have been shut out three times, after all.
"I wouldn't blame it on luck," Taylor said. "I think we're not playing up to our capability. I think batting average of balls in play, sometimes that's going to be lower if you're not hitting the ball hard."
Taylor also downplayed the idea of them being pitched differently, now that they are well known as a lethal fastball-hitting team.
"Nothing drastic," he said. "It's not like they were just serving up fastballs for us last year. I think that's kind of always been the scouting report on us."
Roberts said the exception could be Cody Bellinger, who is seeing a greater number of breaking balls than he did last season.
The candor of Roberts and Taylor reflected the team's confidence.
"You're going to hear 'It's early' for a little bit longer," Roberts said. "We'll still try to stay away from being results-driven."
That's how they reached the World Series last year.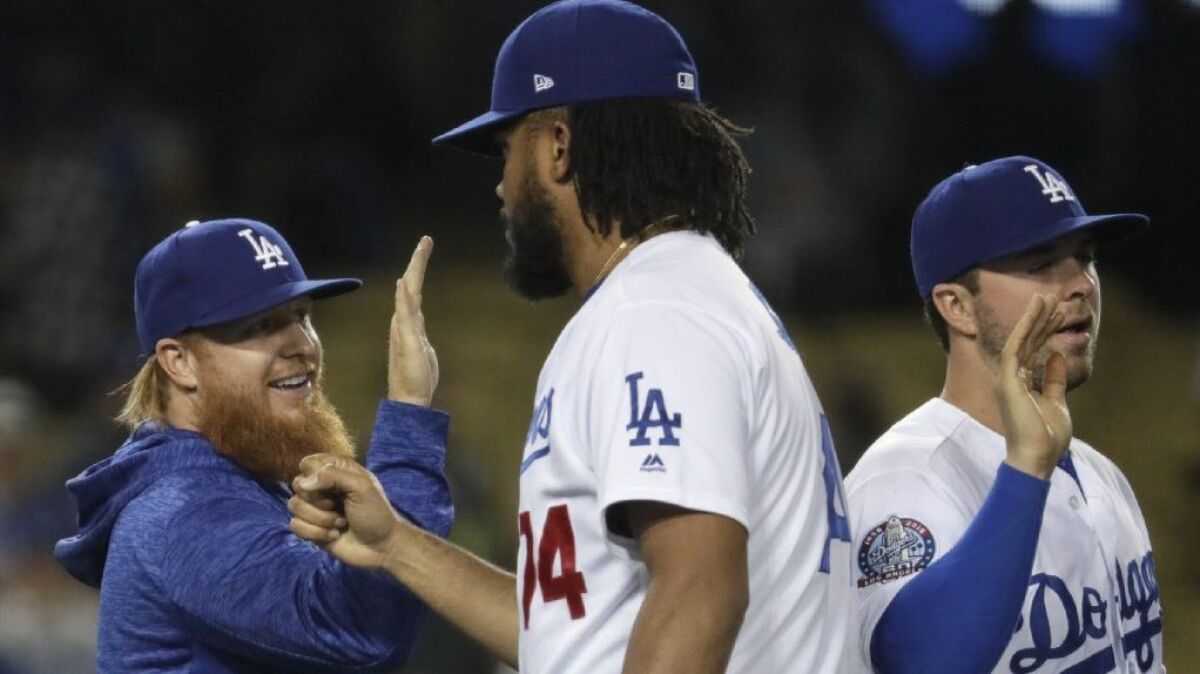 Roberts wouldn't say this, but a greater concern would be if the Dodgers weren't pitching well.
Before the start of the season, a column in this space examined what could go wrong for the Dodgers this year. The nightmare scenarios involved the shortage of depth in the rotation or the bullpen.
The Dodgers entered Tuesday with a collective earned-run average of 2.72, fourth best in the NL.
The rotation's greatest question mark, Hyun-Jin Ryu, struck out eight over six scoreless innings Tuesday night. The main concern in the bullpen has been closer Kenley Jansen, who has looked like himself in his last two appearances, including the save he recorded against the Athletics.
So long as the Dodgers continue to pitch well, they win. They have too many capable hitters not to.
Follow Dylan Hernandez on Twitter @dylanohernandez
---
Get our Dodgers Dugout newsletter for insights, news and much more.
You may occasionally receive promotional content from the Los Angeles Times.