Even on the DL, Juan Uribe keeps Dodgers loose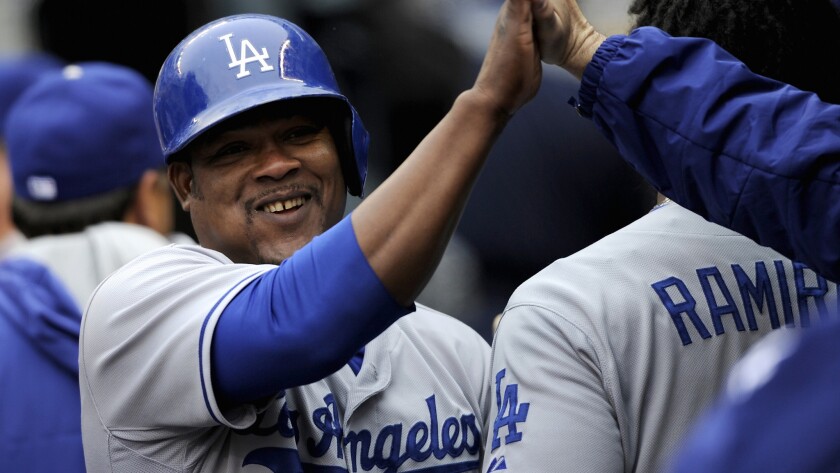 The Dodgers clubhouse was sleepy and mostly empty when Juan Uribe bounded in early Sunday, wearing a smile above a ridiculously bright red outfit.
It was an ensemble chosen more for satirical than sartorial reasons and it quickly had the desired effect, drawing laughter that stirred the players from mid-morning lethargy as Uribe sauntered toward his spacious locker at the far corner of the room.
"He keeps the clubhouse loose," said closer Kenley Jansen, whose locker is near Uribe's. "He has a lot of fun and that's what we need sometimes."
Uribe, regardless of whether he is in the lineup — he's on the disabled list because of a hamstring injury — seems to know exactly what his teammates need. Last season, when an arrogant and flamboyant Yasiel Puig was being roundly criticized by opponents and the media, it was Uribe who publicly rushed to his defense while privately urging him to cool it.
This spring, in a meeting called by Manager Don Mattingly, Uribe spoke up again, calling Puig out in front of the team for his reckless play, dousing what was becoming a major distraction in the clubhouse.
"A leader? For sure," reliever Brian Wilson said of Uribe. "There's no question about that."
Said Mattingly: "There are guys that, just because they're hurt, doesn't mean they're invisible. He is a leader and it doesn't change because he's on the DL. … And Juan, he's funny in the clubhouse. He's loose. But he knows when to get down to business."
This is not the first time Uribe has led while not in the lineup. He sat out 34 games earlier this season because of a hamstring injury, and various injuries limited him to 143 games, and a .199 batting average, in his first two seasons with the Dodgers. But he remained a vocal and comedic presence, which played a role in the team's decision to sign the 35-year-old third baseman to a two-year, $15-million free-agent contract in December.
"He continued to be positive. Not just for himself but also with other people," team President Stan Kasten said. "And that's really hard to do when you're scuffling as much as he was in 2012.
"His role, that's significant. A force in our clubhouse is very, very important."
Uribe has been a force on the field as well, batting .293, his highest average since his rookie season with Colorado in 2001, and playing Gold Glove-quality defense before his latest injury.
Just don't expect him to talk about those contributions. Uribe generally downplays his contributions and often shoos reporters away when they approach his locker. Fifteen 15 years after coming to the U.S. from the Dominican Republic, he says he remains uncomfortable answering questions in English.
"I don't feel like a leader," he said in Spanish. "I don't feel like I'm better than anyone. But I always like to be with my teammates. On this team and on the other teams I've been with. I've always said my teammates are my family.
"I have sangre dulce for my teammates," he added, using an expression that connotes a deep affinity.
Sometimes that means being a clown. Other times, as with Puig, it means being an enforcer and confidant.
"I'm always trying to get my teammates to keep in mind that it's a game," said Uribe, who has been on World Series winners with the Chicago White Sox and San Francisco Giants. "It's a game that you have to enjoy. It's a game that you have to love.
"When the guys are waiting for me, always calling me, goofing around with me … that's really important to me. I'm helping them keep relaxed, happy. If not, a lot of times they'll get something bad in their head that will affect them."
Josh Beckett's future
Time appears to be running out on right-hander Josh Beckett, who is on the DL because of ailments that include a torn labrum and two cysts in his left hip. Surgery appears increasingly likely, although Mattingly repeated Sunday that the Dodgers are leaving that decision to Beckett since an operation would end the 34-year-old's season, and perhaps his career.
The news is better on shortstop Hanley Ramirez, who is expected to come off the DL this weekend. Although Ramirez has sat out nine games because of a strained muscle in his side, he has more than 400 plate appearances this season for only the second time since 2010, the last time he was an All-Star.
Expansion plans
The Dodgers are likely to call up top prospects Joc Pederson and Alex Guerrero when rosters expand Sept. 1. Pederson, an outfielder, began Monday hitting .301 and leading the Pacific Coast League with 29 home runs to go along with 83 walks and 28 stolen bases. Guerrero, a middle infielder, is hitting .315.
---
Get our high school sports newsletter
Prep Rally is devoted to the SoCal high school sports experience, bringing you scores, stories and a behind-the-scenes look at what makes prep sports so popular.
You may occasionally receive promotional content from the Los Angeles Times.