Blockbuster trade raises more questions about Dodgers' offseason odyssey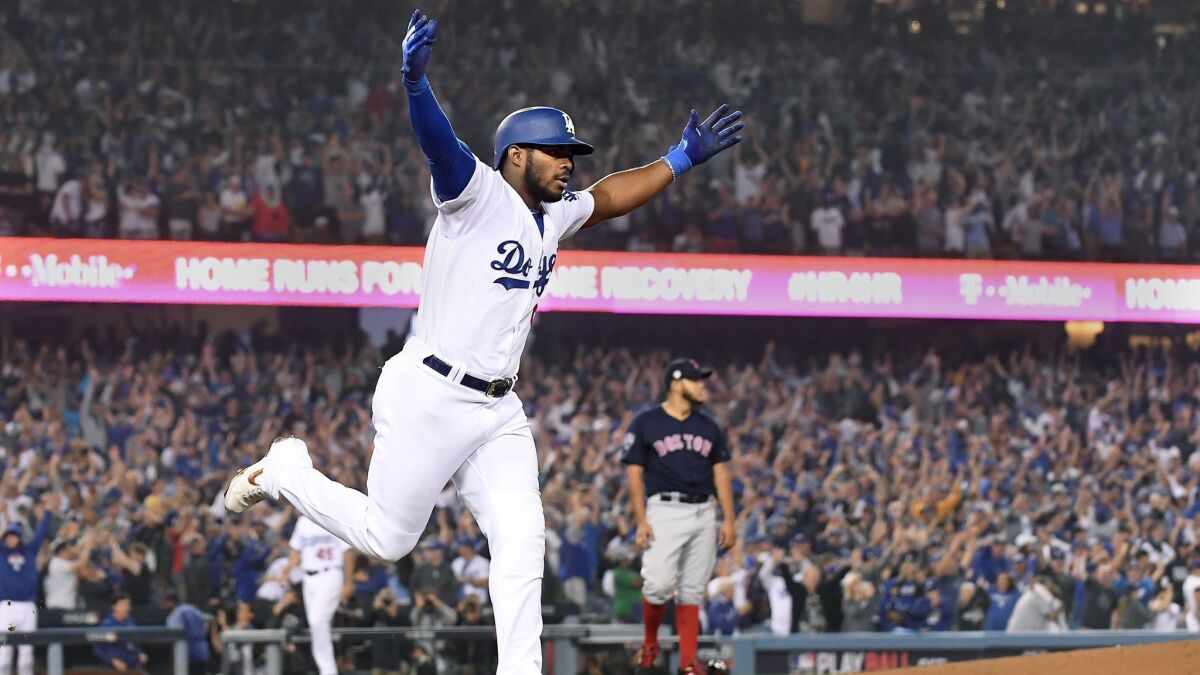 In December of 2016, as Dodgers president of baseball operations Andrew Friedman doled out nearly $200 million in free-agent contracts, he crystallized the occasional need for baseball executives to eschew logic in the winter.
"If you're always rational on every free agent," he said, "you will finish third on every free agent."
The quote was worth reconsidering Friday afternoon — in wake of a trade which sent Yasiel Puig, Matt Kemp, Alex Wood and Kyle Farmer to Cincinnati in exchange for pitcher Homer Bailey, a pair of prospects and some financial flexibility — only viewed in a new context: Are the Dodgers willing to be irrational about free-agent outfielder Bryce Harper?
Because in a vacuum, this trade does not make the Dodgers better in 2019. Puig irritated his teammates and superiors, but he still has hit 51 homers with an .827 on-base plus slugging percentage since 2017. Wood regressed in 2018, but still posted a 3.68 earned-run average. The production of Kemp evaporated after the season's first two months, but he still offered competence on the bench.
The return will not sell tickets. Bailey has been one of the least effective, least reliable and most expensive pitchers in baseball for several seasons. He will soon be released. Both shortstop Jeter Downs and pitcher Josiah Gray have promise, but neither is close to the majors. The Dodgers are a worse team on Dec. 21 than they were on Dec. 20.
Yet the meaning of this move cannot be judged in December. What matters is what comes next. What matters is how the Dodgers utilize the roughly $14 million they've freed up on their luxury-tax payroll. It could be for Harper. It could be in swinging a trade for Miami Marlins catcher J.T. Realmuto or Cleveland Indians pitcher Corey Kluber. Or it could be signing one of the volatile but talented relievers available.
"We are in a position right now, where we still feel like we have a really good team," Friedman said Friday. "But feel like we want to continue to add to it before we get to spring training. What exactly that looks like, I'm not sure yet. But I do think we've gained some flexibility."
The Dodgers made a similarly complicated deal last winter, shipping the contracts of Adrian Gonzalez, Scott Kazmir and Brandon McCarthy to Atlanta in exchange for Kemp. The deal was designed to avoid being penalized by the competitive-balance tax for a sixth consecutive season. By staying under the $197 million threshold in 2018, the Dodgers were theoretically prepared to blow past the $206 million threshold in 2019.
And their fans, starved of a championship for 30 seasons in a row, await to see if the Dodgers will.
The trade leaves the Dodgers' big-league outfield stockpile effectively at six: Joc Pederson, Cody Bellinger, Chris Taylor, Enrique Hernandez, Andrew Toles and Alex Verdugo. Bellinger, Taylor and Hernandez all also play the infield regularly. Neither Toles nor Verdugo has extensive big-league experience. The need for an additional outfielder appears legitimate.
Could that player be Harper? The Dodgers have shown no indication they are willing to offer a decade-long contract. The longest free-agent deal Friedman has given out with the Dodgers is the five-year pact handed to Kenley Jansen after 2016. The team would likely engage with Harper on a shorter-term deal, but it is unclear if Harper would agree to such a contract this early in the winter.
Reached for comment Friday, Harper's representative Scott Boras declined to comment on the status of any discussions with the Dodgers. He reiterated his case for his client, who at 26 has already made six All-Star teams and won the National League MVP award.
"There have been so few players who were free agents at 25, 26, who were iconic and who paid for themselves independent of performance," Boras said. "It's a rare business opportunity. You hear from people and they understand this type of situation doesn't come often."
The other outfielders on the market offer intrigue, if little certainty. A.J. Pollock has posted an .801 on-base plus slugging percentage as a center fielder these past two seasons, but has struggled with injuries. Marwin Gonzalez can play all three outfield spots, but hit .247 with a .733 OPS in 2018. Adam Jones is a five-time All-Star, but is fading as both a hitter and a fielder. Carlos Gonzalez has been a below-average hitter since 2017.
The connection between Harper and the Dodgers will not fade in the immediate future, not unless a team like the Philadelphia Phillies bowls Harper over with an offer. But Philadelphia hosted infielder Manny Machado earlier this week, and may prefer him to Harper. Until Harper signs elsewhere, the Dodgers will at least lurk on the margins.
Could the Dodgers use their flexibility on one of Cleveland's star pitchers? The Indians have entertained offers for both Kluber and Trevor Bauer this winter. But after shedding the contracts of Edwin Encarnacion, Yonder Alonso and Yan Gomes, Cleveland has less pressure to cut salary. The Dodgers will still likely need to use significant prospect capital to pry away either pitcher.
And those prospects may be best served in a deal for Realmuto. The Marlins opened negotiations with a sky-high asking price — they reportedly requested Bellinger in talks with the Dodgers — but have yet to find a match. With Yasmani Grandal on the free-agent market, the most glaring weakness on the Dodgers' roster is the lack of a starting catcher. They have watched as potential stopgaps like Wilson Ramos (New York Mets), Kurt Suzuki (Washington Nationals) and Brian McCann (Atlanta Braves) came off the market.
"The catcher spot is still something we have to address," Friedman said.
The team also needs to upholster its bullpen. Still available are seven-time All-Star closer Craig Kimbrel and two-time All-Star closer Zach Britton. The prices for each pitcher figure to exceed the Dodgers' comfort level. But the Dodgers will require more than the addition of Joe Kelly to prop up Jansen, who struggled for sizable portions of last season.
And it was Friedman himself who two winters ago explained how the open market works. After sending Puig, Wood and Kemp to Cincinnati, Friedman doesn't just have the opportunity to act irrationally. It might be better described as a need.
"I do think we have some added flexibility," Friedman said. "And we'll figure out what makes the most sense for us as we move forward."
Twitter: @McCulloughTimes
---
Get our Dodgers Dugout newsletter for insights, news and much more.
You may occasionally receive promotional content from the Los Angeles Times.