Five reasons the Dodgers won't win the World Series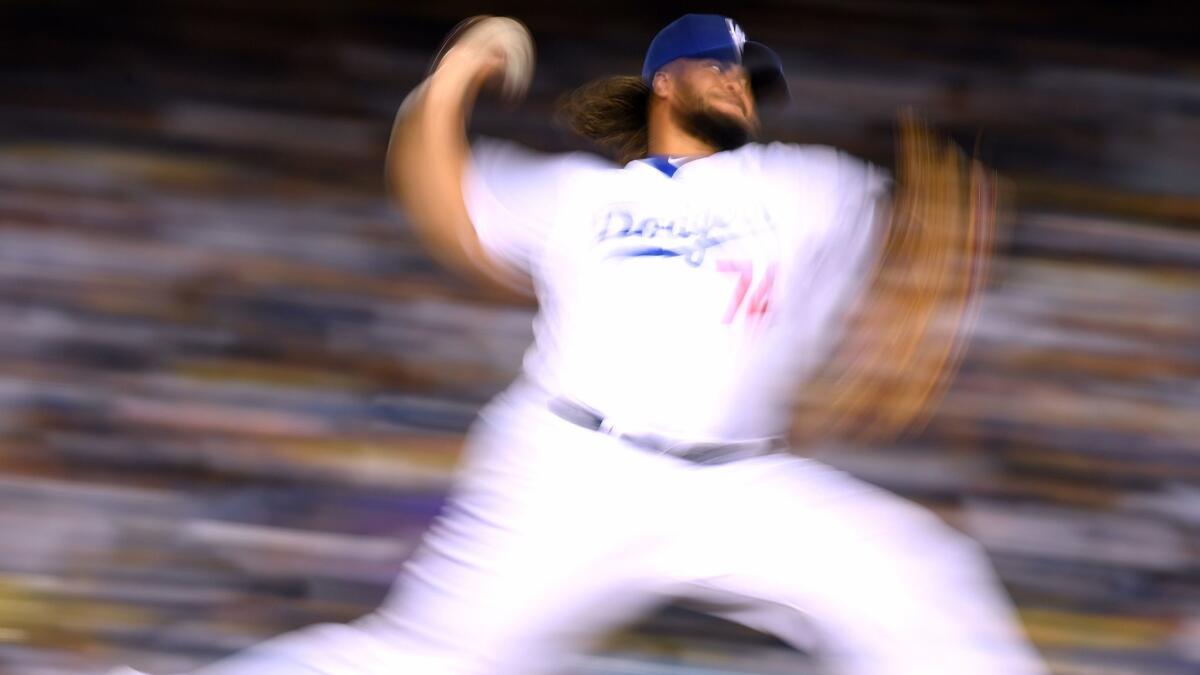 Last year, the Dodgers won 104 games and ran away with the division title only to lose in Game 7 of the World Series. This season will have a similar finish. Here are the top five reasons the Dodgers will not win the World Series this year.
1. Bullpen. The three most important things in the postseason are: Bullpen, bullpen, bullpen. And the Dodgers' bullpen has been very erratic this season. Every reliever has had spurts of dominance followed by periods of abject failure. No one has really stepped up to fill the role that Brandon Morrow did last season, when he went 6-0 with a 2.06 ERA during the regular season, followed by 11 nearly flawless postseason appearances that was ruined when an obviously exhausted Morrow gave up four runs in Game 5 against the Houston Astros. The Dodgers moved Kenta Maeda to the bullpen to help in September, but he hasn't produced the same results he did last postseason. And we haven't even gotten to the erratic season Kenley Jansen has had by his standards. If it's 3-2 in the seventh inning with the go-ahead run on second base, who do you want coming in the game?
2. Home run reliant offense. The Dodgers do not do a lot to manufacture runs, with analytics telling most that advantage a team gets from bunting or stealing bases isn't worth the disadvantage if those plays don't work. The Dodgers have hit 235 homers this season, with 157 (66.8%) being solo shots. That's how you end up with seven guys with 20 or more homers, but no one near 100 RBIs. The Dodgers may win a playoff game by a 14-3 score and look unbeatable, but the rest of the time they will just be standing around and watching, hoping someone hits a home run.
3. Clayton Kershaw can't handle the pressure. Make no mistake that Clayton Kershaw is one of the best regular-season pitchers in history. But when it comes to the postseason, he folds easier than a poker player with confidence issues. Has he had good postseason starts? Of course. So did Burt Hooton for that matter. But all you need to do is look at Game 5 last season, when he had a four-run lead and a three-run lead and couldn't hold it in a game the Astros won to take a 3-2 series lead. In fact, of all the pitchers who have won at least three Cy Young Awards, he is by far the worst when it comes to the postseason:
Sandy Koufax: 4-3, 0.95 ERA
Jim Palmer: 8-3, 2.61 ERA
Tom Seaver: 3-3, 2.77 ERA
Steve Carlton: 6-6, 3.26 ERA
Greg Maddux: 11-14, 3.27 ERA
Pedro Martinez: 6-4, 3.46 ERA
Randy Johnson: 7-9. 3.50 ERA
Max Scherzer: 4-5, 3.73 ERA
Roger Clemens: 12-8, 3.75 ERA
Clayton Kershaw: 7-7, 4.35 ERA
4. Lack of clutch hitting. It seems like it has happened all season. Runner in scoring position, no one out. Strikeout. Strikeout. Fly out. No one trying to just put the ball in play. Dodgers lose by a run, but if they had driven in that runner on third instead of leaving him stranded, who knows what might have happened? The Dodgers hit .253 with runners in scoring position this season, 13th in the 30-team majors. With two out and runners in scoring position, they were 29th at .199. The only guy on the team with at least 10 plate appearances in that situation to hit over .300 was Corey Seager. And I'm pretty sure he's not playing this postseason.
5. The team is cursed. This team has sort of hex on it. Let's recap:
—About 30 Dodgers come down with the flu in spring training, causing some of the regulars to miss games they would use to get ready.
—Justin Turner, the cornerstone of the offense, gets his wrist broken by a pitch in one of the last spring training games.
—Tom Koehler, acquired by the Dodgers to replace Morrow as the primary setup man, hurts his shoulder in spring training and never pitches.
—During the final spring training game, played at Dodger Stadium, a sewage pipe bursts spilling some foul-smelling liquid onto the field, forcing the team to cancel the rest of the game. Not to mention the sight of members of the Dodgers grounds crew walking in the muck wearing shoes but no socks.
—Seager's elbow injury gets so bad that he has to have season-ending surgery.
—Hyun-Jin Ryu, who is pitching like a staff ace, tears a groin muscle off the bone and misses several weeks.
--Jansen has a recurrence of his heart issues, throwing the bullpen into disarray.
So there you have it. The Dodgers can't possibly win the World Series this season. Unless they do, in which case forget you ever read this.
Get our Dodgers Dugout newsletter for insights, news and much more.
You may occasionally receive promotional content from the Los Angeles Times.