Dodgers respond to anonymous Astros player's claim that Yu Darvish tipped his pitches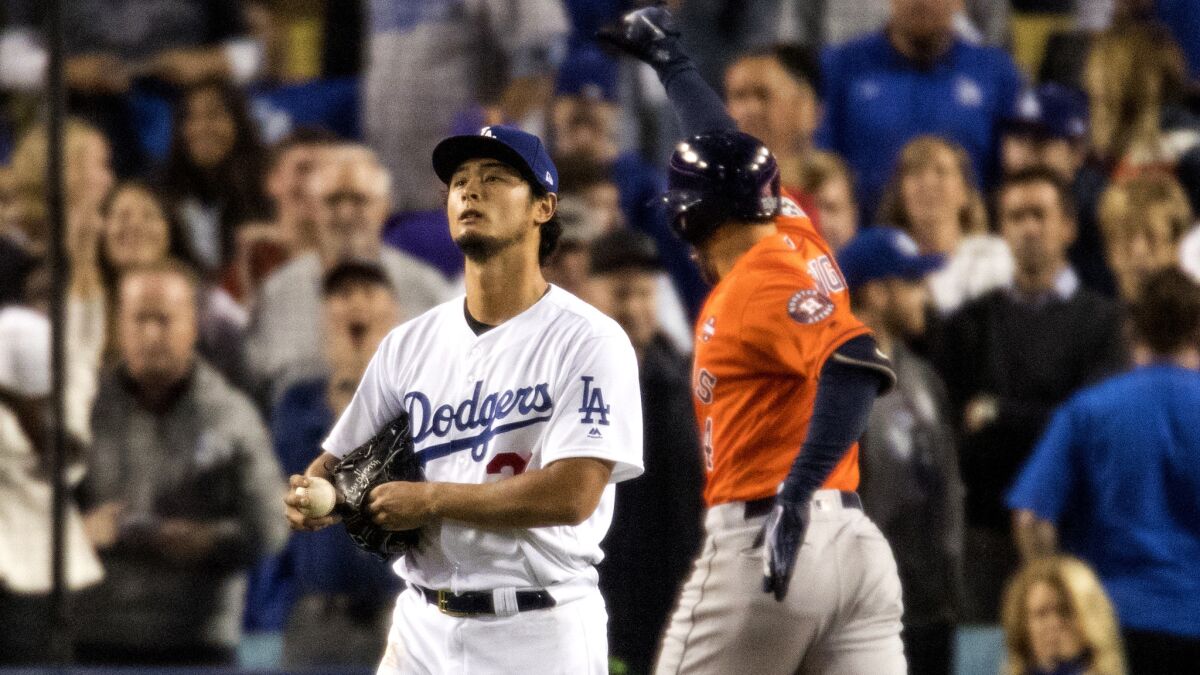 Reporting from LAKE BUENA VISTA, Fla. —
On the 41st day after the 2017 season ended, after the Dodgers fell one victory short of their first World Series championship since 1988, Dave Roberts glanced skyward and sighed.
"Gosh," he said during a news conference on the second day of the Winter Meetings at the Swan and Dolphin resort, "I don't know if you ever get over it. Especially when you go to Game 7, and a lot of things could have been different. A pitch here, a pitch there maybe changes the outcome."
Roberts searched for a silver lining. He suggested his players had grown from the experience. He believed the clubhouse bonded during their run to the World Series. He indicated he learned from managing underneath the spotlight.
Yet more than a month after the final out, one question remains unanswered: What calamity befell Yu Darvish? His two starts, in Games 3 and 7, made a significant contribution to his team's doom.
A popular theory resurfaced on Tuesday afternoon, when Sports Illustrated quoted an anonymous Houston Astros player who suggested Darvish was tipping his pitches. The charge had followed Darvish throughout his brief Dodgers tenure, and this was not the first Astro to speak up. In the aftermath of Game 7, Carlos Beltran hinted at the predictability of Darvish's approach.
Both Roberts and general manager Farhan Zaidi acknowledged there was internal concern about Darvish giving away his pitch selection. Roberts indicated he "wasn't surprised" by the story.
"We had conversations about that with Yu, trying to kind of pin it down," Roberts said. "Obviously, we weren't successful. I think that's there's something to that but there's also a lot more, for me, to execution."
Zaidi sounded a similar note.
"The way the game is now, whenever somebody has a bad start, that's the first thing that people go to," Zaidi said. "I think it was part of the conversation after his Game 3 start. But I don't think that was out the ordinary course of business, because whenever anybody struggles a little bit, especially under the microscope of the playoffs, there were some concerns about it.
"That time of year, you're super-diligent about everything. We had plenty of people — our hitters watching video — trying to figure out if there was anything there. I don't want to get into more detail than that about it, but it was certainly on the radar."
Darvish collected only five outs in Game 3 while permitting four runs. He managed to do worse in Game 7, giving up five runs and again garnering only five outs.
Darvish is a free agent. His agent Joel Wolfe suggested Monday the market for Darvish is robust. The Dodgers are not expected to be serious suitors for Darvish, although Zaidi indicated the team is maintaining "active dialogue" with him.
"He has plenty of interest," Zaidi said. "The further you get away from the playoffs, the more people will look at the entirety [of his season] and not just the way it ended, but the way he pitched in the first two rounds, and feel like he could do that for other teams, as well."
The Dodgers are unlikely to pursue starting pitching, president of baseball operations Andrew Friedman indicated Monday. The stockpile of starters already includes Clayton Kershaw, Rich Hill, Alex Wood, Kenta Maeda, Hyun-Jin Ryu, Brandon McCarthy and Scott Kazmir. The team also may give opportunities to Ross Stripling and Brock Stewart, while clearing a path for top prospect Walker Buehler. Julio Urias also could contribute as he recovers from shoulder surgery.
NO SURGERY FOR SEAGER
The Dodgers do not expect shortstop Corey Seager to require elbow surgery, Zaidi said.
Seager dealt with inflammation and soreness in his right elbow for most of the second half. He missed two weeks in the field in late August and early September as the team tried to limit the damage. Seager has been prescribed rest for the winter.
SHORT HOPS: Juan Castro has become the latest member of the Dodgers coaching staff to leave the organization, having accepted a job in the Mexican Baseball League. The Dodgers also need to find a replacement for bullpen coach Josh Bard, who will be the Yankees bench coach. The team also lost assistant hitting coach Tim Byers to the Red Sox, and parted ways with assistant hitting coach Shawn Wooten . . . Zaidi indicated the Dodgers may not need to acquire a left-handed-hitting second baseman. Chase Utley, a well-respected veteran, has filled that role since his arrival in 2015.
The Los Angeles Dodgers in the 2017 World Series
Twitter: @McCulloughTimes
Get our Dodgers Dugout newsletter for insights, news and much more.
You may occasionally receive promotional content from the Los Angeles Times.