Nathan Eovaldi shines even in a loss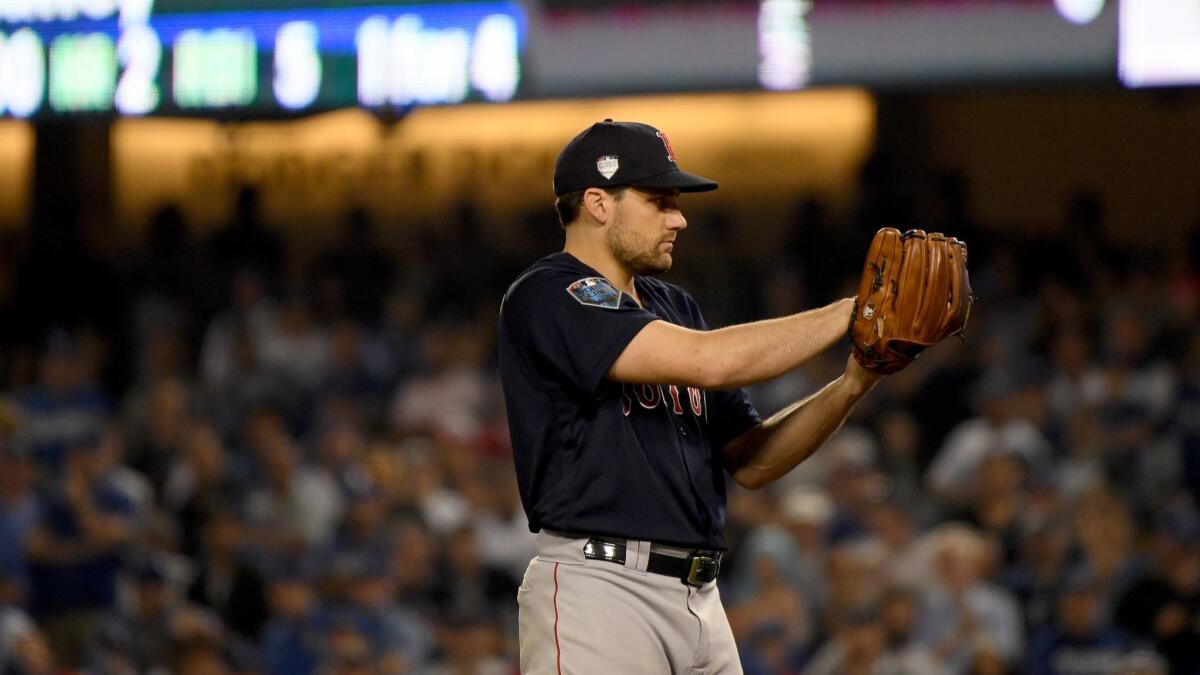 The game endured into its sixth hour, and its seventh, and its eighth. So did Nathan Eovaldi, for whom endurance means been much more than pitching deep into a ballgame.
The game endured into its 16th inning, and its 17th, and its 18th. So did Eovaldi, whose elbow had betrayed him twice within a decade. This is his first season after his second Tommy John surgery, and the rehabilitation protocols do not recommend a team use such a pitcher the way the Boston Red Sox have used him in the first three games of this World Series.
Rick Porcello said he broke down in tears after the game, in awe of his Eovaldi's effort.
"That was the most incredible pitching performance I've ever seen," Porcello said.
That the Boston Red Sox lost Game 3 of the World Series was almost beside the point. That Eovaldi had surrendered a walkoff home run to Max Muncy mattered little.
Eovaldi had pitched six innings in relief by then, one day after making relief appearances on consecutive days.
"I felt pretty privileged to be able to watch what Nathan Eovaldi just did," Porcello said.
"That was one of the best performances, probably, in the history of the World Series," Boston manager Alex Cora said.
Eovaldi made his major league debut with the Dodgers in 2011, on a night the starting infield was Juan Rivera at first base, Aaron Miles at second, Dee Gordon at shortstop, and Casey Blake at third. The Dodgers' resources were limited by the team's bankruptcy. They needed a pitcher, so they called up Eovaldi from double-A, as a 21-year-old fireballer, and hoped for the best.
By the end of the season, they tried him in relief. They used him once on one day's rest, something he never did again until Friday. The Red Sox also used him on consecutive days in the first two games of the World Series, something he never had done.
He is a starter. His routine is that of a starter. He has thrown more pitches than anyone in this World Series – 136 – but in three relief appearances, in the first three games of the Series. He would have started Game 4, but the Red Sox used him to lock down the first two games and extended him in Game 3, trying to knock the Dodgers down and just about out.
He was throwing as hard as 98 mph to Muncy, the 22nd batter he faced in Game 3, and the 28th in four days.
"The emotions, the adrenaline, everything was kicking in there towards the end," Eovaldi said.
The game did not necessarily set up for Eovaldi to be lionized. Cora summoned him in the 12th, the Red Sox scored a run in the top of the 13th, and they would have won in the bottom of the 13th if not for a throwing error by second baseman Ian Kinsler.
"I feel terrible for Nate," Kinsler said.
Cora kept asking Eovaldi how he felt. Eovaldi kept saying he was fine. Let me finish the game, he told Cora, more than once.
Eovaldi had retired 11 consecutive batters when Muncy stepped up, leading off the 18th. Cora already had determined that would be the seventh and final inning for Eovaldi.
Eovaldi threw 97 pitches in all – 36 more than Porcello, the Boston starter, and 11 fewer than Walker Buehler, the Dodgers' starter.
The last pitch was the walkoff. As Eovaldi walked off, David Price told him not to hang his head, but to hold it high.
At the end of this first year following his second surgery, Eovaldi said he did not worry that the Red Sox might have compromised his long-term health. He considers himself a starting pitcher, he said, and he does not believe his total season workload of 133 innings is excessive.
"I feel really good right now," he said. "I'm ready to go."
Said the Dodgers' Joc Pederson: "Hopefully he's down until Game 7 or something."
There is no way Eovaldi pitches in Game 4, right?
It was about 1 o'clock on Saturday morning, and Eovaldi had quite understandably lost track of exactly what day it was at that very moment.
Oh, yeah, the question: could you really pitch in Saturday's Game 4?
"I'll see how I feel tomorrow," he said. "Or today."
Follow Bill Shaikin on Twitter @BillShaikin
Get our Dodgers Dugout newsletter for insights, news and much more.
You may occasionally receive promotional content from the Los Angeles Times.