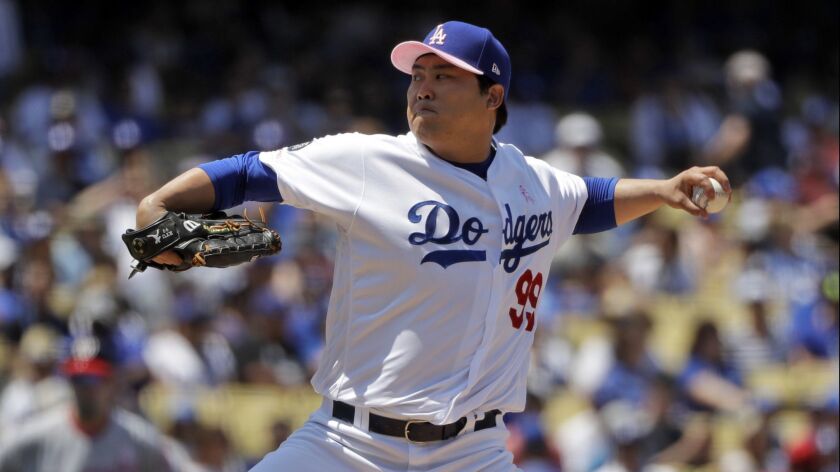 When Gerardo Parra's eighth-inning drive one-hopped the wall in left-center field for a double, leaving Hyun-Jin Ryu five outs shy of a no-hitter, the Dodgers left-hander felt more disappointed for right fielder Cody Bellinger than he did for himself.
It was Bellinger who had given Ryu a chance at baseball history Sunday, fielding Stephen Strasburg's apparent sixth-inning single on a hop in shallow right field and firing a lengthy laser to first base to retire the Washington Nationals pitcher and keep Ryu's no-hit bid alive.
After settling for eight innings of one-hit ball in which he struck out nine and walked one in a 6-0 victory over the Nationals before a crowd of 45,667 in Dodger Stadium, Ryu felt like he owed Bellinger an apology.
"He made a huge play and kept the no-hitter going," Ryu said through an interpreter. "Honestly, I feel like I want to say sorry to him because I could have accomplished something thanks to that play, but in the end, I did give up a hit."
That hardly diminished from an afternoon in which Ryu improved to 5-1 with a 1.72 ERA, establishing himself as an early contender for the National League Cy Young Award, and increased his consecutive scoreless innings streak to 24, which includes his four-hit, 93-pitch shutout of Atlanta last Tuesday.
Ryu, pitching before a Mother's Day crowd that included his own mother, Seung-Soon Park, threw a season-high 116 pitches, 79 for strikes. He had pinpoint control of his five-pitch mix, relying mostly on his four-seam fastball, changeup and cut-fastball, and mixing in a few curves and two-seam fastballs.
He got a rousing standing ovation after Parra, who hit a game-winning grand slam against the Dodgers on Saturday night, smacked a 90-mph fastball for his double and an even louder ovation as he walked to the dugout after the eighth inning.
"I think there's a lot of layers," manager Dave Roberts said of Ryu's dominance. "He's just so confident. He's very sound in his delivery. The game plans have been on point. I can't say enough about what he's done, giving guys days off in the bullpen and putting us in position to win every time he takes the mound.
"He's off to a tremendous start. To watch him work as a technician … it was masterful, it really was. Everything he wanted to do with a hitter — how you script a plan for how you attack a hitter and keep him off balance and miss bats in the strike zone — he did."
Ryu retired the first 10 batters before issuing a rare walk to Brian Dozier with one out in the fourth. It was Ryu's third walk in 52 1/3 innings this season — compared to 54 strikeouts — and his first at home since he walked San Diego's Franmil Reyes on Aug. 26, 2018, a span of 66 1/3 innings and 10 starts.
Ryu retired the next 12 batters before Parra's hit, though he needed the huge sixth-inning assist from Bellinger, who began scheming with first baseman Max Muncy about such a play four innings earlier.
"I was playing really shallow with Strasburg hitting," Bellinger said. "Me and Muncy connected in the second inning. If there was a line drive at me, I was going to try to get one just because that's the only opportunity you have usually, with the pitcher. It's the perfect opportunity for it."
Bellinger, who nearly lost Wilfer Difo's fly ball in the sun in the fifth, charged Strasburg's hit toward the line and fired a 93-mph throw to Muncy at first, the velocity fitting for a 9-3 putout. Umpire Gerry Davis' out call was upheld after a 1-minute 5-second instant replay review.
"It was bang-bang," said Bellinger, who is tied for the NL lead with five outfield assists. "I didn't know if he was out or safe. I just tried to throw it as hard as I could. I looked up one hitter before and saw it was a no-hitter. So I was thinking, 'Here we go.' It was the sixth inning, so this could be a possibility."
That feeling began to gather steam in the Dodgers dugout.
"When we threw out Strasburg, it was like, 'This might be the day,' " pitching coach Rick Honeycutt said. "It's not every day you get a 9-3 putout. That was pretty special."
The Dodgers took a 1-0 lead in the second inning when Bellinger walked, stole second, took third on Alex Verdugo's grounder to first and scored on Corey Seager's sacrifice fly.
They extended the lead to 2-0 in the fourth when Justin Turner hit a soft single to center for the first hit off Strasburg, took third on Bellinger's single to left-center and scored on Verdugo's groundout to second.
The slumping Seager, who entered with a .225 average, two homers and 12 RBIs, broke open a close game in the eighth with his second career grand slam.
The combination of Parra's hit in the top of the eighth and Seager's slam in the bottom of the eighth relieved Roberts of a potentially difficult decision.
The manager said he would have extended Ryu's pitch count to "somewhere in the low-120s" had he still had the no-hitter, but with a 6-0 lead and the Nationals notching a hit, Roberts summoned closer Kenley Jansen for the ninth.
"To send him out for the ninth was certainly a thought," said Roberts, who has drawn criticism for pulling pitchers from no-hitters, "but fortunately I didn't have to make that decision."
---