Max Muncy trades verbal barbs with Madison Bumgarner in Dodgers' win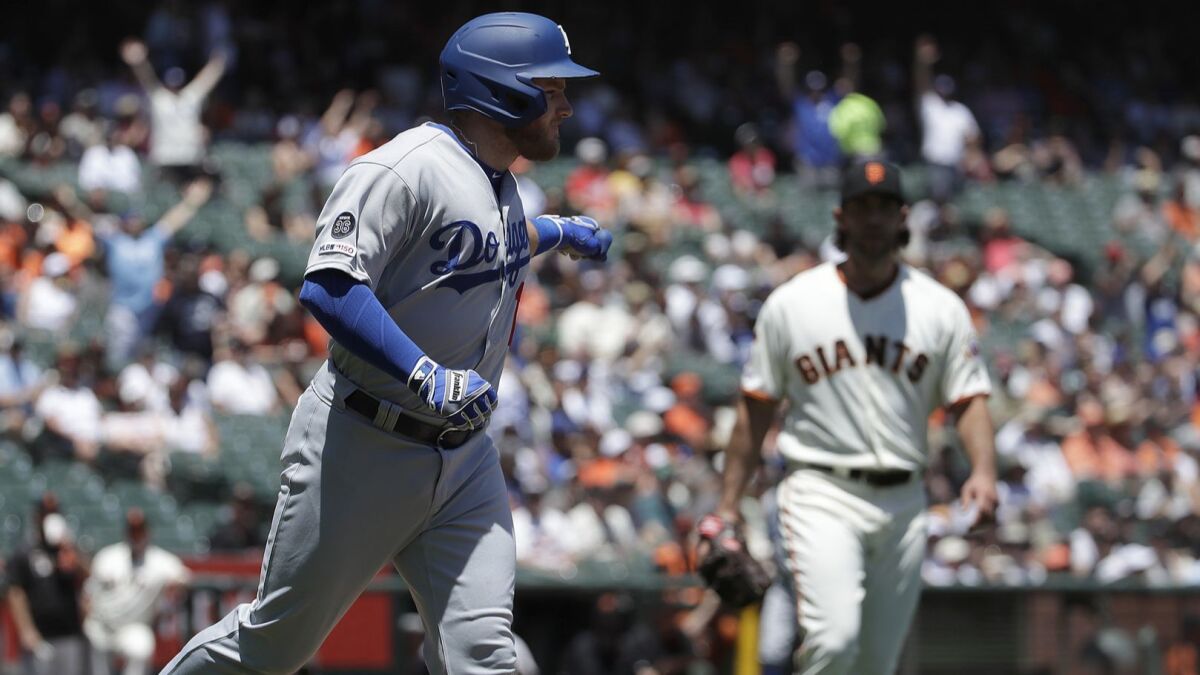 Reporting from San Francisco —
Max Muncy, the Dodgers' seemingly mild-mannered infielder, morphed into Mad Max on Sunday, teaming with San Francisco Giants ace Madison Bumgarner to turn a casual 360-foot jaunt around the bases into a remake of Fury Road.
A lengthy and heated verbal exchange between the two in the first inning of a 1-0 Dodgers victory before 34,098 in Oracle Park overshadowed another dominant start by budding ace Walker Buehler, the right-hander who gave up five hits and struck out nine in seven scoreless innings.
But it sure did spice up what was already one of baseball's most intense rivalries.
Muncy was hitless with three strikeouts in six career at-bats against Bumgarner when he crushed the left-hander's eighth pitch of the game into McCovey Cove, the splash-hit traveling 426 feet over the right-field wall.
Muncy did not flip his bat, but he did pause for a second or two to admire his shot before breaking into his trot. The notoriously feisty Bumgarner, who feuded with former Dodgers outfielder Yasiel Puig in 2014 and 2016, was clearly offended. He took several steps toward Muncy and stalked him down the first-base line.
By the time Muncy rounded first the two were in a full-blown argument, screaming and gesturing at each other. Plate umpire Will Little intervened, but the two were still jawing at each other as Muncy pulled into the plate.
"He took exception to me watching the ball, I guess," Muncy said of Bumgarner. "He said, 'You don't watch the ball. You run.' "
And Muncy's response?
"I told him, 'If you don't want me to watch the ball, you can go in the ocean and get it,' " he said. "I don't even know if he heard it. As I was rounding the bases, I yelled it at him. He was yelling at me. We were kind of going back and forth and that was it. Just a couple guys competing."
Bumgarner always gets up for the Dodgers — he has given up two earned runs and struck out 17 in 19 innings of three starts against them this season — and he seemed upset at a few of Little's calls on leadoff batter Enrique Hernandez on Sunday. So he might have been on edge when he grooved a fastball to Muncy.
"He just struck a pose and walked farther than I liked," Bumgarner said of Muncy. "If you want to do that, do it. But I'm going to do what I want to do."
Bumgarner and Puig sparked benches-clearing incidents in 2014, when Bumgarner hit Puig with a pitch, and in 2016, when, after a groundout, the pitcher screamed at Puig, "Don't look at me!" That phrase, of course, ended up on T-shirts that were distributed among the Dodgers.
"I can't even say it with a straight face, but the more I think about it, they should let the kids play," Bumgarner said, poking fun at a Major League Baseball promotional campaign. "That's what everybody's saying … but I can't.
"If they want to let everybody be themselves, let me be myself. That's me. I'd just as soon fight than walk or whatever. Just do your thing. I'll do mine."
Muncy didn't think he had done that much to offend Bumgarner.
"Honestly, I thought it was probably one of my tamer bat flips," Muncy said. "I didn't think it was anything outrageous. I just kind of took one or two steps out of the box and started jogging."
The two faced each other two more times without incident, Muncy grounding out to second in the third inning and walking in the sixth.
Buehler needed only 66 pitches to cruise through the first five innings but ran into trouble in the sixth when Mike Yastrzemski led off with an infield single and took third on Evan Longoria's single to right.
The Dodgers played their infield back, willing to exchange a run for a double play. Pablo Sandoval shot a hard one-hopper to third baseman Justin Turner, who gloved the ball and threw to catcher Austin Barnes, who tagged out Yastrzemski in a rundown. Buehler got Stephen Vogt to fly to left and Kevin Pillar to fly to center to escape the jam.
Sign up for our daily sports newsletter »
"The way Walker was throwing, I decided if I got a ball hit at me I was probably going to go home instead of conceding the run and going for the double play," Turner said. "I didn't know he was going to hit it that hard at me. I kind of threw my glove out there and it found it. Barnesy did a good job of being ready."
Said manager Dave Roberts: "That was a very heady play."
Pedro Baez pitched the eighth and Kenley Jansen struck out two of three in the ninth for his 19th save to preserve the win for Buehler, who is 7-1 with a 3.35 ERA in 13 games and has given up one run and seven hits, striking out 20, in 15 innings of his last two starts.
"It was kind of an old-school baseball game where you have two No. 1s going head to head, matching each other pitch for pitch," Roberts said. "It was fun. And fortunately for us, we scored one more than they did."
---
Get our Dodgers Dugout newsletter for insights, news and much more.
You may occasionally receive promotional content from the Los Angeles Times.