Padres give Manny Machado 300 million reasons to stay close to Dodgers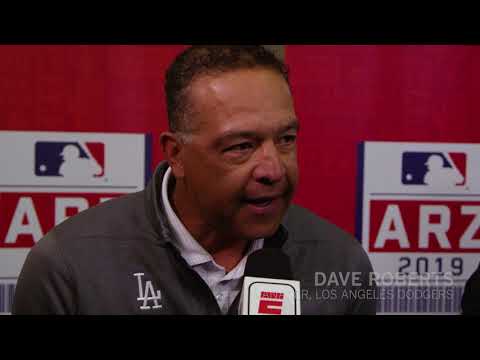 Los Angeles Dodgers manager Dave Roberts, commissioner Rob Manfred, and San Diego Padres general manager A.J. Preller comment on the reports that Manny Machado signed with the Padres.
Reporting from PHOENIX —
The news baseball waited for all winter finally broke Tuesday morning, minutes before the Dodgers began their first full-squad workout of 2019 at a frigid Camelback Ranch.
Manny Machado, the four-time All-Star infielder last seen playing a villainous role during the Dodgers' World Series run last fall, was, at last, off the free-agent market. He had agreed to a 10-year, $300-million deal with the San Diego Padres.
His contract, which is pending a physical, is the largest free-agent contract in the history of North American sports.
"That's good for Manny," Dodgers manager Dave Roberts, a former Padres bench coach, said. "It's good for the Padres. …Yeah, so we're going to see a lot more of Manny this year."
The Dodgers and Padres, both members of the National League West, are scheduled for 18 regular-season games.
Machado hit 37 home runs with a .905 on-base-plus-slugging percentage for the Baltimore Orioles and the Dodgers in 2018. The Dodgers acquired him for five minor leaguers during the All-Star break in July to fill in for the injured Corey Seager at shortstop.
Machado helped the Dodgers win the NL pennant for the second straight year, but his production dipped in Los Angeles after a blistering first half in Baltimore, and his lack of hustle and on-field behavior often snatched more attention than his performance.
For the Dodgers, he was always considered a rental. Seager is their shortstop. Third base — Machado's spot his first six-plus seasons with the Orioles — belongs to Justin Turner. And the Dodgers are again favored to win the NL West for the seventh straight season, even without Machado.
The Padres finished last in the division last season with 66 wins. They have not posted a winning record since 2010 and have not advanced to the postseason since 2006. Now they will build around Machado, whose 29 FanGraphs' Wins Above Replacement since 2013 is tied for sixth-best among position players.
"We've been through a process here over the course of the last few months in the offseason trying to get our club better," Padres general manager A.J. Preller said at Cactus League media day at the Glendale Civic Center. "It's been pretty out in the open in terms of some of the pursuit of the bigger free agents in the last few weeks. Our intentions have always been real in terms of trying to line up and sign somebody who helps us both in the short term and the long term."
Machado, who reportedly can opt out of the deal after the fifth year, will likely return to third base as a Padre. His presence further accelerates a rebuild a year after the club gave first baseman Eric Hosmer the richest contract in baseball last offseason — an eight-year, $144-million pact.
San Diego can pair the two veterans with a talented group of minor leaguers that comprise the top-ranked farm system in baseball.
"Anytime you're in that echelon of player, with being that young, I don't know if there's necessarily a right number because, obviously, you're trying to set the path for future guys that get to that point," Dodgers left-hander Clayton Kershaw said. "But there aren't that many guys that get to free agency at that superstar level that are 26 years old.
"Ten years seems fair, for sure, and getting that 30 a year for him is great. Can't say I'm happy for him — he's with the Padres now — but it's good to maybe get the market going a little bit."
Machado's signing, as Kershaw suggested, may represent a thaw in the slow-moving free-agent market. With Machado off the board, former NL MVP Bryce Harper could be next to sign. He is believed to have received earnest interest from the Chicago White Sox, Philadelphia Phillies, San Francisco Giants, Washington Nationals and the Padres, who reportedly have not closed the door on spending lavishly again.
Harper, a six-time All-Star for the Nationals, turned down a 10-year, $300-million extension offer from Washington last fall. He won the NL MVP award in 2015. During the last three seasons, he has averaged 29 home runs and an .897 on-base-plus-slugging percentage.
Harper has a chance to surpass the $325-million contract extension the Miami Marlins gave Giancarlo Stanton in 2014. Closer Craig Kimbrel, left-handed starter Dallas Keuchel and utility man Marwin Gonzalez are also still unsigned as training ramps up in Arizona and Florida.
"It's great for Manny," Dodgers right-hander Walker Buehler said. "We all know and like Manny, but it's good for the game. Get this stuff going and get some people in camp. Start [filling] up these teams."
Times staff writer Andy McCullough contributed to this report.
Sign up for our daily sports newsletter »
Twitter: @McCulloughTimes
Get our Dodgers Dugout newsletter for insights, news and much more.
You may occasionally receive promotional content from the Los Angeles Times.