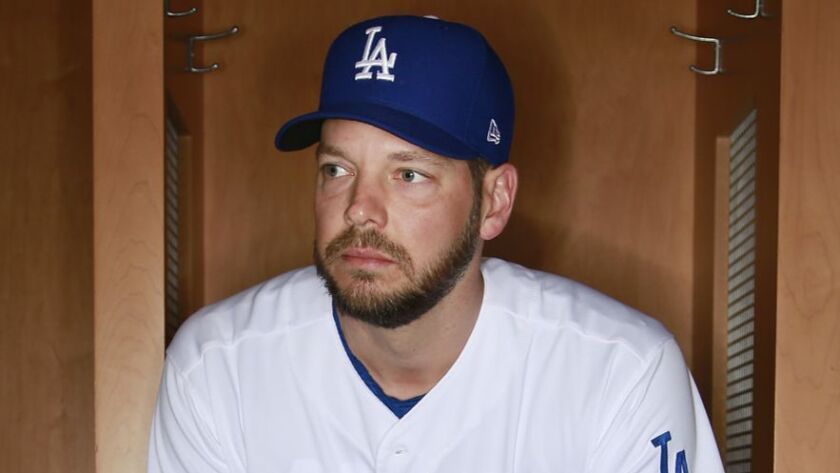 Rich Hill will be forever grateful that his car wouldn't start one cold winter night five years ago in Boston.
It allowed the now-Dodgers pitcher and his wife, Caitlin, some unexpected extra time with their newborn son, Brooks, who died less than two months later.
Hill shared the anecdote and several others in his touching essay, "I Want to Talk about My Son Brooks," published Tuesday on the Players' Tribune. Before they had any idea about the serious medical issues the infant was facing, doctors informed Hill and his wife that they wanted to keep Brooks in the hospital's special-care nursery to work on his feeding techniques.
"When you're grieving, it's easy to blame yourself and sabotage your own well-being, but you just absolutely have to try and remember to be kind to yourself."

For Rich Hill, coping with an unimaginable loss presented a challenge like no other.https://t.co/lAiMF0J24T

— The Players' Tribune (@PlayersTribune) April 30, 2019
They advised the couple to go home and get some rest after a long couple of days. Reluctantly, the two parents agreed, deciding it would be a good opportunity to check on their other young son, Brice, who was staying with family.
But they didn't get any farther than the parking lot.
'No matter how many times I tried, or how much I leaned into that key-turn with my shoulder, the car just totally wouldn't start,' Hill wrote. "So Caitlin and I — teeth-chattering and hands shivering — trudged back inside the hospital.
"Back to Brooks. …
"We smiled and laughed and took some really cute pictures, and just enjoyed being all together for a few more hours."
Sign up for our daily sports newsletter »
Days later, doctors discovered Brooks had a rare genetic brain malformation called Lissencephaly. Soon after, Hill and his wife learned their baby was experiencing kidney failure and other issues. The family of four spent as much time as they could together in the following weeks. Hill describes holding his infant son while quietly singing, "Take Me Out to the Ball Game."
"When I held him in my arms and sang that song to him, I truly believe that Baby Brooks felt the boundless, never-ending love I have for him in my heart," Hill wrote.
Brooks died on Feb. 24, 2014. In his essay, Hill wrote that he cherishes every precious moment he was able to spend with his son — including that one night when his car wouldn't start.
"Thinking about it now, it was almost like we were being told in that moment to stay by our son's side and spend all the time we could with him," Hill wrote.
"Five years later, it's safe to say that I've never been more grateful for car trouble in my entire life."
Twitter: @chewkiii
---