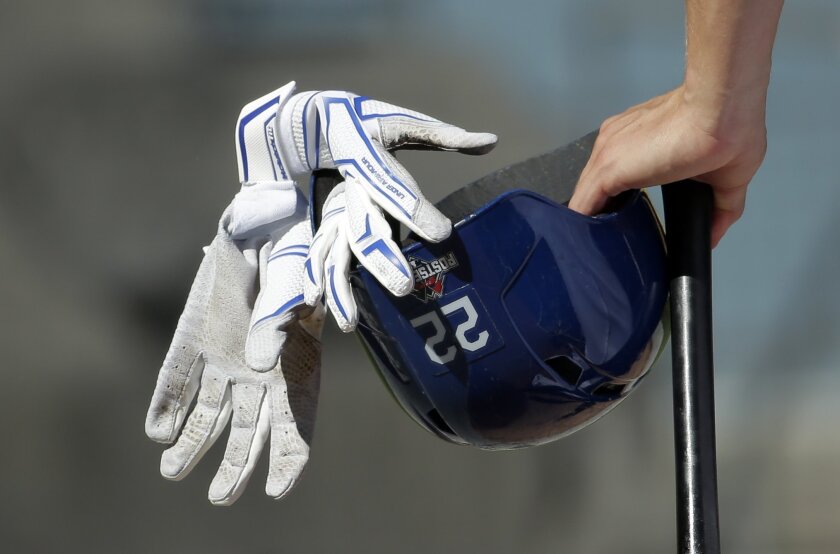 Hi and welcome to another edition of Dodgers Dugout. My name is Houston Mitchell, trying to come up with a way to remain calm when the Dodgers go to the bullpen in the playoffs.
First things first
The excitement of the NLDS against the Mets was put in its proper place Thursday with the news that Vin Scully will miss the entire postseason after undergoing what the Dodgers called a "recommended medical procedure", which I'm guessing wasn't minor since it is going to cause him to miss the entire postseason.
There's no use speculating what happened until the Dodgers or Scully tell us. The good news is they say he will still be back next season. But when you are 87 years old, any medical procedure takes on an extra dimension. All we can do is hope everything works out fine and he will indeed return next season.
Scully had missed the final three games of the season with a cold.
This again throws the spotlight on how sad it is that most of us can't watch the Dodgers on TV and listen to Scully. This needs to be fixed before next season.
Game 1
Well, it's here. After 162 games, the postseason is upon us and opens for the Dodgers tonight against the Mets at Dodger Stadium in a best-of-five, NL Division Series matchup. Tonight, Clayton Kershaw (16-7, 2.13) takes on Jacob deGrom (14-8, 2.60). Some fans are worried about Kershaw, who has been pretty bad in the past two playoffs and is 1-5 with a 5.12 ERA in his postseason career. But I'm not. It looks to me like Kershaw is locked in and knows this is an extremely important postseason for him. If he goes on a Madison Bumgarner type run, he will cement his place among the all-time greats. Lose, and his reputation takes a big hit. Key fact: deGrom has never defeated the Dodgers in his career, and Kershaw has never lost to the Mets.
Let's take a look at how key Mets have fared against Kershaw in their career, and key Dodgers against deGrom:
Vs. Kershaw:
As a team, the Mets are hitting .205 with two homers against Kershaw. Individually (minimum 10 plate appearances):
Ruben Tejada, .357, 0 HRs, 0 RBIs
Daniel Murphy, .300, 0, 1
Juan Uribe, .273, 1, 1 (will miss series because of injury)
Eric Young, .250, 0, 0
Michael Cuddyer, .250, 0, 2
David Wright, .214, 0, 1
Kelly Johnson, .200, 1, 2
Lucas Duda, .100, 0, 0
Curtis Granderson, .100, 0, 0
The Dodgers are hitting .197 against deGrom, who has been pitching only since 2014. Individually (minimum five plate appearances).
Adrian Gonzalez, .375, 2, 5
Andre Ethier, .333, 0, 0
Chase Utley, .300, 0, 0
Yasiel Puig, .167, 1, 1
Jimmy Rollins, .125, 0, 0
Carl Crawford, .000, 0, 0
Justin Turner, .000, 0, 0
DeGrom is more vulnerable to lefties than righties, giving up a .237/.291/.364 slash line to lefties and .205/.249/.283 to righties.
It's also important to note that deGrom has never defeated the Dodgers. He is 0-2 with a 3.66 ERA in three starts against them. Meanwhile, Kershaw has never lost to the Mets, going 6-0 with a 1.34 ERA in nine starts.
The rest of the schedule
Game 2: Saturday at Dodger Stadium, 6 p.m., Zack Greinke (19-3, 1.66) vs. Noah Syndergaard (9-7, 3.24)
Game 3: Monday at New York, 5 p.m. or 5:30 p.m., Brett Anderson (10-9, 3.69) vs. Matt Harvey (13-8, 2.71)
Game 4*: Tuesday at New York, 5 p.m., TBA vs. Steven Matz (4-0, 2.27)
Game 5*: Thursday at Dodger Stadium, 5 p.m., TBA vs. deGrom
* if necessary. All times Pacific. All games on TBS.
Ask Ross Porter
Former Dodgers announcer Ross Porter will be answering select reader questions for the rest of the season. Email me a question for Ross, and I will pass it on to him. Here is his latest response:
Bill Bow asks: It's no secret that Vinny works long hours. He has done several late-inning games this year. I also recall him doing a Friday night game in Houston on the radio, then flying out to do an NBC game of the week and then back to do the Saturday night Dodgers-Astros game. What I want to know is what is the longest game you two have done together, either in innings or minutes, whichever one is more memorable?
Ross: Nice going, Bill. You have a terrific memory. In June of 1989, after he announced the series opener at the Astrodome, Vin flew to St. Louis and on Saturday afternoon, worked a 10-inning game for NBC-TV. He then quickly boarded a private jet, which returned him to Texas, and he showed up in the television booth only minutes before the first pitch. Ironically, Don Drysdale had taken the night off, so there were only two of us broadcasting the game. Vin handled innings 1 through 3 on TV, 4 to 6 on radio and 7 to 11 on TV. I was on radio from 1 to 3, TV from 4 to 6, and back on radio for the 7th through the 11th.
I went to the Dodger clubhouse after 11 to be in position for the post-game show. Vin did a simulcast (radio and TV) in the 12th inning, but he began to lose his voice, so I was summoned to return upstairs. From the 13th through the 17th, I was on a simulcast. Vin came back on TV in the 18th, and I moved to radio. The game lasted 22 innings and seven hours and 14 minutes. That day, Vin announced 17 innings in two cities while I was on for 21 innings in Houston. A few hours later, the teams played a 13-inning marathon to wrap up the series.
Two months later in Montreal, I was by myself and called all 22 innings on radio, which is a major league record for a solo broadcast. The game lasted six hours and 14 minutes.
That season, Don missed both 22-inning duels, a 15-inning affair, and a 13-inning contest because he had the nights off. We razzed him about his uncanny ability to know which games to avoid.
And finally
The Dodgers bid farewell to Jim Johnson. You can read all about it here.
Have a comment or something you'd like to see in a future Dodgers newsletter? Email me and follow me on Twitter: @latimeshouston.
---