Sports leagues hope to win where criminal justice system hasn't on domestic violence
In the days leading up to the arrest of Dodgers pitcher Julio Urias, Major League Baseball's effort to take on domestic violence was already grabbing the public's attention.
On May 8 in Chicago, Cubs shortstop Addison Russell returned to Wrigley Field for his first game after serving a 40-game suspension levied by MLB after Russell's ex-wife alleged last September that the player physically and mentally abused her. Russell denied the allegations and was not charged with a crime, but, under MLB's collectively-bargained domestic violence policy, the league conducted its own investigation and suspended him.
The Wrigley crowd booed Russell, 25, who struck out in his first plate appearance.
On May 12 in Houston, Astros pitcher Roberto Osuna had a Mother's Day surprise for his 130,000 Twitter followers. Osuna served a 75-game suspension last season for allegedly assaulting his girlfriend, the mother of his son. The incident occurred while he was a member of the Toronto Blue Jays, and the Astros traded for the star reliever during his suspension so they would have him available for their playoff run. In September, a Canadian judge cleared Osuna of a crime.
So when Osuna, 24, tweeted a picture of the hot-pink cleats he planned to wear for the Astros' game on Mother's Day and referenced his "haters," it prompted a backlash on social media.
One day later, Urias, the Dodgers' 22-year-old potential future ace, left the Beverly Center in L.A. in police custody, arrested Monday night on suspicion of misdemeanor domestic battery. Los Angeles Police Department officers responded to reports of an incident in the shopping mall's parking lot, where witnesses told police they saw a man identified as Urias shove a woman, who fell over. Urias was released a few hours later on $20,000 bond.
The next day, MLB commissioner Rob Manfred put Urias on paid administrative leave pending investigation, the first step of the league's process in determining disciplinary action.
As has been shown in most cases since MLB began investigating domestic violence allegations against its players in 2016, including those against Russell and Osuna, the league has not hesitated to impose punishment even when criminal charges are not filed. Urias might ultimately be cleared of criminal wrongdoing, but that would have little bearing on what Manfred decides.
Impact of Rice incident
U.S. professional sports leagues historically did not take action against domestic violence involving their employees, following the corporate model of limiting oversight to issues that occurred within the workplace. But in 2014, a video leaked of then-Baltimore Ravens running back Ray Rice hitting his then-fiancee in an elevator, and everything changed.
MLB, which had never suspended a player for domestic violence, confronted the issue in August 2015 with a mission to be proactive and avoid the public relations nightmare that had befallen the NFL.
"It became clear to us over the years that, because we're a sports league, a highly public social institution, the public holds our players and frankly our employees to a higher standard," said Dan Halem, MLB's deputy commissioner and chief legal officer. "Our players, particularly, are role models. Domestic violence and sexual assault were areas that we felt we needed to address in a very significant way.
"It takes a lot of resources, a lot of education. I can't really say that we're totally equipped for it. We are a sports league."
By electing to suspend players, leagues are inviting more attention on the poor behavior. The news cycle extends, and the situations can become more awkward for the player and franchise by the day. That, in some ways, is by design.
"It's a crime in the shadows, and that's a problem, right?" Halem said. "When there's not great awareness about it, it makes it less likely that the victims of it have the access to resources that they need to better the situation. Taking this out of the shadows is a positive."
Across the sports landscape, the spotlight on the issue is now ever-present. This week, headlines in Cleveland focused on the minicamp debut of Browns running back Kareem Hunt, who was released by the Kansas City Chiefs midseason last year after a video leaked of him shoving and kicking a woman. NFL commissioner Roger Goodell levied an eight-game suspension for the 2019 season, but that did not stop the Browns from signing Hunt.
Back in Kansas City, the Chiefs are now investigating star wide receiver Tyreek Hill, whose girlfriend on a leaked audio recording accused him of breaking the arm of their young son. In 2016, the Chiefs drafted Hill despite accusations of him punching and choking the same woman in 2014 while Hill played at Oklahoma State.
No matter what happens to Hill in the justice system — the Johnson County (Kan.) district attorney has reopened an investigation because of the audio — he is now firmly in Goodell's crosshairs.
'Change the world'
In the five years since the Rice video, debate has heightened among media and domestic violence victims advocates about the place of sports leagues in policing the issue. The consensus among domestic violence experts contacted by The Times is that the added awareness is worth any pitfalls that come with it.
"We live in a society that values sports figures more than we value laws," said Cindy Southworth, executive vice president of the National Network to End Domestic Violence. "So let's use our sports figures to change the world."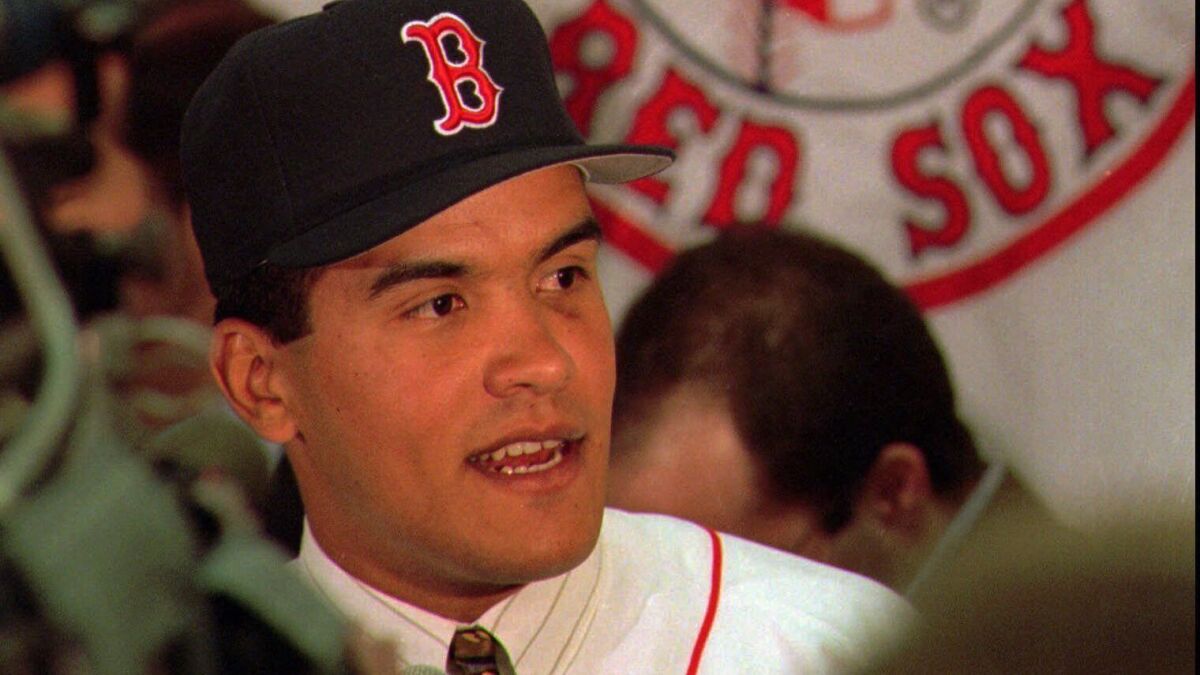 The Boston Red Sox in 1997 became the first MLB team to suspend a player for domestic violence, putting Wil Cordero on administrative leave for eight days after he was arrested and charged with assault and battery following a domestic dispute with his wife.
But the Cordero suspension would be an anomaly. With baseball focused on punishing players for the use of performance-enhancing drugs, those accused of domestic violence were largely left alone.
Halem says that before the Rice incident, MLB was discussing adding a domestic violence policy that would enable the commissioner to discipline players. But the reaction to Goodell's original two-game suspension given to Rice once the video went public gave MLB the final push.
"Major League Baseball reached out to us in 2015 and said, 'We want to get ahead of this. We want to make sure our policy is robust and comprehensive and nuanced and do it for the right reasons, not because we're in the news,' " said Southworth, who has worked with MLB on implementation of its program.
The NFL took the lead post-Rice out of necessity, adding language specific to domestic violence into its Personal Conduct Policy and mandating a six-game suspension on first offense and a lifetime ban from the league on second offense. Goodell developed the new policies after conversations with outside experts, team owners and the NFL Players Association. The league also announced it would work to provide training and education about domestic violence and support and resources to players and their families.
When Southworth says MLB wanted to be nuanced, she is referring to the league not specifying a blanket punishment for all cases and instead allowing the commissioner to rule on each case individually based on the severity of the incident.
A zero-tolerance policy "puts victims in more danger," Southworth said, "because if a victim is terrified, then calling 911 might mean that she ends up homeless because her partner loses his job. She may hold off calling 911. So I am a fan of a graduated but still robust and consistent policy. Having a chance for redemption means a victim is more likely to call 911."
Other leagues react
MLB wasn't the only league taking notice of the NFL's predicament. In October 2014, when then-Kings defenseman Slava Voynov was arrested on charges of domestic violence, the NHL stepped in and immediately suspended the player indefinitely from all club activities pending a formal investigation by the league.
The NHL did not have a domestic violence policy in place — its CBA was completed in 2013 — but acted based on a section of the agreement that states the league can suspend a player "where the failure to suspend the player during this period would create a substantial risk of material harm to the legitimate interests and/or reputation of the league."
Voynov pleaded no contest to a misdemeanor charge of corporal injury to a spouse and served almost two months in jail in 2015. He then played three seasons for SKA Saint Petersburg of the Russian Kontinental Hockey League. Because of the extreme nature of Voynov's abuse — according to Redondo Beach police, the player punched, kicked and choked his wife and then shoved her into a TV, leaving the couple's bedroom splattered with blood — the NHL recently extended his suspension through the 2019-20 season.
Voynov's case with the league is currently before an arbitrator.
While the NHL still does not have a domestic violence policy in place, league officials see the current language in their CBA as sufficient.
"We don't see the existence [or not] of a specific disciplinary policy for domestic abuse incidents to be a real issue or concern," said Bill Daly, NHL deputy commissioner and chief legal officer, in an email response. "Our current framework allows us to treat each case according to its specific facts and circumstances, and I think that flexibility is a benefit, not a detriment."
Like MLB, the NBA added a domestic violence policy to its CBA in 2017. The league has only suspended one player, former Clippers center Willie Reed who was then with the Pistons, for six games. The number of NBA investigations into domestic violence is so small it is hard to know how commissioner Adam Silver will punish future incidents.
The NFL has had several high-profile domestic violence cases since Rice. After allegations of child abuse surfaced against star running back Adrian Peterson early in the 2014 season, Goodell suspended Peterson without pay for rest of the season — a ruling later upheld by an appeals court, which only strengthened Goodell's power to act unilaterally.
In 2017, Goodell suspended Cowboys running back Ezekiel Elliott for six games because of domestic violence allegations made by a woman who posted photos of her bruises on Instagram. The Columbus, Ohio, police department did not have the evidence to pursue charges against Elliott, but the NFL's investigation lasted a year.
A Texas district court judge granted Elliott an injunction because he agreed with the NFLPA that "fundamental unfairness infected this case from the beginning, eventually killing any possibility that justice would be served." The NFL eventually won an appeal for a stay that reinstated the suspension, another win at the buzzer for Goodell.
Education and prevention
A study conducted by Jeff Benedict, the former director of research at the Center for Sport in Society at Northeastern University, found that 150 athletes had domestic violence criminal complaints filed against them between 1990 and 1996, but only 28 resulted in convictions. The majority were not prosecuted.
Given the low probability of a conviction in court, sports leagues have now become an extra layer of societal accountability.
Major League Baseball has investigated 11 cases since 2016, issuing punishment in nine of them. The longest suspension came in 2018, when MLB handed down 100 games to San Diego Padres relief pitcher Jose Torres. Torres, who later pleaded guilty to attempted aggravated assault for an incident in which he allegedly pointed a gun at his wife, was released by the Padres.
Halem, MLB's deputy commissioner and chief legal officer, says experts in the field of domestic violence help the league craft a detailed counseling plan for each player whom it disciplines under the policy and that the player's treatment and support for the victim often continue once the player has returned to the field.
Sign up for our daily sports newsletter »
But, while individual player discipline and counseling are reactive to an incident that has already occurred, the larger goal for MLB and the other leagues is to educate players and personnel on domestic violence to encourage prevention.
"One of the biggest lessons we've all learned is that everyone can play a role in helping to stop domestic violence and sexual violence," said Anna Isaacson, the NFL's senior vice president for social responsibility. "When we are educating, we are educating through that lens. We are not addressing our staff or our personnel or players as potential perpetrators of those incidents. We are addressing them to say, how can you use your platform to impact these issues for the better?"
Isaacson is a former NFL community relations director who moved into her role after Goodell created the position following the Rice incident. She works with "A Call to Men," an organization that educates men and boys on "healthy, respectful manhood" and a number of domestic violence experts to craft fresh educational curriculum that builds year to year.
Tony Porter, CEO of A Call to Men, said his trainers visit each franchise in the offseason to complete mandatory education with players and return in the fall to work with team staff.
"When an NFL player walks into a high school auditorium, those boys are sitting on the edge of their seats," Porter said. "We equip these players to have much more to talk about than the Xs and Os. At that point in time, football is the least important thing they need to be talking to a captive audience of boys about. The fact is we are a part of the first generation of men being held accountable for domestic violence."
Get our Dodgers Dugout newsletter for insights, news and much more.
You may occasionally receive promotional content from the Los Angeles Times.