Column: Stan Williams says he's gotten over blowing a pennant-clinching save in 1962, but he believes it made him an outcast with Dodgers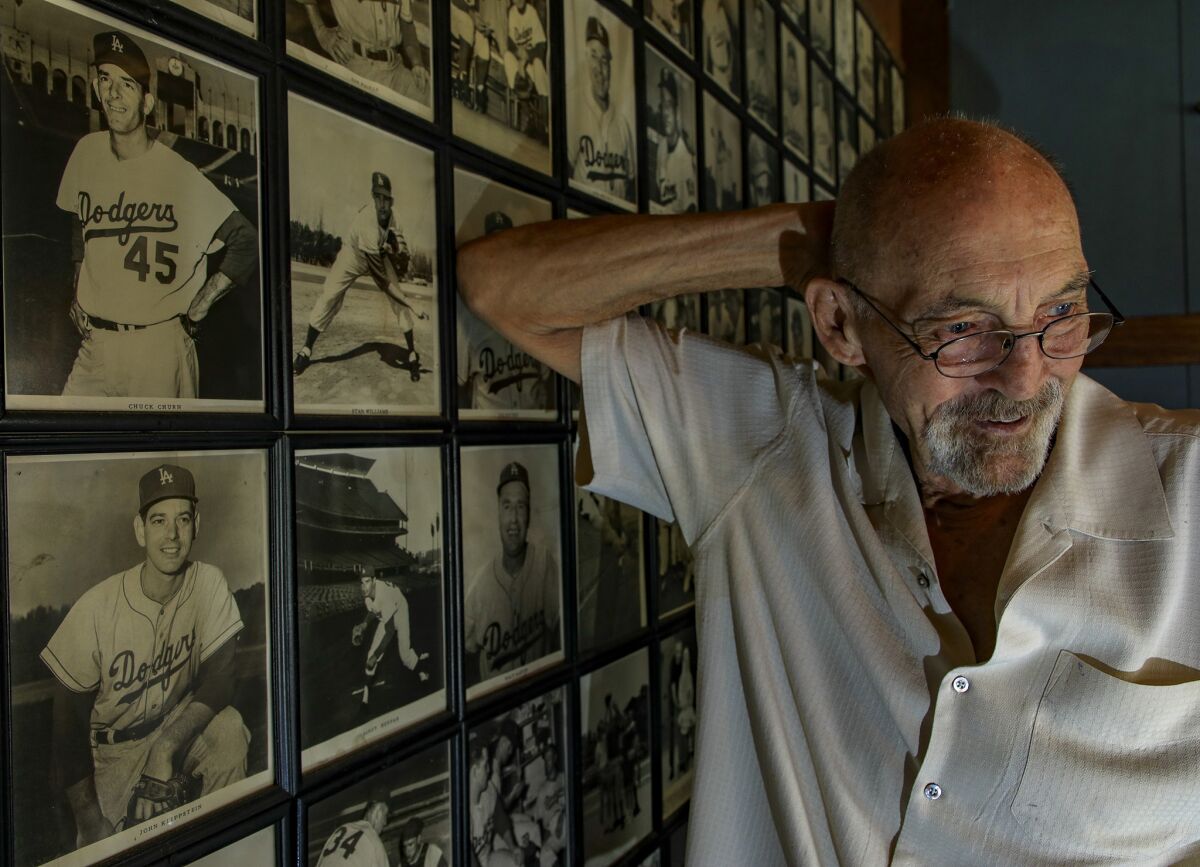 It has been 56 years, and he still remembers every pitch.
"Ball one, down and away,'' says Stan Williams, spitting out the words with a grimace. "Ball two, down and away.''
This former Dodger threw to 7,521 batters in a career he believes has been defined by only one — Jim Davenport, San Francisco Giants, 1962, ninth inning, bases loaded.
"Threw him a strike down the middle, he took it,'' Williams says.
It was a pennant-deciding playoff game between the Dodgers and Giants. The score was tied 4-all. Williams had been summoned from the bullpen to save a season, drive a stake through a rival, and help send the Dodgers to the World Series.
With a count of two balls and one strike, he lost it all.
"Threw him two more balls, and that was it,'' Williams says, shaking his head. "Walked him. Walked in the winning run. That's how I'll be remembered.''
On a recent afternoon in a modest Lakewood home he has owned for more than half a century, the 81-year-old man has had enough of the reminiscing.
"Let's go out to my garage,'' he says. "I want to have a cigarette.''
They say they forget. They never forget.
They claim to be thinking only about the next day. Yet that next day can last a lifetime.
With this Dodgers season painfully focused on their struggling bullpen, it seems like every blown game is followed by claims of short memories and fresh tomorrows.
Stan Williams stretches his 6-foot-5-inch frame across a recliner, tightens his jaw and offers weathered proof that it's not always so easy.
"People don't always remember what you did,'' he says. "They remember what you didn't do.''
Williams did plenty. For most of the Dodgers' first five years in Los Angeles, he was an integral part of a famed starting rotation that included Sandy Koufax, Don Drysdale and Johnny Podres. Williams literally pitched them into the World Series in 1959 by finishing a 12-inning playoff win against the Milwaukee Braves with three scoreless innings. He was one of the players who dug the groundbreaking holes for Dodger Stadium before becoming one of its first occupants in 1962.
"Along with Drysdale, Stan was my protector,'' says Maury Wills. "When other pitchers would come close to me, Stan would come to me and say, 'Don't worry, I'll get him for you,' and he would drill the guy.''
Overall, Williams had a sterling 14-year career that included six trips to the World Series as a player and a coach, two World Series championship rings, no runs allowed in 11 postseason innings, and a lifetime of respect.
"I did the best I could, '' he said. "There's just days when the other team is better than you.''
His is the story of the indelible mark made by one of those days.
When Williams entered that playoff game against the Giants with one out in the ninth inning — in those days, starters regularly relieved when needed — the Dodgers were two outs from going to their second World Series in four years.
When he walked off the mound, their season was essentially over.
History will remember him as being in the middle of one of the worst innings in Dodgers franchise history, a nightmare in which they allowed a 4-2 lead to become a 6-4 loss to the hated Giants. Amid the chaos, Williams faced three batters, surrendering a sacrifice fly, an intentional walk and the bases-loaded walk around a wild pitch.
It was only three batters. It was not Tom Niedenfuer and Jack Clark, or Jonathan Broxton and Matt Stairs. There were many moments beyond Williams' control that contributed to the collapse.
There was the poor positioning of second baseman Larry Burright that blew a potential double play. There was the failure of manager Walt Alston to summon Drysdale from the bullpen to finish the game. Alston was saving him for the World Series.
There was even the miscommunication on Williams' intentional walk to Ed Bailey, who, at the time, had a .147 career average against the hard-throwing righty known as "Big Daddy.''
"First base was open, but I knew I owned this guy, so I called out [John] Roseboro and we agreed that we would tell Walt to let me pitch to him,'' recalls Williams.
One problem. Looking into the Dodgers dugout from the mound, Williams and Roseboro couldn't find the manager.
"He was apparently standing up in the tunnel having a cigarette,'' says Williams. "We couldn't find him, so we couldn't get him to change his instructions.''
Five pitches later, Williams and the Dodgers were history, but that's not the pitcher's biggest regret. His biggest regret is that he feels the Dodgers never forgave him for it.
"I eventually got over it, but they never did,'' he says.
Williams said that, over the years, he has been consistently snubbed by the organization. He says he has been invited to only one old-timers event, no fantasy camps, and generally has been ignored by a team he believes wants to separate itself from that fateful inning.
"I don't like the Dodgers, and they don't like me,'' Williams says. "They have completely divorced me over the years, and I pull against them every night.''
He believes it all goes back to that last pitch to Davenport.
"They've never really invited me for anything, and I think originally they held it against me for that walk,'' he says. "Somewhere along the line, it must have been passed along that I'm blackballed."
When contacted about Williams' claims, the current Dodgers regime is puzzled.
"In Dodger history, Stan Williams is one of the great pitchers and a big contributor to some great teams, and he'll always be part of our family,'' says Mark Langill, a Dodgers historian who is known for his strong ties with the team's alumni. "We have finite space for some of our invitations, but that has nothing to do with Stan personally. We've got the greatest respect for his accomplishments.''
As for the charge that he is being shunned for the walk, Langill notes that, "Nobody thinks about that. There's no asterisk with his career. If you look, the story line from the end of that playoff game is not Stan Williams.''
Lon Rosen, the Dodgers executive vice president and chief marketing officer, was told of Williams' feelings and immediately planned to issue an invitation.
"He'll always be a Dodger, and we'd love to have him back at Dodger Stadium,'' Rosen says.
In the meantime, Williams has parted ways with most of his Dodger memorabilia. He's even sold his World Series championship ring along with his six other World Series rings.
One of his few remaining Dodgers possessions is not a souvenir of greatness, but a letter of forgiveness.
It is a telegram from Dean Martin inviting him to a party. The invitation is dated Oct. 6, 1962, just three days after that bases-loaded walk.
"We are giving a party in honor of our friend Don Drysdale. We would like you to join us — and make this a victory for the entire team because in our eyes you are still the champions."
Stan Williams looks at the yellowed piece of paper, shakes his head.
"Somebody tried to buy it,'' he says. "Wouldn't let them.''
Get more of Bill Plaschke's work and follow him on Twitter @BillPlaschke
Get our Dodgers Dugout newsletter for insights, news and much more.
You may occasionally receive promotional content from the Los Angeles Times.