Ryu Hyun-jin compared to Mark Buehrle by agent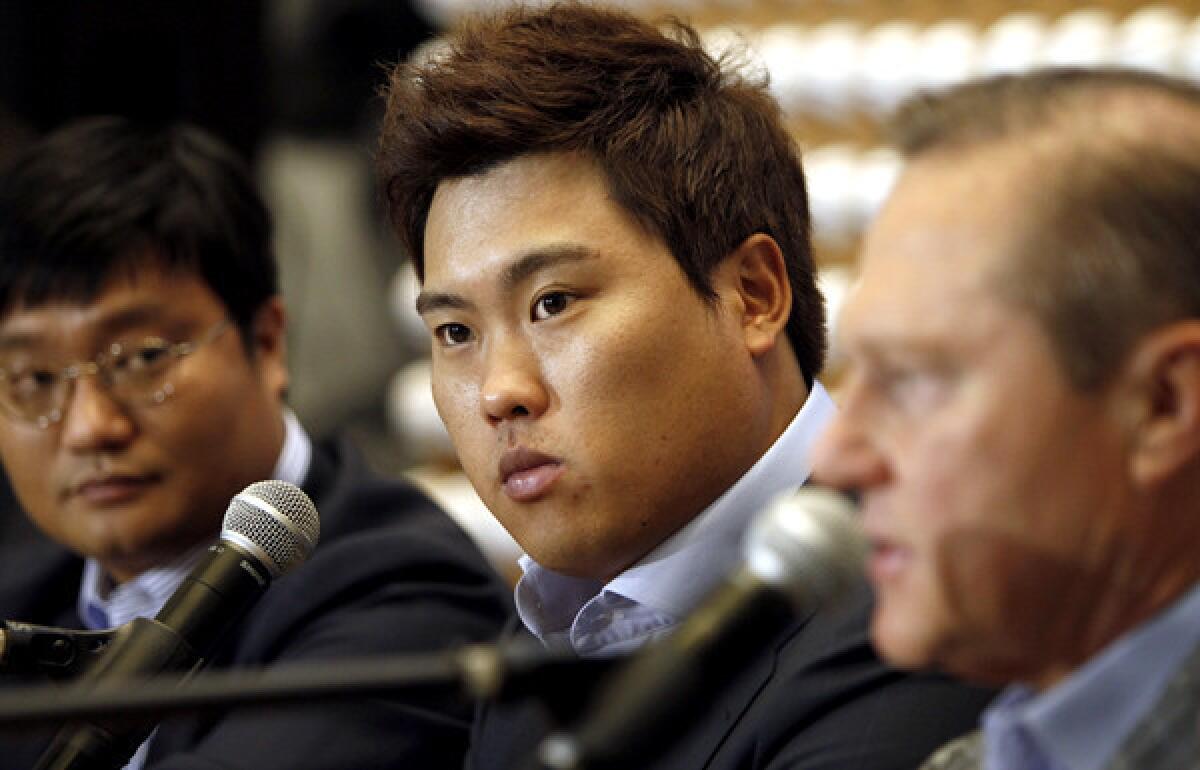 When Scott Boras negotiates with the Dodgers on behalf of South Korean left-handed pitcher Ryu Hyun-jin, he plans to argue that his client should be compensated comparably to current major league pitchers with similar ability.
If Ryu's introductory news conference on Thursday at Boras' Newport Beach office was any indication, the agent will be asking for a lot of money.
Speaking in front of a group of 40 to 50 reporters, most of them South Korean, Boras compared Ryu to only one pitcher: Mark Buehrle.
"Body-type-wise, size-wise, ability, he reminds me a lot of Buehrle," Boras said.
Buehrle signed a four-year, $58-million deal with the Miami Marlins last winter. Buehrle is one of the players the Marlins will send to the Toronto Blue Jays as part of their massive salary dump.
The Dodgers spent $25.7 million to win a league-wide auction for the rights to negotiate with Ryu, a seven-time Korean league all-star. They have until Dec. 10 to reach a deal with him. If they fail to do so, Ryu will return to the Hanwha Eagles and the Dodgers will be refunded their posting fee.
Boras said he has already spoken to General Manager Ned Colletti about Ryu and plans to meet with him next week to open talks.
Ryu, who was met by a mob of reporters at Los Angeles International Airport the previous night, didn't say much.
Most of the questions pertaining to how likely Ryu was to sign with the Dodgers were answered by Boras, who recently made veiled threats that his client could return to South Korea next season.
When Ryu was asked if he was set on pitching in the major leagues next season, Boras interrupted, "Let me address that first," and proceeded to explain the posting system.
Ryu was later asked what was more important to him: to play for the Dodgers or make a certain amount of money.
Boras answered that question, too.
"Any professional athlete, the decision of whether you sign a contract and when you sign a contract and with whom you sign a contract, you have a variety of factors," Boras said.
The South Korean reporter who asked the question insisted that Ryu, not Boras, answer it.
"As a player, you want to try to get as much value for yourself as you play this game," Ryu said through an interpreter. "The Dodgers are a good team and I hope they treat [me] well."
Ryu was evasive when asked if he would be disappointed if he couldn't reach a deal with the Dodgers.
"Whatever happens, I wish for the best," Ryu said.
Here's what Ryu did say: If he signs with the Dodgers, he intends to wear No. 99, which he has worn his entire professional career. The last Dodgers player to wear the number was Manny Ramirez.
Ryu doesn't plan on pitching for South Korea in the World Baseball Classic. He will remain in Southern California in the coming weeks and work out at Boras' nearby training facility. He likes the idea of pitching for the Dodgers because they are Chan Ho Park's former team, they play in a stadium that has a reputation as a pitchers' park and there is a large Korean population in Los Angeles.
He didn't sound daunted by the possibility of becoming the first player to go directly from the Korean league to the major leagues.
"Obviously, there's pressure in all levels of baseball," Ryu said. "But from my experiences in Korea, I have no doubt I could succeed in the United States."
RELATED:
How Andre Ethier -- sigh -- is one of hottest players ever
Dodgers' Clayton Kershaw finishes second for NL Cy Young
Daily Dodger in Review: Mark Ellis, security blanket at second
Get our Dodgers Dugout newsletter for insights, news and much more.
You may occasionally receive promotional content from the Los Angeles Times.