Dodgers' extra starters could prove festering problem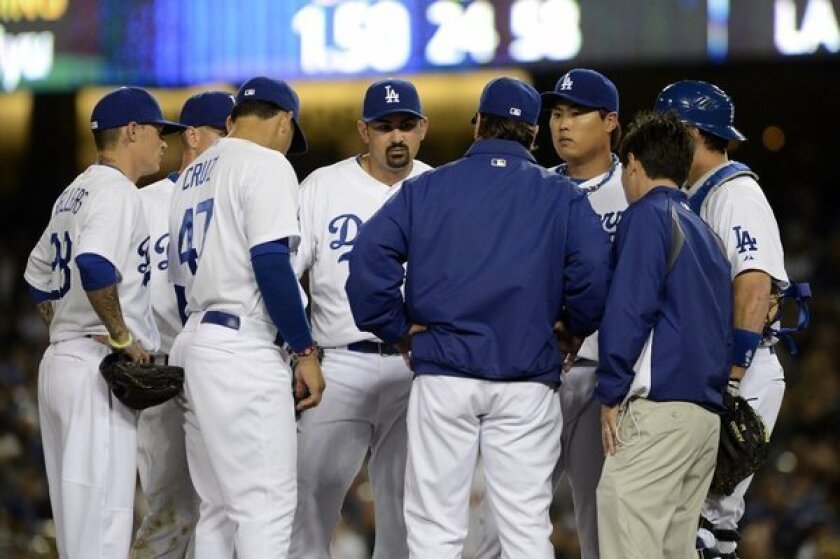 By now this was all supposed to have been resolved, yet the season is underway and the Dodgers' extra starters remain an unsolved issue.
All five starters the Dodgers began with last season with are back. During the course of last season they added starter Josh Beckett, and then in the off-season Zack Greinke and Hyun-Jin Ryu.
The pieces put together into a rotation left Chris Capuano, Ted Lilly and Aaron Harang uncomfortably on the outside. A trade of at least one seemed logical, but spring began and all eight were still in tow. Most figured a deal would be made at the end of spring training, but the season started Monday and all eight remained.
And don't assume any of the three are happy. Capuano and Harang, who want to start, are in the bullpen; and, Lilly the only one who said he was fine with relieving, is on the DL. He's scheduled to make a rehab start Saturday. Three pitchers who feel they are out of place.
All three have pretty much been starters their entire careers. In addition to history and their own competitive natures, Capuano and Harang are both 34, in the final year of their contract and no doubt hoping for one final, decent payday, which coming out of the bullpen could effect.
Capuano is trying to make the best of his situation, but it is clearly a struggle.
"I'm healthy, I'm strong and that's a good place to be starting the season," he said.
Capuano is expected to be used in both short, long and situational relief. Asked if he was OK with his situation, Capuano said:
"That's irrelevant, that question."
The situation is what it is, which potentially could prove messy. Or messier. Manager Don Mattingly and General Manager Ned Colletti figure to have their people skills tested in the coming weeks.
But with Greinke being held back this spring because of elbow soreness and Chad Billingsley (also currently on the DL) developing a nail issue that slowed his return from his elbow problem, the Dodgers understandably held their cards – and starters – close.
Billingsley pitched four innings of a rehab assignment Thursday for Class-A Rancho Cucamonga, and although the results were unimpressive (four innings, three earned runs on six hits and three walks, with two strikeouts), he has pronounced himself fit. He is expected to be activated and placed in what was a four-man rotation the first week, when the Dodgers travel to San Diego next week.
Which leaves the rotation full, and the three extras still on the outside and much less than thrilled. Insurance is one thing, but at some point this figures to be a more pressing problem.
Lilly will build up his arm strength soon, and then what will the Dodgers do?
"Make a decision," Mattingly told The Times' Dylan Hernandez.
The Dodgers best have another plan. They can't simply wait for possible injury to work things out for them. Even then, they'll have too many starters in uncomfortable and undesired roles.
ALSO:
Dodgers' hitless Matt Kemp remains calm
Dodgers' crowd gives Hyun-Jin Ryu a lesson to remember
---
Get our high school sports newsletter
Prep Rally is devoted to the SoCal high school sports experience, bringing you scores, stories and a behind-the-scenes look at what makes prep sports so popular.
You may occasionally receive promotional content from the Los Angeles Times.