Even Clayton Kershaw struggles as Dodgers swept by Padres, 7-2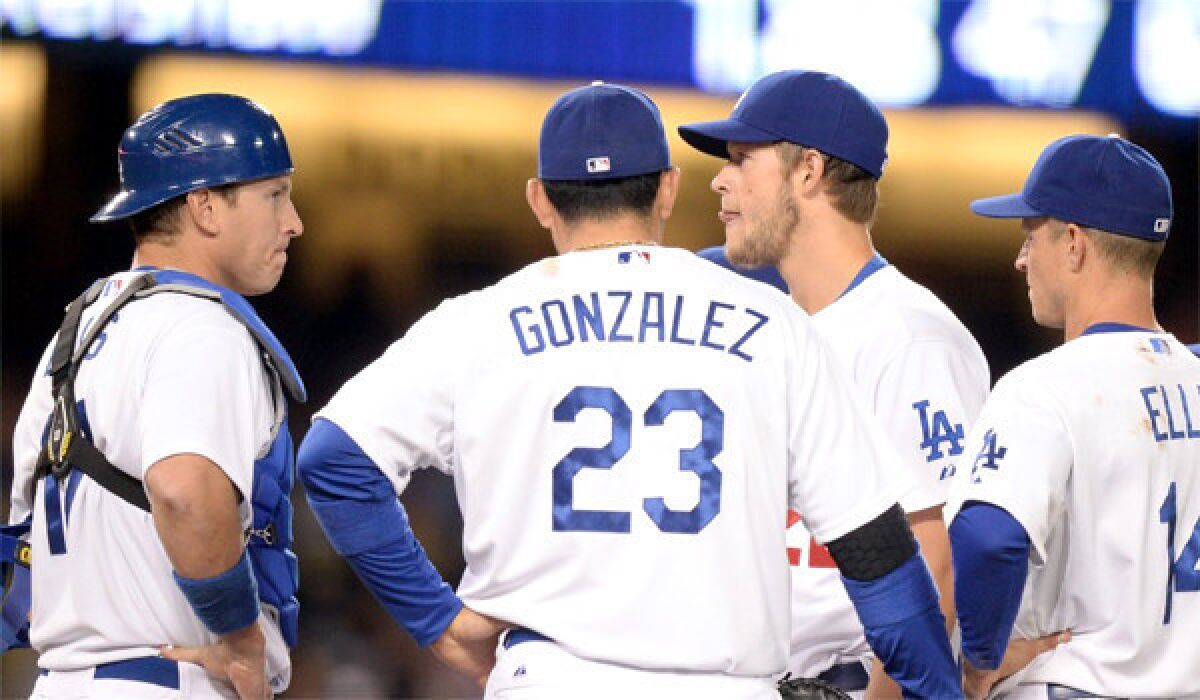 Now it's official. Now the entire Dodgers' organization is in serious trouble. Players, coaching staff, management, grounds crew, guys hawking peanuts.
Clayton Kershaw got rocked.
Stunning but true, Kershaw gave up three home runs as the Dodgers fell, 7-2, to the lowly San Diego Padres on Wednesday night before a Dodger Stadium crowd of 52,393, losing their fourth consecutive game.
The victory gave the Padres their first three-game sweep at Dodger Stadium since 2006, and the Dodgers fell below .500 to 7-8.
There was no early indication that Kershaw was going to have an off night. He retired the first eight Padres in order. Everything hinted at another dominating Kershaw performance.
But things went bad in a hurry in the fourth inning, went so quickly as to almost feel foreign.
Everth Cabrera led off the inning with the first of San Diego's three home runs. After Nick Punto dropped a Chase Headley foul pop-up for an error, Kershaw walked Headley and Jose Guzman singled him to third base. Kershaw walked Yonder Alonso to load the bases, so even when Jedd Gyorko bounced into a double play, the go-ahead run scored.
Kyle Banks singled to score Guzman, and the Padres led 3-1.
San Diego added solo home runs by Chris Denorfia in the fifth inning and Banks in the sixth, and Kershaw left the game trailing 5-1. It was only the second time in his career he gave up three home runs in a game.
Kershaw left after 5 1/3 innings, having given up the five runs on seven hits and five walks while throwing 109 pitches. He struck out five, the first of which gave him 1,000 for his career and made him the second youngest Los Angeles Dodger to Fernando Valenzuela to reach the mark.
Otherwise it was more of the same for the Dodgers offensively. A few hits, a lot of runners left on base, precious few runs scored. Manager Don Mattingly tried sitting struggling Matt Kemp for a night to clear the slugger's head, but botched that up later.
The Dodgers left another 14 runners on base. The only run they scored before the final inning came in the third when Guzman made a nice catch of an Adrian Gonzalez foul ball, reaching into the left-field stands. Carl Crawford scored on the play.
Skip Schumaker bounced out with the bases loaded in the fifth inning, and when the Dodgers loaded the bases again in the seventh, Kemp pinch hit and struck out before Punto flied out. So much for clearing Kemp's head.
Kemp got another chance with the bases loaded in the ninth inning, and hit a sacrifice fly.
The Dodgers are now 1 for 21 this season with the bases loaded.
Right-hander Tyson Ross, who came into the game 6-19 with a 5.30 earned-run average in his career, dodged trouble but held the Dodgers to one run in his 4 2/3 innings.
ALSO:
Dodgers' Zack Greinke on A.J. Ellis: 'I should have warned him'
Chris Capuano injury appears to keep Dodgers rotation in motion
Is it time for Dodgers to be concerned about slumping Matt Kemp?
---
Get our Dodgers Dugout newsletter for insights, news and much more.
You may occasionally receive promotional content from the Los Angeles Times.