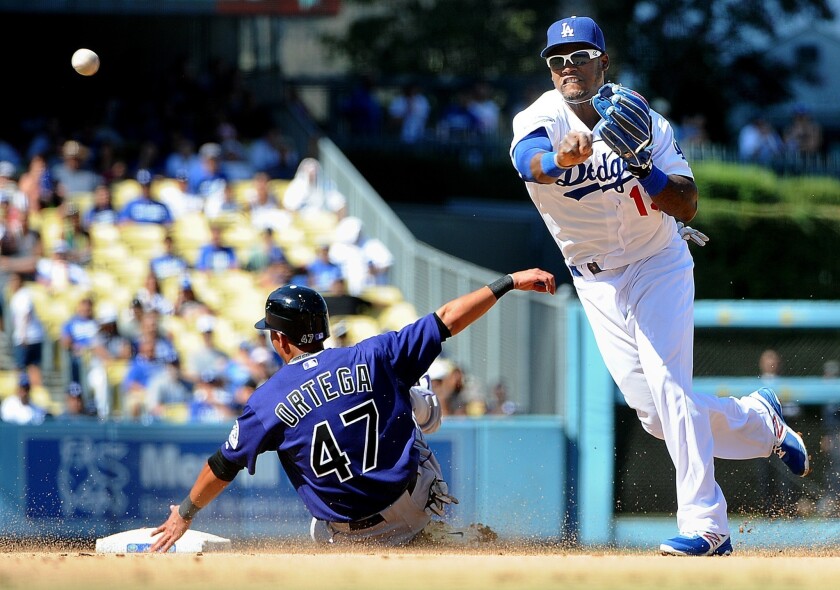 All signs are, it's true. That's what they're saying. And that is what they did last season even during the stretch drive, so I suppose we should believe them.
Yet it still seems a bad idea. Apparently the Dodgers think it's their best option from a selection of mediocre choices. Either that or they're just not up to ruffling his feathers, and you wouldn't want to believe that, right?
There is a reason the Marlins moved him from short to third last season beyond their acquiring Jose Reyes -- Ramirez just isn't a very good shortstop.
For a major-league shortstop he has a below average arm and glove. His one strength is supposed to be that his speed and quickness provide him superior range, though it seldom manifested itself last season.
The Dodgers ended last season with Ramirez at short and Luis Cruz at third, and that is their tentative plan as they head into spring. Cruz proved reasonably adept at third, much as he had earlier at short.
Now if the Dodgers are really planning to open camp with those two -- pitchers and catchers report Feb. 13 -- on the left side of the infield, and crossing their little fingers that Cruz was not just some belated three-month wonder, they would be better served reversing their positions.
It's not like Cruz is some defensive wonder at short, but at least he's steady and makes the plays he should.
"Solid -- he was kind of like at short like he was at third," Manager Don Mattingly said. "He pretty much catches everything he gets to.
"I'd say range-wise would be below average. But he's going to be solid, he's going to catch everything he gets to and he didn't bother you at all."
I'll take solid with modest range over more athletic and erratic at shortstop any day. The Dodgers hoped after an off-season spent with Ramirez focusing on shortstop, he would return to the form he flashed more consistently there as a three-time all-star, but that hasn't happened.
He suffered what's been called a minor shoulder injury early in winter ball and has spent the off-season primarily as a designated hitter. Now playing for the Dominican Republic in the Caribbean World Series, he made his first appearance at shortstop Monday and committed an eighth-inning error that led to a pair of runs in Puerto Rico's 6-4 victory.
Shortly after the series is over, he is scheduled to report to play for the Dominican national team in the World Baseball Classic -- where he will once again play behind Reyes. He'll be lucky to get two weeks of spring back at short before the season starts.
Mattingly admitted that he would prefer that Ramirez was in camp all spring, honing his defense skills at shortstop, but that understands the situation.
"It's really hard to say don't play for your country," Mattingly said. "That's the tough part. Selfishly, I'd like him to be in camp playing short every day."
If Cruz bombs at third, the Dodgers may have to move Ramirez back to third anyway, giving Dee Gordon another shot at shortstop.
They understandably believe that they have built a championship-caliber club, but have to seriously ask themselves if Ramirez is still a championship-caliber shortstop.
ALSO:
Can the Dodgers recapture the city of Los Angeles from Lakers?
Dodgers get their social media rewards program up and running
Dodgers' farm system, prospects get preseason reviews (Web links)
---