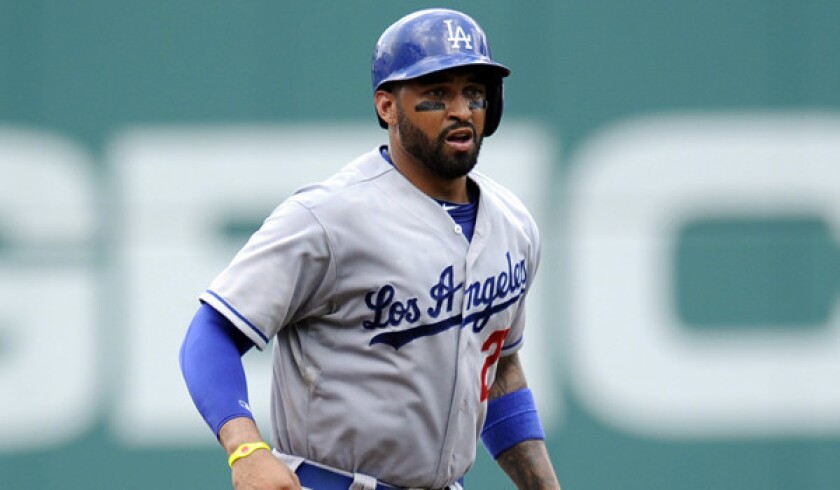 TORONTO – Matt Kemp could soon be placed on the disabled list for the third time this season.
Manager Don Mattingly said Kemp, who sprained his left ankle Sunday, probably will miss the Dodgers' three-game series in Toronto against the Blue Jays.
Mattingly also sounded less confident than he was a day earlier that Kemp would avoid the DL.
"I probably don't feel as good about it today as I did yesterday," Mattingly said. "It could go the wrong direction."
The decision of whether to place Kemp on the DL could be made in the next 48 hours, during which the team's medical staff will see if the swelling in his ankle subsides.
"I don't know if we really know how bad it is," Mattingly said.
While Kemp is scheduled to undergo an X-ray exam Monday, the team is confident there isn't any significant damage in his ankle.
Kemp was injured sliding into Washington Nationals catcher Kurt Suzuki on a force out. Kemp had returned from the disabled list that day.
With Kemp out of the lineup Monday, the Dodgers are starting Yasiel Puig in center field, Skip Schumaker in right and Carl Crawford in left. Andre Ethier will be the designated hitter.
Ethier probably will play center field for the remainder of the series, according to Mattingly.
"Luckily, we're in the American League, where it's not quite the same," Mattingly said. "You don't need all the extra players. We feel we can kind of get by. With the DH, you don't worry about it quite as much."
Kemp has already spent 35 games on the disabled list. He strained his right hamstring in late May and irritated the AC joint in his left shoulder earlier this month.
---