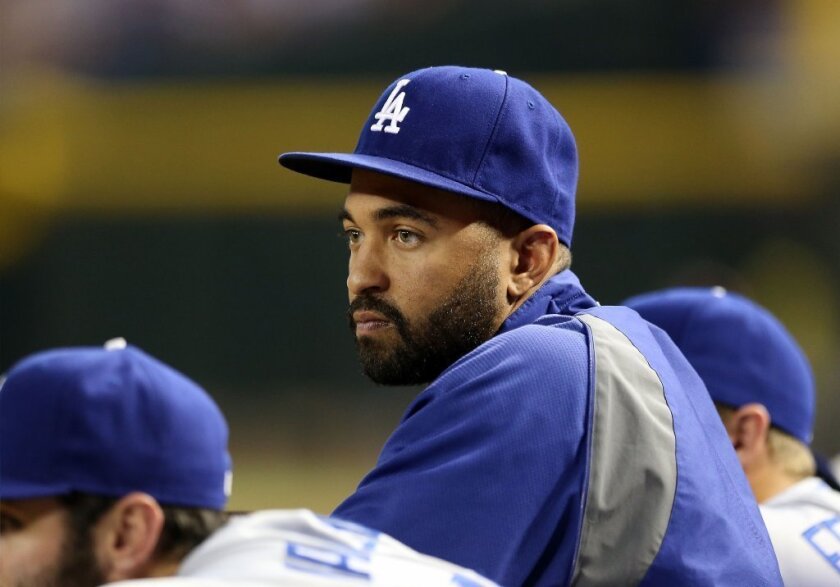 TORONTO – Matt Kemp used to call Ryan Braun his friend. He supported Braun when Braun successfully overturned a 2011 positive drug test. He never complained about how Braun beat him out for the National MVP award that year.
Tuesday, Kemp said he felt let down by the Milwaukee Brewers outfielder, who accepted a 65-game suspension the previous day for violating baseball's drug policy.
"I'm disappointed," Kemp said. "I don't like to get lied to. I don't think anybody likes to get lied to. I think a lot of other people feel the same way. I'm not the only one in that boat. I'm just another one of those guys on the list that are disappointed in what has come about in the last couple days."
Kemp said his Twitter account has been bombarded with messages telling him he should be retroactively named the 2011 MVP.
"My Twitter's going nuts," Kemp said. "I've never got so many tweets in my life."
But Kemp doesn't want the award.
"Honestly, it doesn't have anything to do with me," Kemp said. "I was in a race to win the MVP, I got second. It is what it is. The voters had an opinion about who they wanted to pick as the MVP. That's who they picked, that's who they felt was the MVP. You have to respect them for that. The other stuff, it is what it is, man. For me, all I'm worried about is getting healthy and getting back on the field and helping my team win."
Kemp miss his second consecutive game Tuesday with a sprained left ankle.
Asked if he felt cheated out of the award, Kemp said, "The Brewers and Braun, they worry about their situation and what they've got going on. Right now, I'm worried about getting healthy and playing baseball."
But wouldn't he like to have a MVP trophy in his house?
"It would definitely be nice to have a MVP trophy," he said. "But I didn't win the MVP. I lost. I got second."
To a cheater, he was a reminded.
"Yeah.... OK.… Yeah," he said, smiling.
Kemp applauded Major League Baseball's efforts to clean up the game. He said he was upset that star players are now always viewed with suspicion.
"That's just how it is now," Kemp said. "If you go from being OK to being really good, sometimes instead of people thinking, 'He really, really figured it out, he's turning out to be a great player,' they're going to say, 'I think he's taking something,' which is definitely unfair. You don't want anyone taking away from all your hard work and whatever it is you do to get better. I feel like the older you get, the better you get in baseball. I've learned that from a lot of older guys. People taking away from somebody's success, man, that's kind of jacked up, especially with as hard as baseball players work and as many games as we play."
He said he is particularly disappointed with how Chris Davis, the Baltimore Orioles' breakout star, has had to address whether he's taken steroids.
"You can't put him in that, man," Kemp said. "He hasn't failed any kind of drug test. It's very upsetting. You don't want to take away from somebody that's doing a good job. Chris Davis is an unbelievable player. He always had the ability to hit home runs. I think he just figured it out and he's doing a wonderful job. People are trying to tear him down, saying he's doing something he doesn't need to be doing. That's not fair to him or fair to the Baltimore organization. "
As for his ankle, Kemp said it remains swollen.
"It hurts a little bit. It's still sore," Kemp said. "A little swollen. One thing after another, man, you know?"
Kemp was still upset with himself for not running hard on the play on which he was injured. What should have been an easy run turned into a force out at the plate in which he collided with the catcher.
"This one was my fault," he said. "So I can't really be mad at anybody but myself."
Asked if he feared the injury could force him to go on the disabled list, Kemp said, "I pray to God that it's not. I don't ever want to see that happen."
---